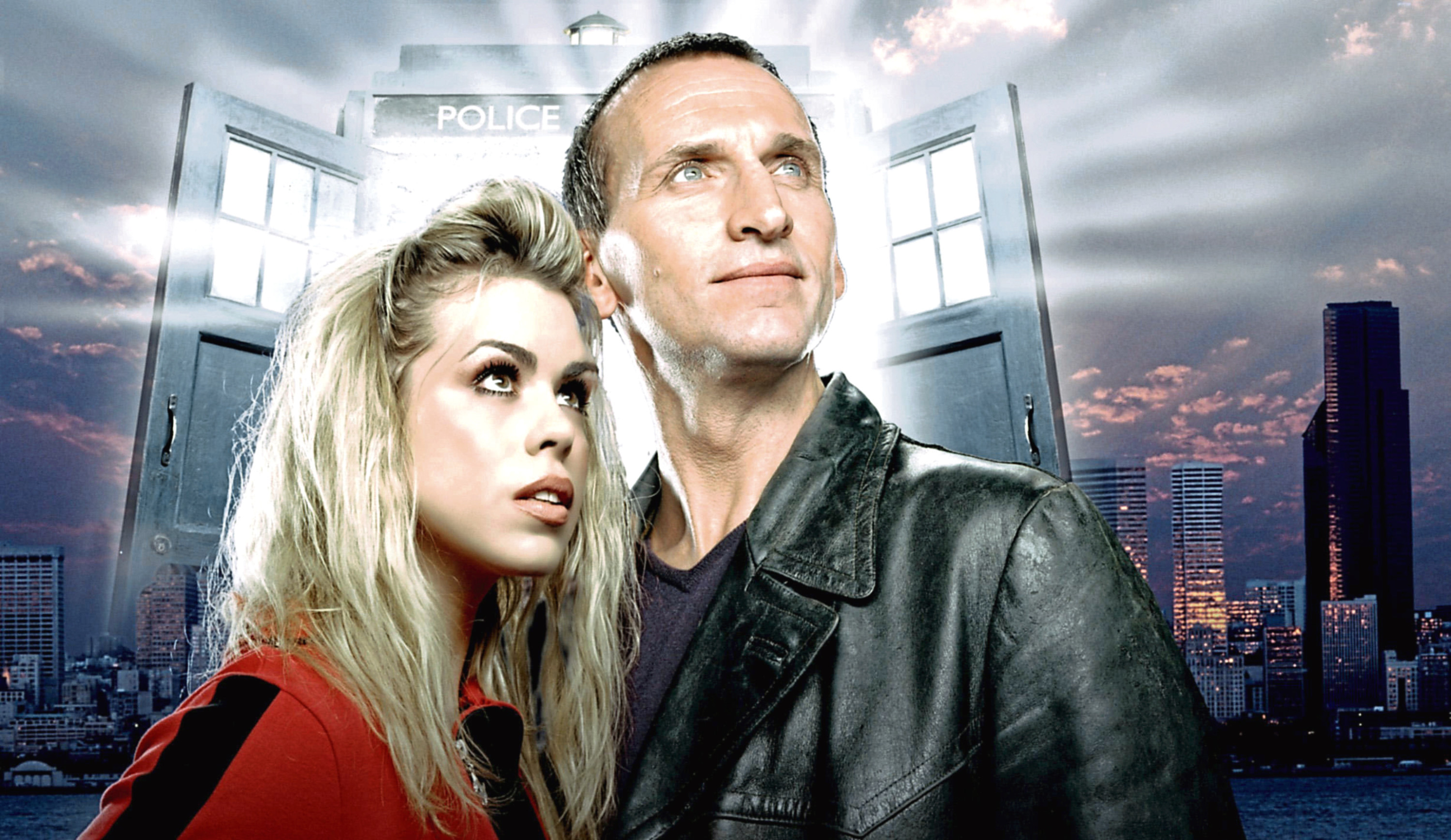 IT'S hard to imagine now but Doctor Who was basically dormant for 16 years.
The Paul McGann TV movie failed to revive the show, and various schemes to make a big-screen version failed to get off the ground.
But in 2003 the BBC green-lit what's now known as a "reboot" with writer Russell T Davies at the helm, though little did they anticipate just what a global success it would become.
Christopher Eccleston was the Doctor who regenerated the show from 1970s wobbly-setted cult programme to one of the BBC's biggest properties, a brand now reckoned to be worth £100m.
But he only stayed for one series, and unlike most of his fellow Time Lords, left on acrimonious terms.
Eccleston says: "What happened around Doctor Who almost destroyed my career. I gave them a hit show and I left with dignity and then they put me on a blacklist.
"I was told by my agent at the time, 'The BBC regime is against you. You're going to have to get out of the country and wait for regime change.'
"So I went away to America and I kept on working because that's what my parents instilled in me. My dad always said to me, 'I don't care what you do – sweeping the floor or whatever you're doing, just do the best job you can.' I know it's cliched and northern but it applies.
"Some of my anger about the situation came from my own insecurity. They employed somebody as the Doctor who was not a natural light comedian.
"My companion Rose was played by Billie Piper, who we know was and is brilliant, but she was very, very nervous and very, very inexperienced. So you had that, and then you had me – very, very experienced but out of my comfort zone.
"I didn't agree with the way things were being run, or like the culture that grew up around the series.
"I wanted to move him away from RP – received pronunciation – for the first time because we shouldn't make a correlation between intellect and accent.
"I hope I'll be remembered as one of the Doctors. I have no ill feeling towards the character or the series though I don't watch it.
"The important thing is that I succeeded. It was a great part. I loved playing him. I loved connecting with that audience because I've always acted for adults and then suddenly you're acting for children, who are far more tasteful – it's either good, or it's bad."
While Eccleston kick-started the series, David Tennant turned it into a phenomenon.
The Scot surpassed even the great Tom Baker as "The Best Doctor Ever" as voted by readers of Doctor Who Magazine.
"So few shows run beyond a few series and 50 years' worth is quite a legacy, so I'm very honoured to be part of that," says Tennant.
"Of course, I watch it every time it's on, along with the rest of the nation."
Tennant knows what Jodie Whittaker is going through just now, explaining: "Whenever the Doctor changes, there's a backlash because that's a character people love.
"People get very affectionate about the Doctor they knew. With me it was, 'Who's this weaselly guy? I liked the other guy, this won't work for me!'.
"I grew up with Tom Baker. I was obsessed with him and idolised him, and I couldn't conceive of what it would be like when he moved on.
"And I never forgot him and I never stopped loving him but then Peter Davison came along and within three weeks I thought he was the best.
"So I think it's part of what makes this show go on forever, you know, that you watched our final episodes and then in a few weeks you thought Matt Smith's the greatest thing there's ever been, and that's how it should be. Because he is!"
Tennant, now married to Davison's daughter, only used his native accent in one episode, the brilliant Highlands-based Tooth And Claw, but was he tempted to use his natural tones as Eccleston had?
"It's funny, it never occurred to me, the whole accent thing. I'd just worked with Russell T Davies and Julie Gardner, our executive producers, on a show called Casanova and they said, 'The voice you used in that is what we're thinking of', and I said 'Fine' as that's what you do as an actor.
"And then suddenly people ask you the question like it's some big political decision, and it's really not. I could have done it with a Scottish accent but I didn't."
Accent wasn't an issue when Matt Smith was cast as, like all the recent Doctors, the veil of secrecy meant he wasn't allowed to tell a soul – even when the enormity of the whole situation is made abundantly clear.
"It's so cloak and dagger, the whole thing," Smith says. "Before I could accept it, there was this meal that had to happen at new showrunner Steven Moffat's house and there were plates with David Tennant's face on.
"They picked them up and they were like, 'Just so you know, this is what it's like.'
"And they ask, 'Are there any skeletons in your closet?' because when you take on that part, you're taking on a sort of Head Boy-ness.
"But then I did wobble. I was like, 'I don't think I'm gonna do it' but my agent was like, 'You're GONNA do it!'."
Matt wasn't a "Whovian". As he explains: "I was part of that barren age when it wasn't on television. So I was aware of it as a kid but I never watched it – which was a bit of a disadvantage when it came back.
"But then I got the job and I watched, went right through Chris Eccleston to David Tennant, and then looked at some Tom Baker, a bit of Pertwee and a bit of my favourite  –  Patrick Troughton.
"I didn't use any elements of those past Doctors because I think you have to make it your own.
"I think the part is about invention.
"There's a slight sort of madness and a great tenderness to the Doctor.
"I don't know if that's me but he's also very clumsy and that's definitely me."
Matt has a fondness for the Time Lord's mode of transport, admitting: "The Tardis. The first time I saw that, and then I looked at it every day, and it's breathtaking. It's the most attractive thing in the world.
"It doesn't matter where you put it, it doesn't matter what landscape, it looks like someone brilliant has come back, like Picasso or someone, and placed it perfectly on a beach or even just in a room. It dominates, it's like, wow! There's a feeling when you walk through the blue doors."
After a run of ever-younger Doctors, Smith gave way to Peter Capaldi who is still peeved about the roughly four minutes of screen time that saw their transformation.
"They didn't pay me for the regeneration. That's entirely true. I still haven't been paid!" laughs the 60-year-old Scot.
Capaldi's Time Lord was angrier than more recent versions. The actor calls him "more mysterious and not as user-friendly".
As a youngster he had dreamed of being the Doctor and, as a teenager, wanted to run the Doctor Who fan club.
"I was totally geeky. But when you reach the age of 17 or 18, you move on and discover sex and drugs and rock 'n' roll. I had a huge collection of Doctor Who books, autographs and pictures but I threw them all away to go and drink lager and eat curries. That was silly, wasn't it?
"I wish I'd known that one day the geek would inherit the Earth.
"It was a huge privilege and hugely exciting. When I first came into the Tardis, I had to be very patient as the very nice props guys showed me how to work it.
"I was thinking, 'I know how to work the Tardis. I've known for a long time, probably longer than you, you don't need to tell me!'.
"I loved saying, 'Time and Relative Dimensions in Space' and 'Bigger on the inside' and 'They come from Skaro and will exterminate you.' "You're never too old to enjoy saying 'Tardis' although it's better to say 'This is my Tardis.'
"The terrible thing is, the moment you get the job, you know you're going to have to leave it. That might just be part of my melancholic nature but as soon as I became the Doctor I immediately propelled my mind to the end."
After that end, Capaldi got a hint that the next Doctor was going to break the mould when he got a call from the studio asking if they could get a pair of his trousers, but in a size 30.
"I thought, 'That can't really be a man' but I saw what she's done and she's great. You're in really good hands. I think you'll enjoy it."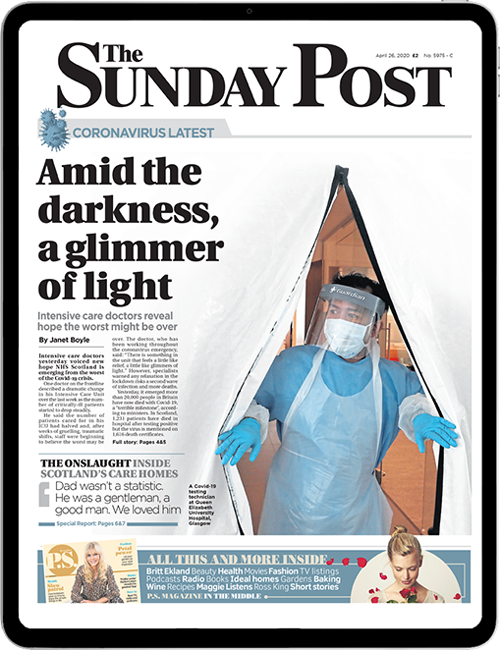 Enjoy the convenience of having The Sunday Post delivered as a digital ePaper straight to your smartphone, tablet or computer.
Subscribe for only £5.49 a month and enjoy all the benefits of the printed paper as a digital replica.
Subscribe