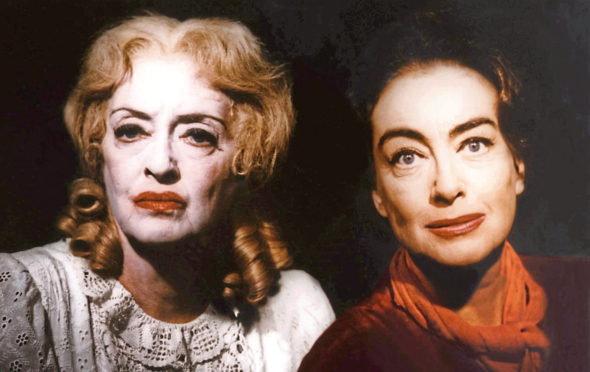 The post-war career of Bette Davis saw more highlights, but her life was also hit with several heartaches.
She would admit: "When I was most unhappy, I lashed out rather than whined," but Bette had good cause to feel pain.
August 1943 had seen her second husband, Arthur Farnsworth, collapse on a Hollywood street and die two days later. Tests showed he had fallen because of a skull fracture suffered weeks before.
Two years later, she married artist William Grant Sherry, impressed by the fact he had never heard of her!
Divorced at the start of July 1950, she was married to fourth husband Gary Merrill before the month was out, but she would fail to find lasting happiness with him, too.
They got permission to adopt the daughter Bette had with Sherry, and later adopted another girl and boy.
All of this caught up with Davis's career, and she was in virtual semi-retirement during parts of the 1950s.
She and her husband began having major rows, with alcohol abuse and domestic violence mentioned before they finally divorced in 1960.
She would never marry again.
If the 1950s had provided soaring highs and miserable lows, the following decade gave us a few reminders of what a powerhouse Bette Davis could be when she was in the mood and the other aspects of her life were enjoyable.
Not that she showed great happiness as the crazed Baby Jane Hudson!
What Ever Happened To Baby Jane, alongside Joan Crawford, would become one of the landmark moments in Bette's career.
It's the sort of thing Hitchcock would have loved to have done, and producer-director Robert Aldrich had the perfect pair of actresses to do it justice.
The 1962 classic was a psychological thriller, with a bit of horror thrown in, and once again Bette played an ageing actress.
This time, though, she isn't just a tad bitter and cynical, she's downright psycho, and if those infamous eyes were ever put to more terrifying use, we'd love to see that.
The paraplegic former film star is holding her sister prisoner in a creepy old Hollywood mansion, and if anyone worried it'd be too weird or scary, well, five Academy Award nominations disproved that.
With so much talk about Davis and Crawford's intense professional rivalry, perhaps some people went along to see it just to judge the chemistry between them.
But such stuff was ideal for the studio bosses, because it got bums on seats and gossip writers typing. It was deemed so controversial at the time that Britain gave it an X rating – today it's a 12A! – and Bette's weird Baby Jane has often been voted one of the best cinema villains of all time.
Baby Jane got Davis her final Academy Award nomination, but for many people since, we avoid houses where two grown-up sisters live together. There's just too much chance of mayhem breaking out.
Alas, none of this incredible success brought the two leading ladies closer together.
"It's proper to say that they really detested each other," said Aldrich, pointing out that they were professional too, adding, "but they behaved absolutely perfectly."
Once the movie was out, however, the problem between them grew and it became a lifelong feud according to Tinseltown insiders.
It also got Bette her only BAFTA nomination, and if you look closely you'll spot her daughter, Barbara – credited BD Merrill – in a small part, too.
When mother and daughter went to Cannes to promote it, the 16-year-old met and fell for a film executive, Jeremy Hyman.
She asked Bette if she could marry him, despite her youth, and she was allowed to do so. He was almost 30. Today, they are still happily married.
It was around this time that Bette started agreeing to some of the TV offers that dropped through her letterbox.
She was already a big fan of Perry Mason, the legal drama starring the man who would become Ironside, Raymond Burr.
A big man, 13lb when he was born, Burr's presence filled the screen in the courtroom scenes – but that year he took ill and it was announced a few famous names would fill in during his absence.
Bette appeared in the episode The Case Of Constant Doyle, which got her face known and remembered again.
Clearly, however, the lack of good jobs at that point angered her. To the extent that she placed an ad in the papers, seeking work!
She would later say it was a joke, but the listing in Variety magazine read: "Situations wanted – women artists. Mother of three, divorcee, American, 30 years' experience in Motion Pictures. Mobile still, and more affable than rumour would have it. Wants steady employment in Hollywood."
Hush… Hush, Sweet Charlotte, Aldrich's 1964 follow-up to What Ever Happened To Baby Jane, saw Crawford pull out shortly after he began filming.
Replaced by Olivia de Havilland, they still made it a major success, something that an amazing seven Academy Award nominations demonstrate. Just as importantly for Bette and the others, it also brought attention to the veteran stars, with Joseph Cotton, Mary Astor and others also involved.
An interesting 1965 project was British film The Nanny, in which Bette starred alongside UK TV favourite Wendy Craig.
Bette played the nanny who is anything but a Mary Poppins type. More of a cold-hearted psychopath!
Made by Hammer at Elstree, many have claimed it was the best non-supernatural flick Hammer ever did.
The story of a 10-year-old boy being discharged from a home for disturbed children, he is terrified of his nanny, Bette.
He accuses her of trying to kill him, and Bette's appearance and those eyes leave you in no doubt that the kid may have a point.
Needless to say, Wendy Craig is beautiful and brilliant, Bette Davis is utterly terrifying, and the boy turns out to be right in his fears.
In the years to come, Bette would fill theatres talking about her life and career she would appear in US TV series and take part in movies, too, though not always as the leading lady.
She seemed troubled at times by the feeling younger, less experienced actors and actresses didn't show her the respect she deserved, but everyone knew who Bette Davis was and all she achieved.
It was in 1977 this recognition became official, when she became the first female to receive the American Film Institute's Lifetime Achievement Award.
Jane and Henry Fonda, Natalie Wood and Olivia de Havilland were among those there to pay tribute, de Havilland joking that Bette "got the roles I always wanted".
She would presumably have liked to get a role in Death On The Nile the following year.
With a huge budget and all-star cast to match, the Agatha Christie adaptation had lofty ambitions and therefore simply had to get Bette Davis involved.
Alongside her were everyone who was anyone – Jane Birkin, Peter Ustinov, Mia Farrow, Angela Lansbury, David Niven and Maggie Smith.
Amongst that lot, your eyes are still drawn to scary lady Bette.
She played socialite Marie Van Schuyler, a lady who gets bored easily and simply takes whatever she fancies when she sees it.
The Whales Of August, from 1987, saw Bette paired with Lillian Gish, as a pair of widowed sisters very unlike the siblings in What Ever Happened To Baby Jane.
Nearing the end of their lives and living in idyllic surroundings, it's a moving film, shot on gorgeous Cliff Island in Maine, with Vincent Price playing a former Russian aristocrat.
Even now, though, Bette plays the more bitter of the sisters, while Gish is the one who is patient and puts up with moaning and cynicism.
In real life, Bette's health was failing as she made this movie, her last. She had undergone a mastectomy for breast cancer a few years before, and was hit with four strokes a fortnight later, which left her paralysed on one side and with slurred speech.
Only a woman like Bette could fight against all this to the stage where she could act again, and in her later years she still smoked up to 100 cigarettes a day.
Two years after her last film, she collapsed and then learned her cancer had returned. Too weak to get back from Spain to the US, she made it to France, where she died on October 6 1989, aged 81.
She had become a legend against all the odds – despite them originally not fancying her looks or her acting skills, Bette Davis proved herself a true Hollywood giant.
No wonder it says on her crypt: "She did it the hard way."