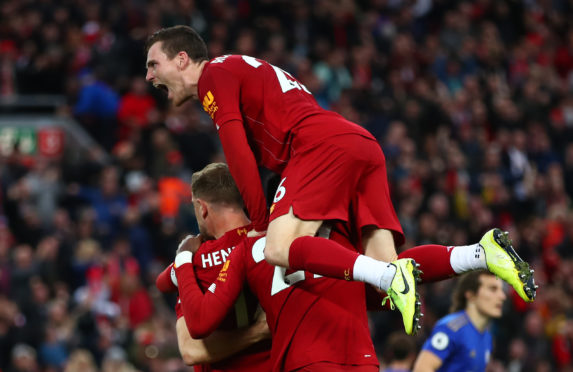 I've always believed the supporters are the most-important people in football.
So there was never any chance of me getting a job in the administration side of the game.
The scheduling of the match between Leicester City and Liverpool on Boxing Day is just another slap in the face for hard-pressed fans.
It's the latest example of the way that those in the stands are ignored when it comes to deciding where games are played and when they should kick-off.
Asking Liverpool people to make a 240-mile round trip to Leicester for an 8pm kick-off on December 26 is a nonsense.
The club has offered to put on free coach travel, but that's the least they should be doing for the loyal supporters that follow them across Europe.
It's at least a gesture from the people in power at Anfield but it doesn't make up for the folly of the original decision.
There's no public transport on Boxing Day night – surely the Premier League must have known that.
Similarly, what on earth were the SPFL thinking when they decided that Motherwell should be in Dingwall on Boxing Day?
That's a 370-mile round trip that takes more than seven hours. And it's not even on live TV.
Where's the sense in that?
It's time the clubs realised that without the fans, they don't have a business.
I know how important television money is to football these days.
Without the investment of the satellite broadcasters, we wouldn't be watching all those superstars from around the world playing at English grounds.
But I do worry about just how far football can push the fans.
They already pay a pretty penny for season tickets, and then even more to watch subscription channels on television.
The latest firm to enter the market is Amazon Prime.
They're showing all nine of England's Premier League Boxing Day fixtures in their first foray into top-flight broadcasting.
And it's obviously been decided that Leicester City v Liverpool will be the highlight of the day.
Now I know the clubs can't be going into battle with the broadcasters every week.
The cash that flows into the game comes with a lot of conditions attached.
I think most fans now accept that lunchtime kick-offs, Sunday fixtures and Monday night matches are part of the modern football environment.
But I'm sure they would hugely appreciate it if those in a position of power treated them with a little more consideration.
The festive season is a time when people are desperate to get out and follow their team.
It's not easy to get about during that period and scheduling a fixture on Boxing Day night makes it just about impossible for many.
Football in England is fantastically well supported and this is a slap in the face for the ordinary fan.
We have players earning £300,000 or more a week or more, and those wages have developed from the enthusiasm people have for their clubs.
The rise of the Premier League would never have happened without paying punters providing the atmosphere that has been so attractive to sponsors and broadcasters.
It really should be easy for the cash-rich English game to make a point of putting fans first just a couple of times each season.
The finances are different in Scotland.
The clubs don't have the same muscle when it comes to negotiating with media outlets.
But you don't need money to apply a bit of common sense now and again.