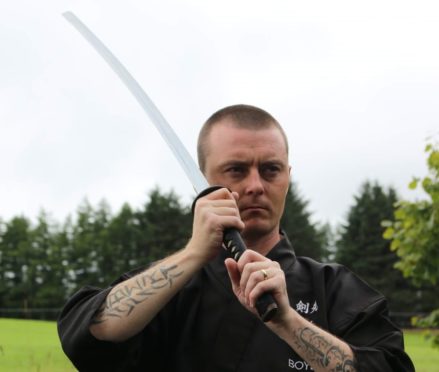 It's referred to as 'the silent killer.'
But one man is hoping to raise awareness of kidney disease, by performing in a far from inconspicuous way.
Robert Boyd, a stay at home dad from Glasgow, is being sponsored to perform 700 iaido sword cuts without stopping, using his passion for martial arts to help the cause which is close to his heart.
The 33-year-old took up iaido, the Japanese art of sword drawing, as an outlet after the trauma of coping with chronic kidney disease.
Kidney disease affects three million people in the UK, treatments can be gruelling and currently there is no cure.
When he was just 15, Robert had suddenly gone into life threatening kidney failure after a rare form of spina bifida caused his bladder to swell, damaging his kidneys. He hadn't realised anything was wrong.
Doctors had thought he wouldn't live. He eventually came back from the brink, although serious damage had been done.
"I remember a doctor saying imagine a Crunchie chocolate bar – the honeycomb is what it should like like inside your kidneys, but inside yours it's hollow," he said. "At the time that was quite a good description."
Robert defied the odds until, in his late 20s, his kidneys had deteriorated so much that dialysis was inevitable, despite his efforts to soldier on.
"I was very, very frail, I could barely get out of bed, my energy levels were zero, the only reason I was getting up was because I had to, for my kids," he explains. "My kidney function was just 4% when I ended up on dialysis."
Unexpectedly, after eight weeks of gruelling dialysis, a donor kidney became available. Most patients have to wait years for a transplant. Robert woke from his operation feeling like a new man.
But he said, there needs to be more done to help those who have faced death, with a new life of hopes and dreams, and the normalcy most people live their lives with.
"There should be therapy and aftercare once you have had the operation," he said.
"At first, I was so excited to be alive. But that honeymoon period kind of drifts.
"I've been finding it quite hard to flip that switch to 'living'. That's my battle at the moment, with my mental health. I had spent so long preparing to accept that I was probably going to die quite early in my life, then having this big new world, that was so unexpected.
"It's hard to get your head around, especially since being told at 15 years old: 'There's nothing more we can do, here's a minister to give you your last rites.'"
He added: "There is a constant worry there. You know what's going to happen if this kidney decides it's not going to work any more. That can be a dark cloud that follows you, it's always there."
Having previously taken part in Kidney Research UK's popular Glasgow Bridges Walk across seven of the city's bridges, Robert seized the opportunity to develop his martial arts fundraiser when the walk had to be cancelled because of the pandemic.
Iaido had helped Robert cross a number of mental bridges since he took it up, seven years ago. He now runs his own club, Roshukai Kensaki, on a voluntary basis in the east end of Glasgow.
"I went along to classes, and realised it wasn't just swinging swords, it was a good way for me to have some focus and let off some steam without damaging myself," he explains.
"It's made me a very different person, a far more grounded and centred person, and let me deal with some of that anger that I've felt towards my kidney disease. It helps me to try to think through things more levelly as well.
"I have a massive social network now, I've got people all over the world I can call friends, I've told them my story and they're so supportive.
"Seeing the research happening and the awareness being spread by Kidney Research UK has inspired me to try and do my part. I wouldn't wish kidney disease on my worst enemy.
"People don't realise how large a killer it is, or how horrible a disease. They just think of kidney infections or of urine infections, which it's fairly easy to get over.
"But if I can at least benefit even just one person through raising more awareness then I'll feel like I've done something right."
Sharon Sheridan, Fundraising Manager for Kidney Research UK in Scotland said: "Robert's vivid story shows kidney disease affects people not only physically, but mentally. It demonstrates how essential our work is to transform transplants and treatments even further to save and improve lives.
"Everyone and anyone is welcome to take on their own #MyBridgesChallenge for Kidney Research UK, replacing our seven-mile Bridges Walks which were cancelled to the current pandemic."
---
Donate to Kidney Research here: www.kidneyresearchuk.org  or to Robert's iaido challenge here: mybridgeschallenge.blackbaud-sites.com
To find out more about joining iado classes, click here: www.tokyoadachiroshukai.co.uk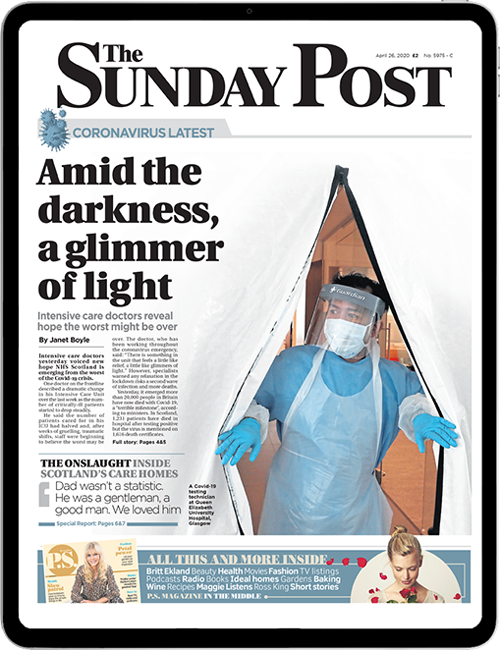 Enjoy the convenience of having The Sunday Post delivered as a digital ePaper straight to your smartphone, tablet or computer.
Subscribe for only £5.49 a month and enjoy all the benefits of the printed paper as a digital replica.
Subscribe