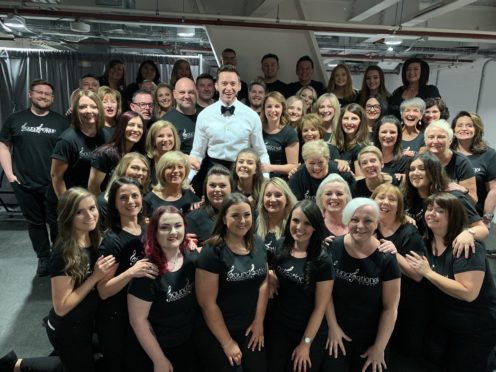 They're retired tradesmen, council gardeners, hairdressers and nurses… but last week they were Scotland's greatest showmen and women.
A million dreams came true for the members of Lanarkshire's SoundSational community choir when they were chosen to perform with Hollywood star Hugh Jackman as he unveiled his sensational stage show to the world in Glasgow.
The singer chose the choir to join him in hush-hush rehearsals for the opening night of his world tour at the SSE Hydro after seeing footage of the amateur singers performing songs from his movie The Greatest Showman in the city's Central Station.
Now the musical director of the group, based in Motherwell, has thanked the superstar for the thrill of their lives.
Tommy Chambers, who established the choir almost 10 years ago, was contacted by members of Jackman's production team after uploading a video of his choir singing in response to an online appeal community choirs singing Jackman's songs from the blockbuster movie.
Four weeks ago, he broke the news to his choir they would be singing with Jackman at the Hydro.
This week, he'll have to figure out how to scrape them off the ceiling of the Clydeside venue.
He said: "I got an email at 2.30am saying there was something exciting they wanted to talk to us about.
"Thehey told me they loved the energy of what we did, that our video had been picked, and would we be interested in doing it.
"I jumped at the chance. The next thing three choral and orchestra scores were sent to me branded with 'Hugh Jackman World Tour 2019'."
A three-week rehearsal period gave way to a dress rehearsal on Monday last week, where 50 members of the 140-strong amateur group met the X-Men star to run through their numbers – You Will Be Found, from the Broadway musical Dear Evan Hansen, One Day More from Les Miserables and A Million Dreams from The Greatest Showman.
Tommy said: "He was super nice. Every time he was standing next to someone in the choir during rehearsals he had a chat with them.
"It was so very motivational for everyone. The choir isn't full of people in the entertainment business.
"We have council gardeners retired tradesmen, nurses who deal with end-of-life patients, people who are unemployed, hairdressers.
"They loved how genuine Hugh Jackman was. He was inspirational."
The choir, which is run as a social enterprise, also works with schoolchildren and NHS patients, tackling issues such as the attainment gap and poor mental health.
Yesterday, after performing to more than 30,000 people over three nights at the Hydro, they were singing at 3am in Glasgow city centre for suicide prevention charity Chris's House in a nocturnal Walk of Hope.
Tommy said: "What we did this week has changed the lives of 50 people. The positive impact of this will affect their family lives, working relationships, pride, confidence, self worth.
"Hugh Jackman gave us that gift, and we thank him for that."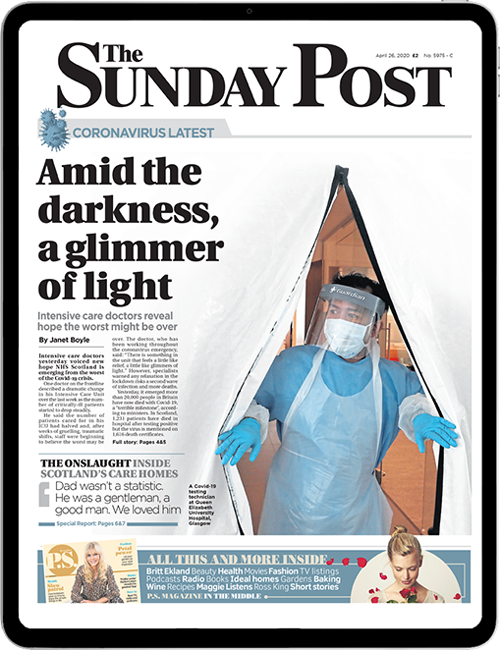 Enjoy the convenience of having The Sunday Post delivered as a digital ePaper straight to your smartphone, tablet or computer.
Subscribe for only £5.49 a month and enjoy all the benefits of the printed paper as a digital replica.
Subscribe