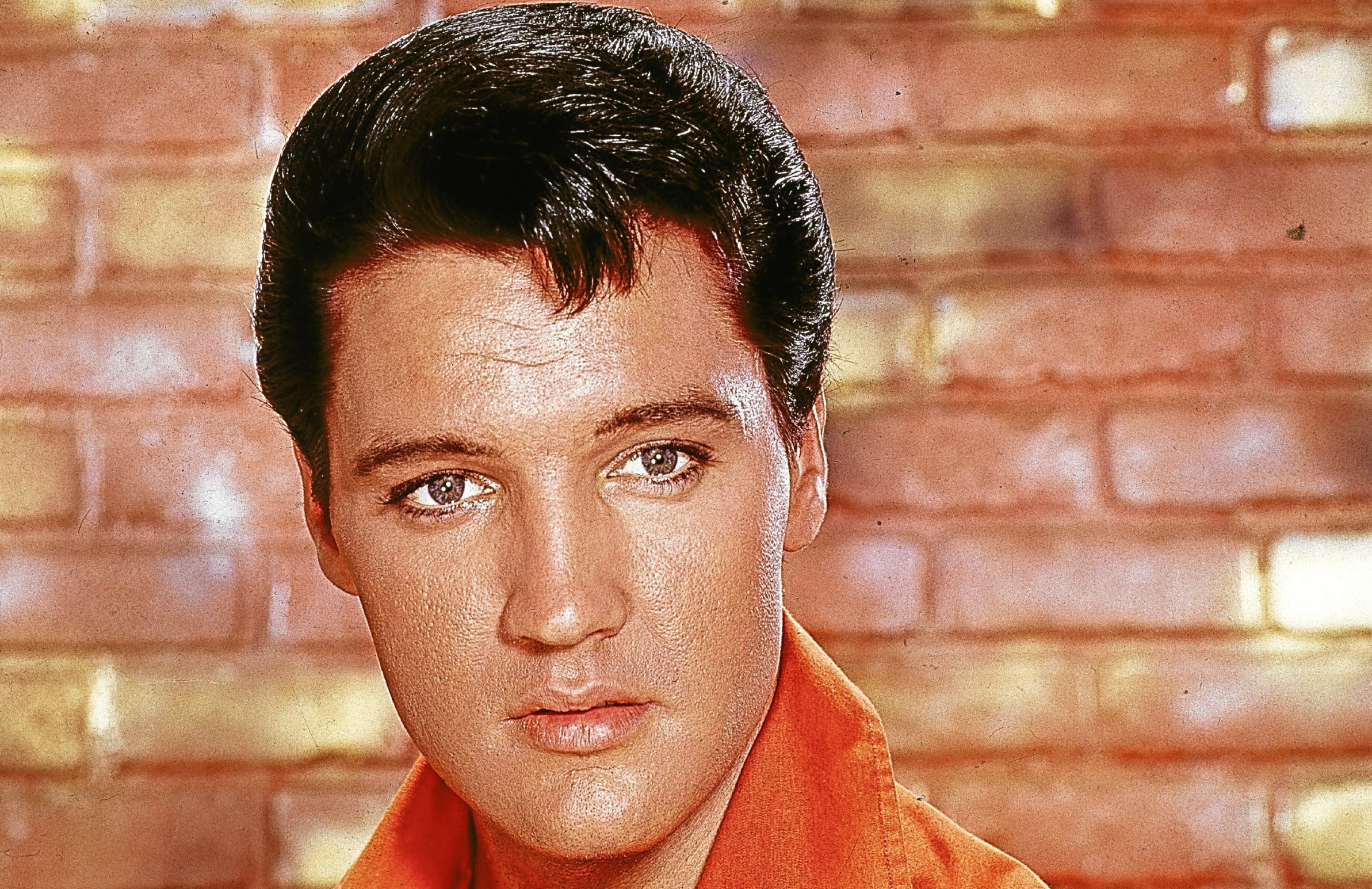 TODAY marks the 40th anniversary of the death of Elvis Presley.
Here we look back at 50 milestone moments in his life.
---
It was on January 8, 1935, that the boy who would be King came into the world in Tupelo, Mississippi. Music and teenagers would never be the same again.
Elvis would always remember that there had been an identical twin brother, Jesse, stillborn 35 minutes before him.
When he became rich beyond his wildest dreams, Elvis would be very generous, and knew all about poverty, trying to help people. The fact he and his family just survived a dreadful 1936 tornado was never forgotten.
"Elvis Presley was very private – I can't imagine him using Twitter," says ex-wife Priscilla Presley
The family's desperate financial straits were also noted in 1938 when Elvis's father, Vernon, was found guilty of kiting a check, as they say in America — basically, he used a cheque like an advance, and spent eight months behind bars, Elvis and his mother Gladys moving in with relatives.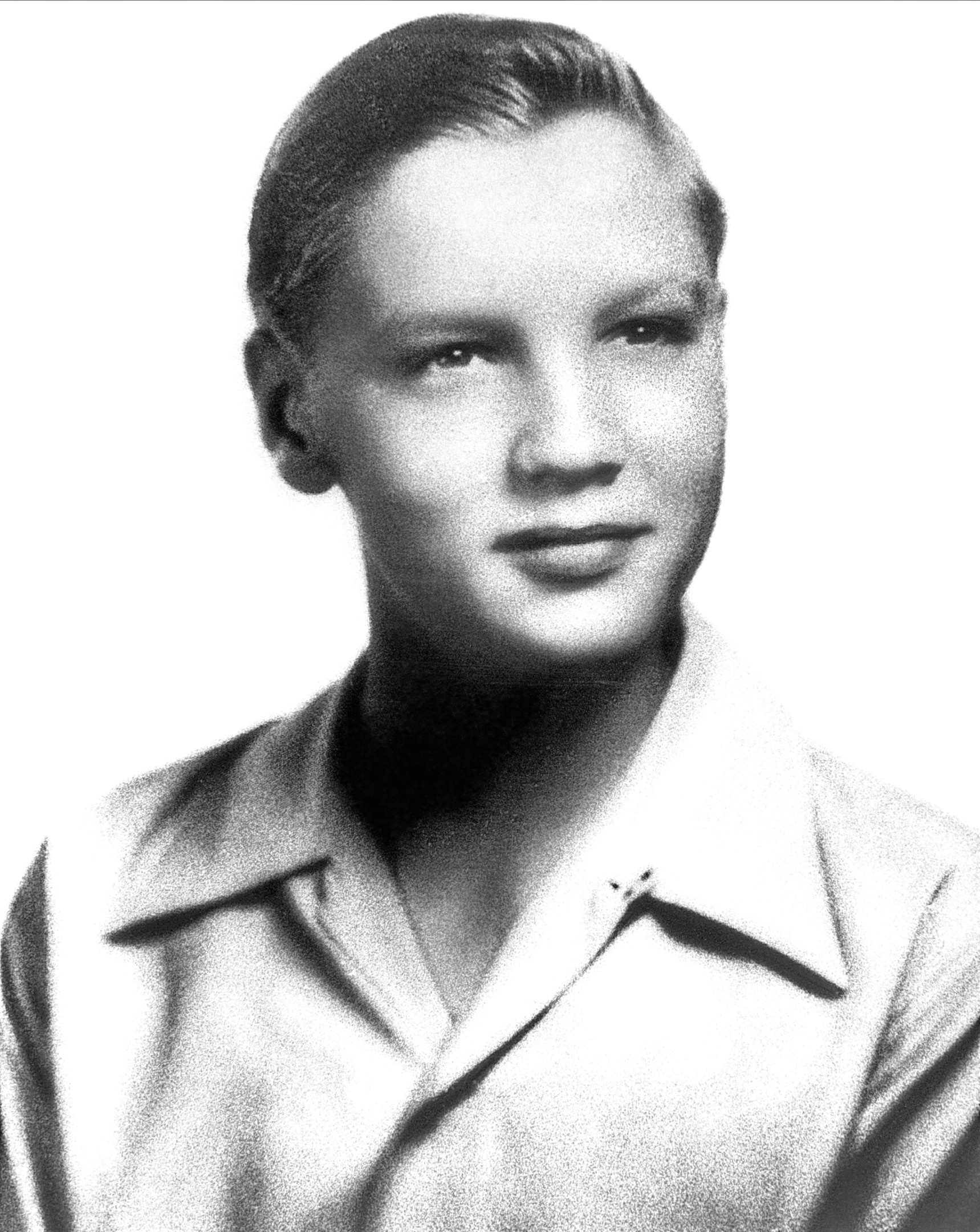 September, 1941, saw the young lad enter first grade at East Tupelo Consolidated, a school close to his home. Well-run despite being in a deprived area, teachers felt Elvis was merely "average".
They possibly changed their minds when a teacher entered the boy into a talent contest for budding singers. Dressed in a cowboy outfit, and stood on a chair as he was tiny, he came fifth, but caught the singing bug.
The King I knew: The man who's run the UK's official Elvis fan club for 50 years shares his memories
Within months, he had been bought his first guitar, too, and now there was no holding him back.
The story goes that he'd had his heart set on a bike or a rifle, but Elvis was soon learning, picking up chords and fancy frills, and he became a pretty decent strummer in time.
Given how he'd become so big that even The Beatles were tongue-tied in his presence, Elvis was shy and a loner at school in the 40s.
He later admitted it took all he could muster just to sing a few lines in front of strangers. Amazing, what becoming the biggest music star on Earth can do for your confidence.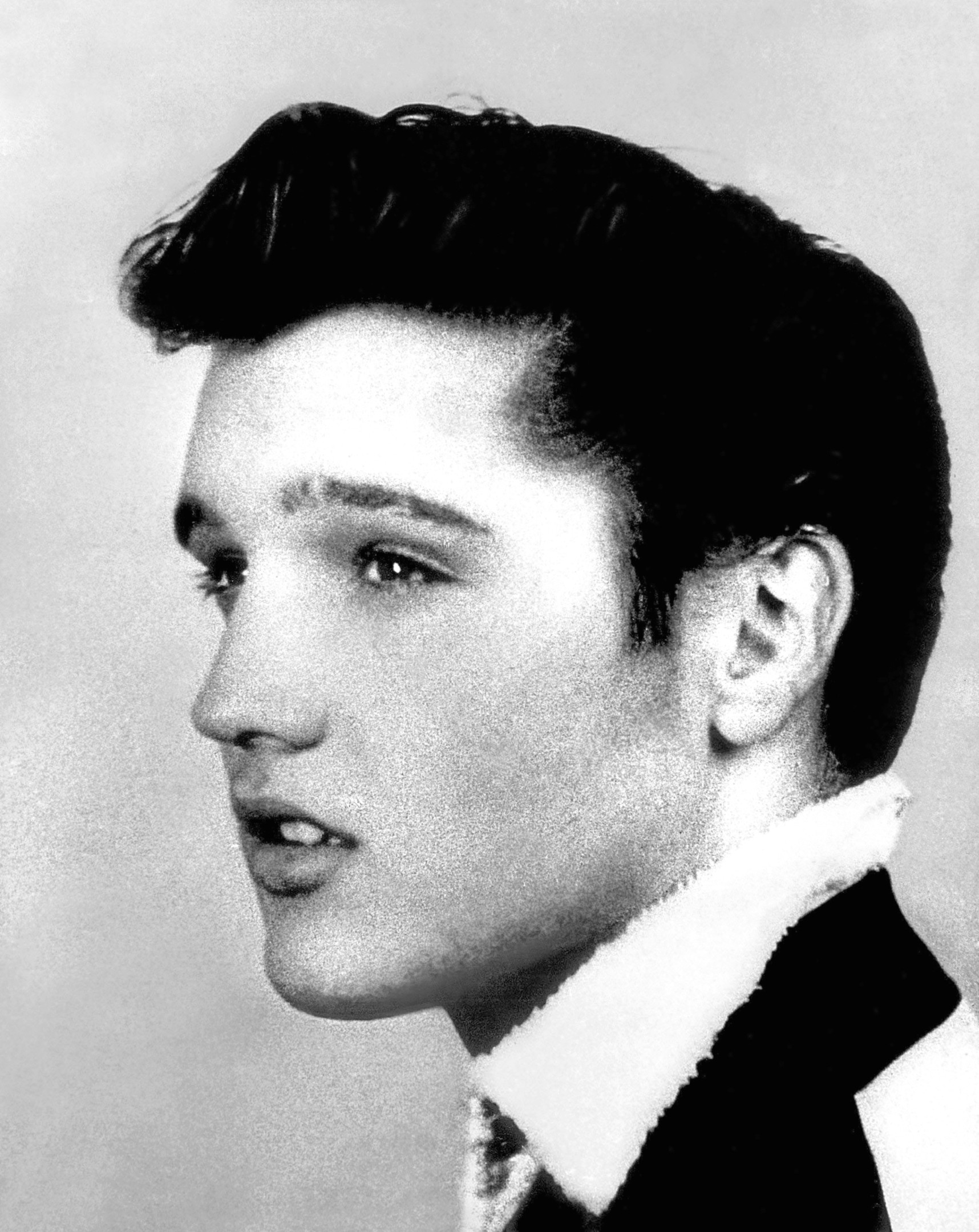 In 1947, invited to come on his favourite radio show and sing, nerves were his undoing the first time, but he overcame them and did well at the second attempt.
Late 1948 saw the Presleys up sticks and move to Memphis, Tennessee, a strange new place to them then — today, few folk would hear the name without immediately thinking of Elvis.
Given just a C for music, his teacher told Elvis that this wasn't the thing for him. Disagreeing, he brought in his guitar and sang for her, but it seems she was still unimpressed.
There have been several claims and rumours over the years that during this period, Elvis suffered a fair bit of bullying, for "being a mama's boy". Retreating into his shell, he focused on his music — and, of course, really did dote on his mother.
An older neighbour started teaching him guitar properly, and although Elvis was like most rock stars — in that he was unable to read music — he did get the hang of it pretty quickly.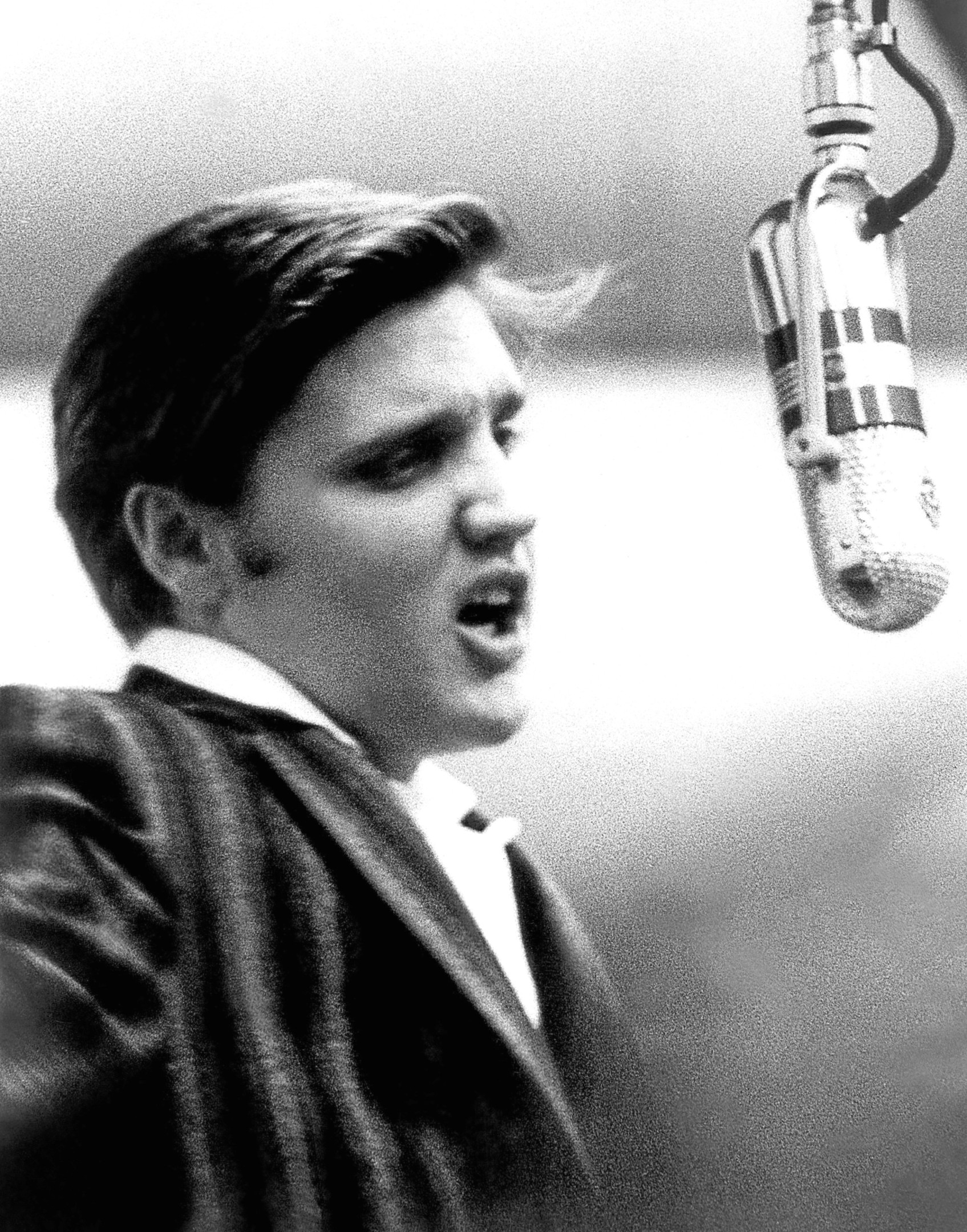 It was about this time, the start of the 50s, that he really got into black music.
Many have pointed out it was the way Elvis mixed black music and country music that got him his sound. Sister Rosetta Tharpe, the gospel singer and electric guitarist who once performed on a railway station platform in Manchester, was one of his favourites.
One fine day in August 1953, it all changed. Elvis walked into Sun Records' office to record a couple of sides for his mother, and staff liked him, noting his name and writing: "Good ballad singer. Hold." Talk about understatement!
He recorded a few more things there months later, at the start of '54, although again nothing much came of it.
Time and again, he was told he wasn't a singer, had no idea of harmonies, and that he should be a truck driver or the like.
At Sun, however, Sam Phillips hadn't forgotten him. Desperate to find a white boy who could sing like a black man, he asked Elvis to record a song, Without You.
Although Elvis flopped with attempts at Without You, Sam suggested he just do a few more songs, whatever kind of stuff he fancied. The lad was so good, Sam brought in some top local musicians, notably Scotty Moore on guitar, and they clicked with the young Presley.
He got into a great Cadillac while I was getting onto the bus! Cliff Richard on comparisons to Elvis
In the summer of 1954, after they played Elvis's version of That's All Right, a bluesy song from 1946, the calls began. Who was this guy? Where could they buy the record? Sam knew they were onto something and he had found his man.
On July 17, when demand saw Elvis perform live for the first time, he was still using his child-size guitar. His legs literally shook with fear, something the young ladies in the large crowd loved, and a legend was born.
By October, he was on the Grand Ole Opry, followed by its more-adventurous rival, Louisiana Hayride — broadcast to almost 30 states, this was priceless publicity for Presley, who started nervously, but got much better in the second half.
By the first weeks of 1955, having slogged away at it since childhood, fame and fortune was Elvis's, as he gained more fans each day.
Colonel Tom Parker, who'd play such a pivotal role in the whole Elvis phenomenon, started to hear about this kid. The best music promoter in the US, he was soon advising him.
Although not his manager, yet, Parker could see he had a giant star on his hands. In fact, Elvis was so adored by girls that there was often a threatening atmosphere at concerts from jealous local boys. Not even a superstar yet, Elvis already needed security around him.
He didn't have a hit yet, but Presley ended '55 on a high, voted the most-promising newcomer of the year, with many sold-out gigs, and Parker having got him a lucrative RCA deal that saw him leave Sun. He was too young to sign it, so dad Vernon had to do it.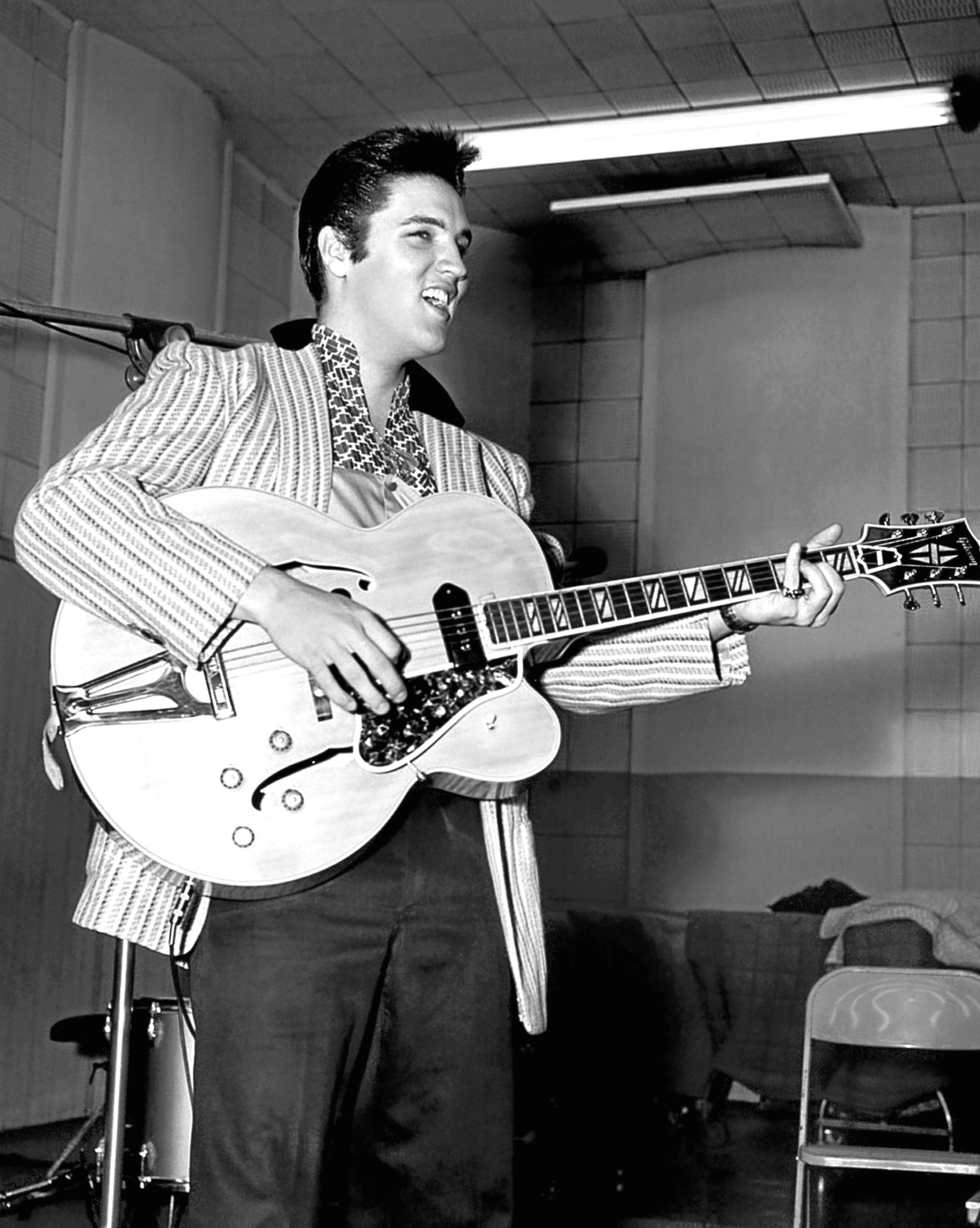 Ten days into 1956, Presley was where RCA wanted him for the foreseeable future — in their recording studio.
That year alone, he'd record singles Heartbreak Hotel, I Want You I Need You I Love You, Don't Be Cruel, Hound Dog and Love Me Tender.
Every one of them became a US No 1. Three also reached No 2 in Britain, and around the world the name Presley was all over every official chart.
With Colonel Tom Parker officially becoming his manager in March, the sky was the limit and the Colonel had big plans for his protégé.
Within days, for instance, he'd helped Elvis buy a ranch-style house, complete with a garage for not one but two automobiles.
In a quiet street, it was soon noisy and full of fans, peeking through the windows for a view of their hero and his parents, who lived there with him.
If it wasn't quite Graceland, it was an early sign of just what an "unmusical" kid could achieve with the right people around him, and his confidence was boosted.
That same month, his debut album, Elvis Presley, became the first rock 'n' roll album to hit the top of the US charts, staying top for 10 weeks. The boy could do no wrong.
Experts believe the front cover, with Elvis in full concert glory, guitar prominent around his shoulders, is the reason guitars became synonymous with "cool" music.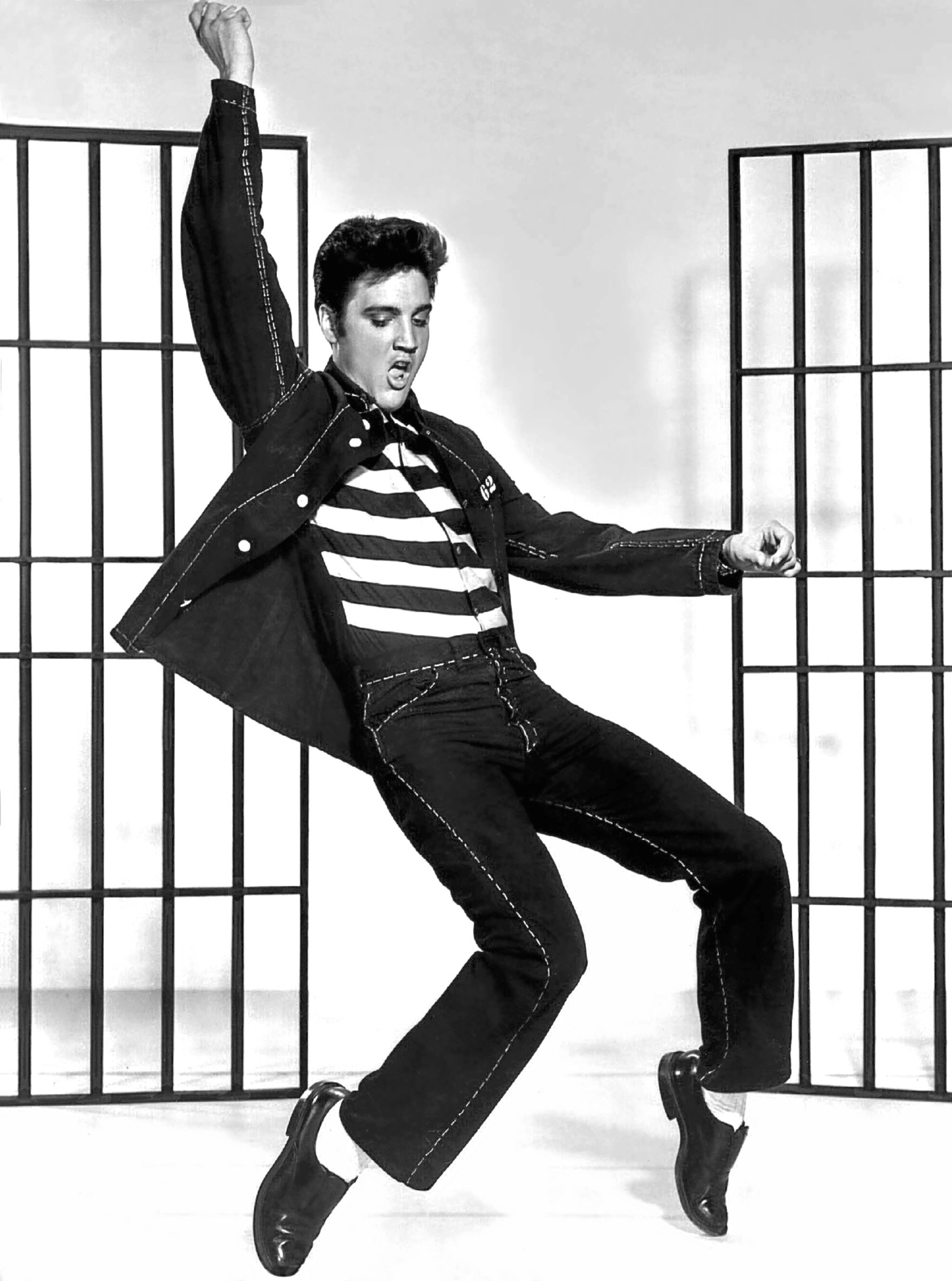 April saw yet another first for him, when he performed for hundreds of sailors on the deck of the aircraft carrier USS Hancock.
Days later, he was less thrilled when one of the engines on his plane clapped out over Arkansas. He got to ground safely, but badly shaken. Other rockers, of course, would not be so lucky.
In June, a few words of advice from comedian and actor Milton Berle gave a bit more thrust to the Elvis phenomenon. Literally.
About to appear on the Milton Berle Show, the host whispered to Elvis to leave his guitar backstage, saying: "Let 'em see you, son!"
Without his trusted Martin guitar to use as his prop, Elvis's gyrations were there for all to see. It caused a huge outcry from the media, and a huge outpouring of excitement from his female fans.
That incident drew so much publicity that Elvis was now being booked for the biggest TV shows in America, and even the Ed Sullivan Show was for the first time beaten in the viewing charts if Presley appeared on a competing show.
Already enjoying comparisons with previous pop heroes Glenn Miller and Frank Sinatra, Elvis enjoyed another six No 1 USA hits in a row through 1957 and '58.
Too Much, All Shook Up, (Let Me Be Your) Teddy Bear, Jailhouse Rock, Don't and Hard Headed Woman also hit the high spots in Britain and elsewhere.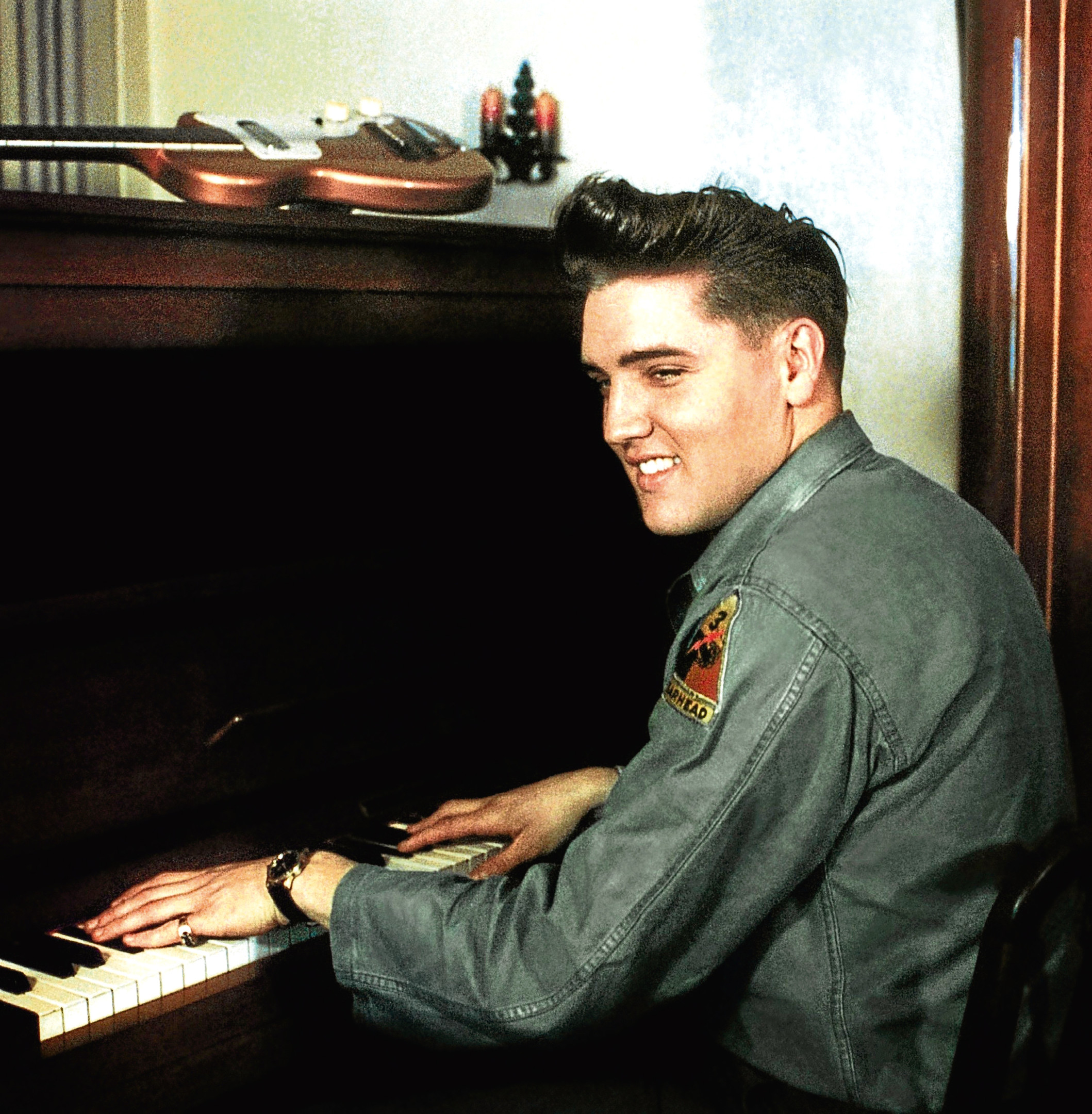 There was, of course, a good reason why this run of hits ceased in March, 1958. He was conscripted into the US Army.
"The Army can do anything it wants with me," he told massed ranks of reporters, insisting he had to be treated just like any other private.
Some reckon that original Elvis magic was lost during his time in the military, but when he was honourably discharged as a sergeant on March 5, 1960, he still had some of his greatest days in front of him.
He already had several movies in the bag, like Jailhouse Rock and King Creole, and there would be far more to come in the 60s.
If the likes of Viva Las Vegas, Fun In Acapulco and Paradise, Hawaiian Style weren't a patch on his music, they were still fun and watchable for his many fans.
Follow That Dream, Loving You and Flaming Star are often voted his best three.
In off-duty moments serving in Germany, Elvis had enjoyed hearing O Sole Mio, and felt it could do well with different lyrics.
When he got to do his own version in 1960, It's Now Or Never gave him another No 1 worldwide.
The reason his next single — yet another No 1 — took so long to be released was because RCA huffed and puffed over whether it fitted his image.
Are You Lonesome Tonight certainly was not a rocker, but when they finally released it in late 1960, sure enough, it shot straight to the top. As usual.
By early 1961, he was presented with an award for selling 75 million records, and used his power to boost various good causes and charities with concerts in their aid.
It was in 61, however, that many believe the King's star began to wane, and it's often said he had to churn out so much music for his three movies a year that he lost touch with quality control.
He'd go through a few fallow years, by his own high standards, but when he did a special concert in 1968 — his first since '61 — it was clear the real Elvis was back.
The so-called Comeback Special, featuring our hero in all-leather gear and fairly thrashing his guitar, was a huge success. His reputation had been saved.
By the way, what about that high collar on his leather jacket? Well, it's said that Elvis felt he had a weirdly long neck, and had his collars up to hide it. And we all copied it because it was cool!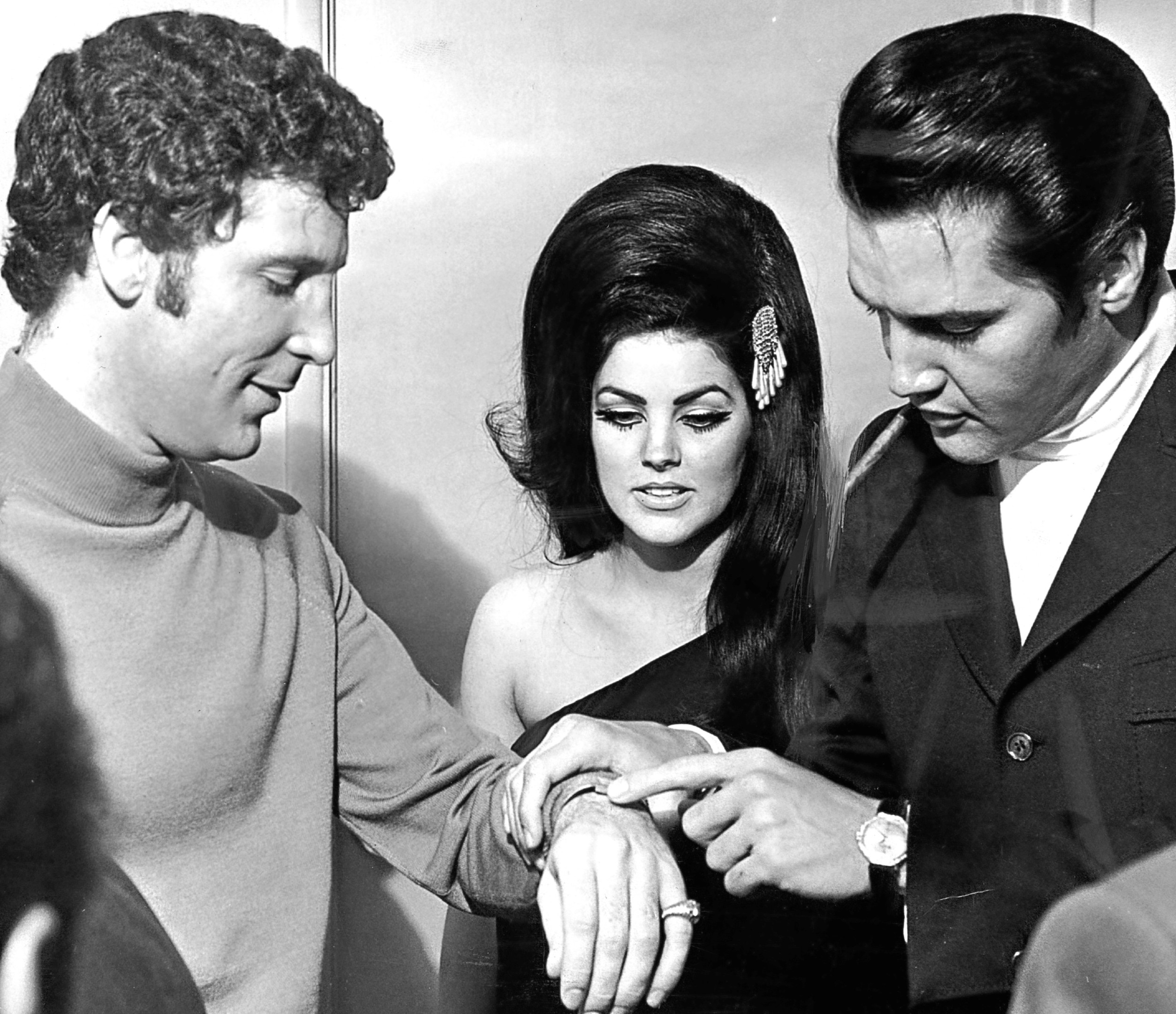 Months earlier, he had also got his private life settled, marrying Priscilla seven years after they'd first met. In early '68, they had their only child, daughter Lisa Marie.
Many people's favourite Elvis song, Suspicious Minds, was released in '69 and it was proof that when he felt like it, Presley could still create No 1 hits.
The Wonder Of You the following year proved it again, and as the 70s began, nobody would have believed how little time The King had left.
Four days before Christmas, 1970, Elvis was at the White House Oval Office to meet Richard Nixon, where he apparently described his loathing of the hippy movement. Paul McCartney summed up how many other rock stars felt, saying he "felt a bit betrayed".
If that was a sign that Elvis wasn't the man he had been, other things made it all the more clear. Divorce from Priscilla in '72 was a dark time, as was his on- stage fight the next year with assailants who he reckoned were linked to his ex-wife's lover.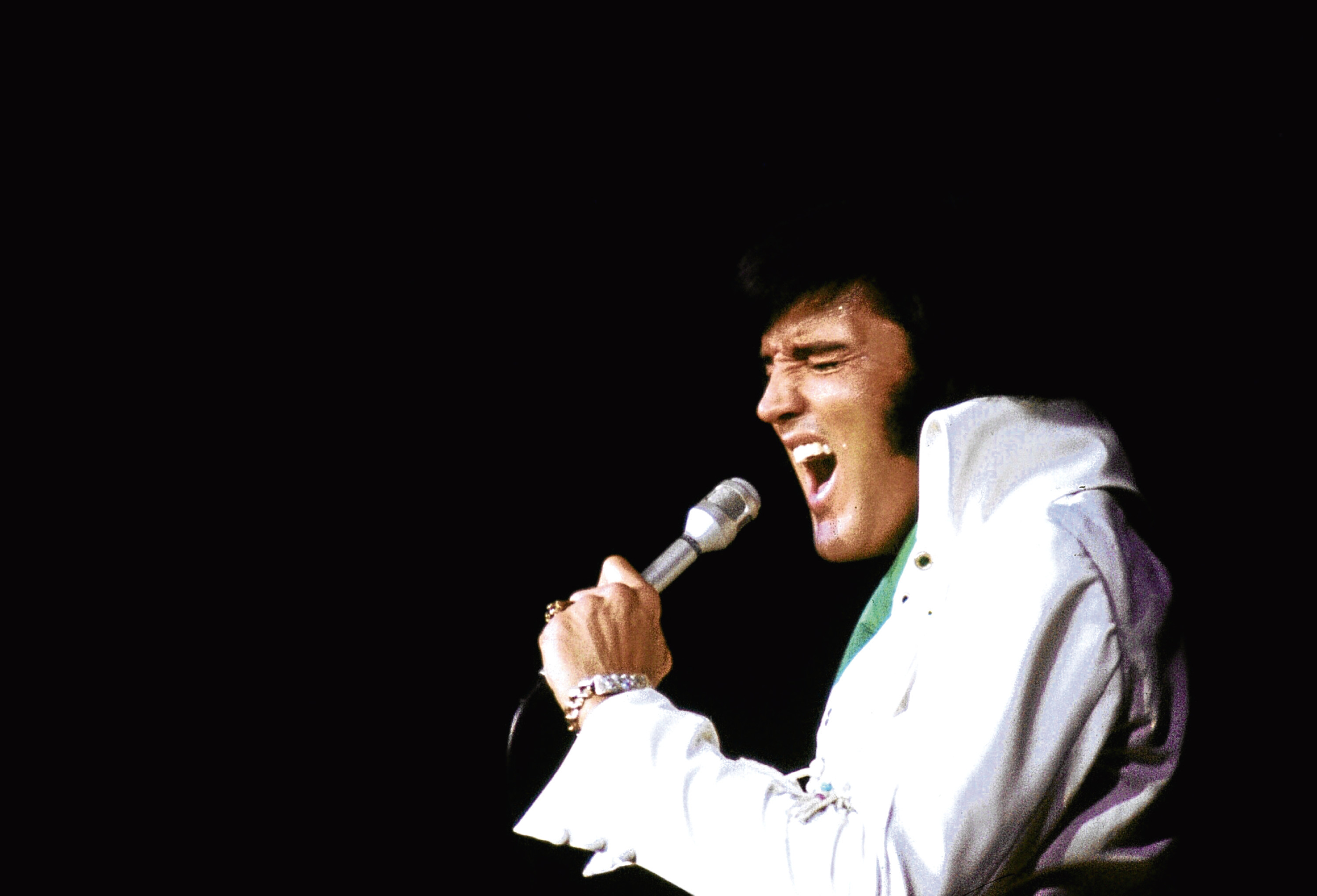 Elvis was becoming increasingly irrational, and dependent on prescription drugs, getting overweight, but relentlessly doing more concerts than ever. However, the 70s seemed to be wearing him down.
In 1976, having seen several women but never settled again, he would often sit and talk about his favourite Monty Python sketches, but then drift into paranoid chat. During concerts, he would often just barely manage to drag himself through them.
On August 16, 1977, aged just 42, Elvis was found unresponsive on his bathroom floor, and was pronounced dead at 3.30pm.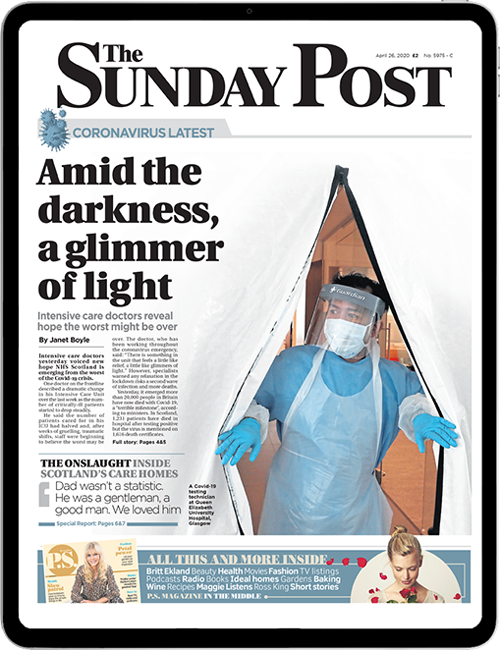 Enjoy the convenience of having The Sunday Post delivered as a digital ePaper straight to your smartphone, tablet or computer.
Subscribe for only £5.49 a month and enjoy all the benefits of the printed paper as a digital replica.
Subscribe