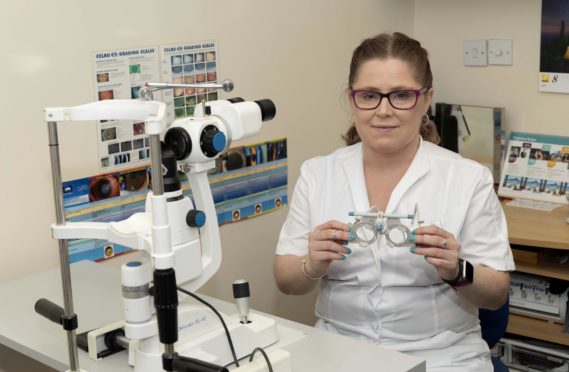 A woman who has had 10 cornea transplants in the past five years is training to become an optician.
The condition Lynsey Scott has is so rare, it has baffled medics – and doesn't even have a name.
The 39-year-old, who has also endured a recent eye cancer scare, says she's been inspired to take up the profession due to what she's gone through since her right cornea first perforated in 2014.
And Lynsey, from Glasgow, is refusing to let the disorder stop her from following her dream of studying ophthalmology.
"People say they don't know how I get out of bed in the morning, but I try not to dwell on it," said Lynsey. "It does give me a kick in the teeth when I'm told another transplant has failed.
"I get upset for a while, but then I vow it's not going to beat me."
Lynsey says she was more scared about going back to university than having the eye operations.
"I was more emotional about taking the plunge to go to uni," she admitted.
"Every time I get a knock to my health, I wonder why I'm doing it. It's not a job I can do with no eyes.
"Then I think of the optometrist who treated me. She was so enthusiastic and always said she wished I could see what she was seeing.
"Now I'd love to work in a hospital and do a similar job."
Lynsey, who is about to begin second year at Glasgow Caledonian University, has an overactive immune system that causes eczema, asthma and thinning of the corneas.
But the eye condition she's had for the past 20 years took a terrible turn for the worse five years ago when she rubbed her eye and her finger went all the way in.
"I was rushed straight into surgery. My cornea had perforated and when super gluing it didn't work I was told I required a transplant."
An infection set in, but medication failed to help. To make matters worse, four months later she required a transplant to her left eye.
A year on from the first op, her right cornea failed again.
The next transplant didn't work and she has now had eight transplants to that eye – three in the past year. It was after one of those transplants last summer when doctors found precancerous cells. "Eye cancer is rare and they only knew I had it as they were testing the tissue after the transplant," Lynsey explained.
"I was sent for scans to see if it had spread. I remember becoming a bit numb to it all, as so much had already happened.
"They gave me chemotherapy in the form of eye drops that I had to administer four times a day for three-week periods."
The treatment was successful, but it damaged the transplant.
"It killed the tissue and the tissue of the next one, in February," she said. "The last transplant I had was in April. The other week I was told there was a virus in the eye and it doesn't get any better when that happens, but this time the medication seems to have worked.
"It's still healing. It's a long process, up to 18 months. Unfortunately, I never usually get that far."
Lynsey says one of the things that gets her down is not being able to speak to other people who have the condition, as she doesn't know what she has.
"I don't have a name for it, which is tough," she said. "I'm on a lot of medication for my immune system and there's nothing else they can give me in that regard.
"Cornea transplants are usually 95% effective, so the fact I've had 10 tells you my situation isn't common."
Lynsey attends Gartnavel Hospital every week for check-ups and she's become used to dealing with regular complications.
"The surgeries mean I no longer have an iris in my right eye, so I have to wear sunglasses when I'm out, even when it's not bright. I feel a bit paranoid about that.
"And after the second-to-last surgery, doctors told me the lens had moved and was pushing on the front of my eye. They had to remove it during the last op.
"That's affected my focus, so they might need to put a false lens in further down the road.
"I still have stitches in my eye – around the coloured part – and they remove them a few at a time.
"I've become immune to someone approaching me with a needle and forceps by now."
Currently, her left eye is of driving standard when she wears glasses, but her right isn't good.
Brave Lynsey doesn't know what will happen in the future but is determined not to give up.
"I'm scared to ask how many they can give me," she admitted.
"The doctor said we would just keep trying, but I don't know how long that will carry on. With Brexit, we don't know how the NHS will be affected.
"Doctors say they are learning so much from me – but I wish they didn't have to.
"Now I'm focused on my studies and hopefully being able to help other people the way I've been helped."
The surgery
The surgeon's stitches are still in place around the edge of Lynsey's cornea after the theatre team removed a thin layer and attached the new donor tissue in the 90-minute procedure.
Lynsey had 18 stitches after her latest surgery and these are removed over a number of months, using numbing eye drops, needle and forceps. Eight stitches have been removed from her eye so far.
The eye is covered with a shield post-op, which is usually removed the next day.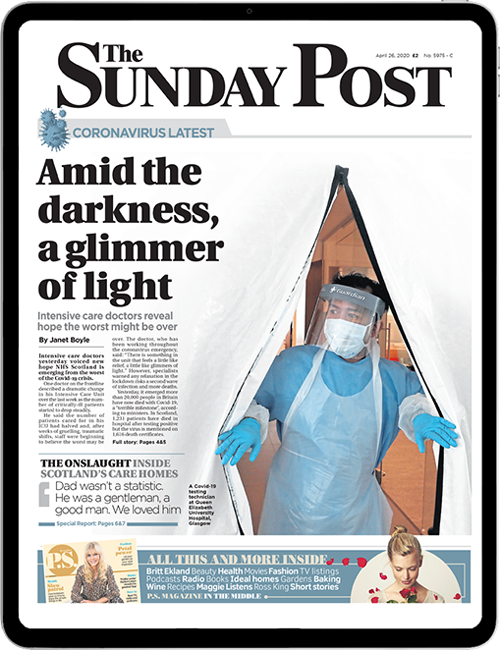 Enjoy the convenience of having The Sunday Post delivered as a digital ePaper straight to your smartphone, tablet or computer.
Subscribe for only £5.49 a month and enjoy all the benefits of the printed paper as a digital replica.
Subscribe