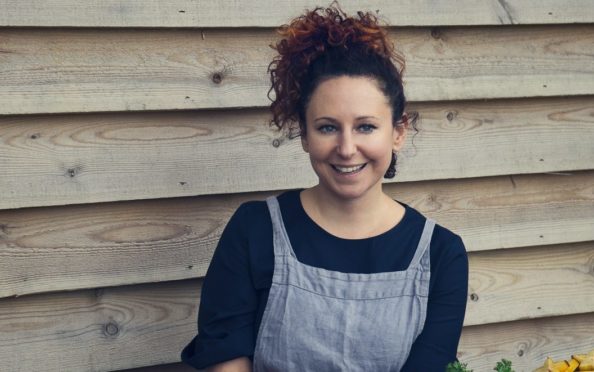 Tasteless, boring and lacking variety – just a few years ago this is how many food lovers would have described plant-based meals.
But with an estimated 600,000 people now following a vegan diet in the UK, and many chain restaurants and producers bringing out "veganised" versions of our favourite foods, households around the country are rediscovering the joy of cooking with fresh fruit, vegetables, grains and pulses.
Writer Niki Webster has followed a veggie-packed diet since she was just seven years old, and admits she had to get very creative when there were "hardly any vegan options" available.
And after years of finding clever, unique and innovative ways to create delicious dishes without using meat, fish, eggs or dairy, Niki began to share her recipes online, starting her blog, Rebel Recipes, in 2015, which she says is all about enjoying maximum flavour with minimum fuss.
Niki's spicy curries, vibrant pastas, exotic noodle dishes and dairy-free cakes prove there's more to veganism than limp lettuce leaves and bland lentil stews, and she believes vegetables can be the base for truly tempting meals even if you don't follow a plant-based diet every day of the week.
"I absolutely love vegetables, so it's easy for me to get excited about them and how they can be transformed into amazing vibrant and delicious dishes," explained Niki, whose blog has now been turned into a cookbook.
"I do appreciate that some people don't share my enthusiasm and favour other things, which is why I don't create recipes specifically for vegans. My aim is just to make delicious, vibrant, veggie-packed food that anyone will like."
Many of Niki's dishes are influenced by her travels around Asia and the Middle East, where she says the plant-centric cuisines helped her to discover flavour combinations which bring vegetables to life, including her very favourite coconut curry.
She explained: "My 'Tantalising Thali' coconut curry with chutney and tarka dal has lots of gorgeous southern Indian flavours, and it reminds me of my travels there.
"I spent three months travelling around India on a Royal Enfield motorcycle discovering all the incredible flavours, and this dish which is comprised of multiple dishes takes me right back. It tastes delicious, and always goes down a storm with friends and family.
"My inspiration for recipes comes from everywhere – cookbooks, restaurants, online. I usually start with the vegetables I have or what's in season, then I think about flavours which will complement and enhance them. Or sometimes I have a flavour or dish and start thinking about ideas around that."
For those hoping to include more fresh produce in their everyday meals, Niki says taking advantage of a fruit and vegetable delivery service will help keep costs low, stay in season, and get the creative juices flowing. She said: "When it comes to plant-based recipes, it's about making the veg taste amazing and turning it into the hero of your dish."
Rebel Recipes, published by Bloomsbury, is out now.
---
Chocolate, peanut butter and chickpea fridge bars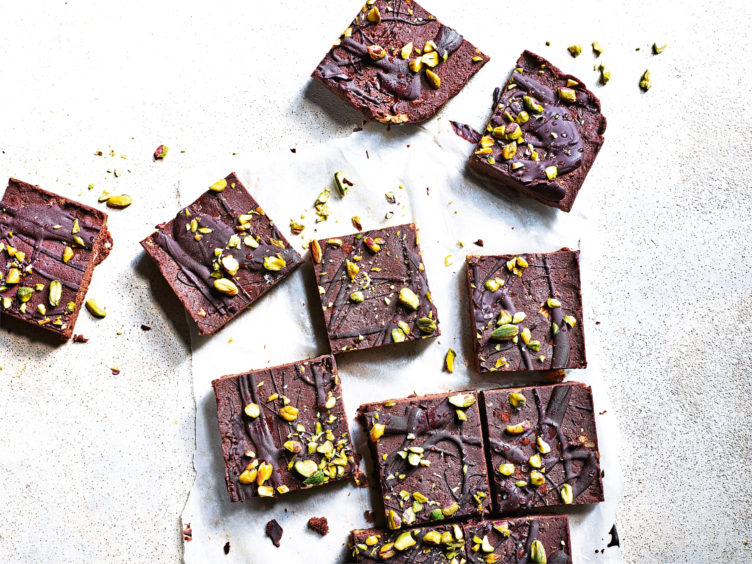 "Yes, these amazing chocolate peanut butter fridge brownie bars are made with chickpeas! Not weird, but absolutely delicious. I urge you to try them. And there's no cooking required – simply blend and refrigerate."
Serves 8 to 10.
You'll need:
400g can of chickpeas, drained
250g medjool dates, pitted
4 tbspn crunchy peanut butter
5 tbspn raw cacao
3 tbspn melted coconut oil
1 tspn vanilla extract
2 tbspn cacao nibs
2 tbspn chopped hazelnuts (plus extra to scatter)
40g vegan chocolate
Sea salt flakes
Method:
Put the chickpeas, dates, peanut butter, cacao, coconut oil, vanilla and a generous pinch of sea salt into a food processor or high-speed blender. Blitz until you get a smooth mix. Now add the cacao nibs and hazelnuts, and pulse once to mix.
Line a 17cm x 22cm baking tray with baking parchment then spoon the mix into the tray. Smooth out to the edges.
Gently melt the chocolate in a small bowl suspended over a small saucepan of boiling water. Drizzle the melted chocolate over the mixture in the tray, then scatter with some chopped hazelnuts and sprinkle over a little salt.
Refrigerate for at least 4 hours, or overnight, to firm up. Remove from the tray and cut into squares.
The bars are best kept in the fridge where they will keep for 3-4 days, or store in the freezer for up to a few weeks.