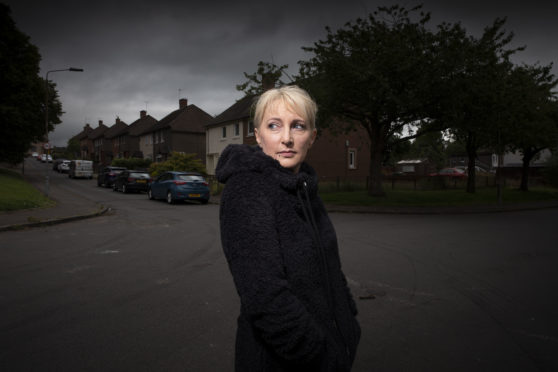 It's a series of strange events that would have Mulder and Scully on the first flight to Scotland.
Bumps in the night, ghostly ­figures, strange electrical surges and an incident labelled as the country's most famous poltergeist case. Not only has it all the elements of an X-Files episode, but it has led a ­paranormal expert to call the source of the unexplained activity the spookiest street in Scotland.
Park Crescent in the Clackmannanshire town of Sauchie has had the dubious title bestowed upon it after a new book uncovered a series of creepy claims made by former residents of the quiet residential street.
Author Malcolm Robinson was researching the famous 1960 case of Virginia Campbell, an 11-year-old schoolgirl who was at the centre of a number of unusual disturbances that left respected members of the community – three GPs, several Church of Scotland ministers and her school teacher – dumbfounded by what they witnessed as they tried to help her.
But, during his book research, Malcolm found three more instances of ghoulish goings-on in the estate.
"I can't think of any other street in Scotland with such a concentration of ghostly activity," said Malcolm, who has investigated the paranormal since the 1970s. "It blew me away when I realised there were other incidents on the street in addition to Virginia Campbell's story. I've looked at the history of the land prior to the houses being built and can see no reason for this activity."
Nicola Bernard moved into the street in 2001 with her husband and two young boys, aged five and two at the time. Within a couple of months, strange things began to happen.
"The kettle in the kitchen switched on and off constantly. That was creepy," said Nicola. "There was an old coal cellar just off the kitchen and these horrible smells would come and go from there every few days.
"But the worst was in the back bedroom where my sons were. There was a horrible atmosphere there. My eldest, John, had terrible nightmares and said he saw a lady sitting on the end of his bed. I slept in the room a couple of times and also saw a figure.
"He also said the bed sheets changed colour, which I thought was a strange thing to say. When I told Malcolm about that he was shocked."
Malcolm said: "An entry in the diary kept by Virginia Campbell's family in 1960 stated that her bed sheets changed colour and here was the same thing happening again more than 40 years later."
Nicola was aware she was living in Virginia Campbell's old house, but wasn't concerned. "For two children to stay in the same house and say the same thing about the bed covers was odd, but I wasn't concerned about the poltergeist because I thought they travelled with the person they were attached to. I thought it might be a mischievous ghost that was causing what we experienced. I swapped rooms with the boys and the activity in there seemed to calm down, but the rest of it – the noises, smells, the kettle – carried on. We moved out after a year as we bought a house in Tullibody, but it was nothing sinister that made us decide to move."
Malcolm also spoke with Avril MacDonald, who moved into a house in the next block to the Virginia Campbell home in 1970 and said "there was definitely something strange" about the place. Within a couple of weeks, plugs began popping out of sockets, there were loud scratching and clawing noises coming from the living room, and Avril's son experienced a number of peculiar dreams. The activity lasted for the duration of the family's 15-year stay.
In 2000, in another house on the street, there was a further report of strange happenings. Then-resident Mandy Maxwell said she had been thrown across the bedroom and pushed down the stairs by an invisible force, had caught glimpses of a dark, shadowy figure, heard a baby crying, and watched as a nailed-shut cupboard door sprung open.
But the most famous case of all is that of Virginia Campbell, who moved from Ireland to Sauchie 60 years ago.Malcolm has had a lifelong ­fascination with the story, having grown up in nearby Tullibody. He was three years old when the incident gained national media attention.
Shortly after Virginia and her mum moved into her uncle's house in Park Crescent, loud banging noises were heard, a sideboard moved away from the wall and a wooden chest full of bed linen bounced across the floor, the lid banging open and shut. Local GPs and several ministers attended the house over a number of weeks and saw the inexplicable activity, even recording some of the noises, which they determined was coming from the headboard of Virginia's bed.
"Can you imagine how the GPs, Dr Logan and Dr Nisbet, must have felt," said Malcolm. "They knew this was a real phenomenon. "
Media reports from the time carried interviews with several witnesses. Rev TW Lund described it as "a very humbling experience", adding, "I felt we were in the presence of forces hitherto almost unknown", while Dr Nisbet said, "What has taken place was not conjured by the child herself, an outside agent is responsible. Believe me, something unfortunate has been going on in that house. The girl was hysterical all the time the phenomenon was appearing."
The activity also followed Virginia to school. Malcolm spoke to several classmates as well as her teacher, Margaret Stewart. "They could recall it like yesterday," he said. "Margaret told me about Virginia's desk lid flapping and a desk next to Virginia's rising a little off the floor.
"But the most alarming incident was when Virginia approached Margaret's desk and the teacher's cane started to vibrate and then rose up, banging on the table. Then Margaret's table lifted a little and slowly spun round by 90 degrees. At that whole point the entire class screamed and ran for the door."
After several weeks of ­unexplained events, a group of ministers carried out a service of intercession in Virginia's room and the activity was said to diminish.
Virginia and her family moved away soon after, and Malcolm's research leads him to believe she lives in Bedfordshire. A woman thought to be Virginia was contacted by The Sunday Post but denied she had been the little girl involved.
"It would have been great to speak with her and find out what she had to say about it all, but it wasn't to be," Malcolm said. "The Sauchie poltergeist is up there with the Enfield and Pontefract poltergeists as one of the biggest in Britain. In my opinion, what happened was a deceased person who couldn't accept they had passed away latched on to Virginia, and the disturbances were a way of getting attention.
"What sets it aside from any other case of its kind in Scotland are the credible witnesses – the doctors, ministers, class teacher. You don't tend to get that in other poltergeist cases, which makes this stand head and shoulders above the others and certainly merits a mention again in its 60th anniversary year.
"As for the other incidents on the street, that really is something else. Not everyone wants to put their hands up and admit to something like that. So, who knows? Maybe it's even more than three houses."
The Sauchie Poltergeist by Malcolm Robinson is available now from Amazon and lulu.com. A special lecture will take place in Sauchie Hall on November 21
---
Scotland's spooky stories
The Black Lady Of Larkhall
The ghostly apparition of a mysterious woman is said to haunt the grounds of the crumbled Broomhill House, which sits atop Morgan Glen in the Lanarkshire town of Larkhall. The lady accompanied Captain McNeil-Hamilton from South Africa. One evening, she disappeared. Ghosthunter Tom Robertson took part in the first televised exorcism in Britain, for BBC's Tonight show with Fyfe Robertson.
But the exorcism failed to work and the apparition is still seen occasionally in the glen and surrounding area.
The A75 Ghost Road
The Kinmount Straight on the Dumfries and Galloway road has had more reports of unusual sightings than any other in the country.
Lorry drivers, tourists and residents have reported seeing ghostly horses and carriages, phantom animals, and of driving over apparitions of men and women. Incidents involving cats, hens and other animals, as well as sightings of a phantom furniture van have been reported.
The Mackenzie Poltergeist
When a homeless man, looking for somewhere to rest for the night, disturbed a coffin upon entering a mausoleum in Edinburgh's Greyfriars Kirk cemetery, it began a series of strange events. The coffin belonged to 17th Century judge and Lord Advocate, Sir George Mackenzie. There were a number of reported sightings, ghostly attacks, and people suffering blackouts and feeling unwell, prompting Edinburgh City Council to lock the Covenanters' Prison where the Black Mausoleum was located.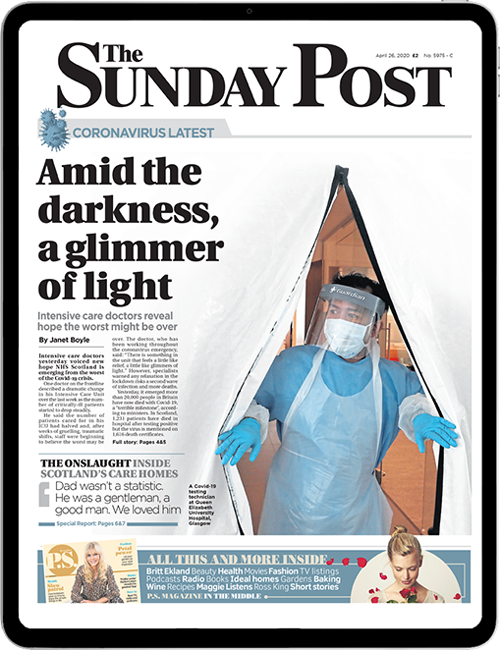 Enjoy the convenience of having The Sunday Post delivered as a digital ePaper straight to your smartphone, tablet or computer.
Subscribe for only £5.49 a month and enjoy all the benefits of the printed paper as a digital replica.
Subscribe