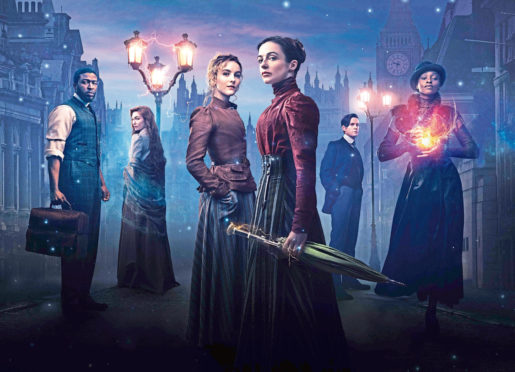 The story about empowered women fighting back against fear and oppression couldn't be more timely.
It may involve a gang of female superheroes taking on supernatural forces in Victorian times but for Kiran Sonia Sawar the themes in TV blockbuster The Nevers perfectly reflect the struggles going on in the world today.
The 29-year-old Glaswegian, who joins a mainly female ensemble cast for the glossy Sky Atlantic show, said she has seen gender and race barriers coming down in her industry over the past few years but the good fight was still going on.
She said: "Change can come from anywhere – and so why not from a bunch of women in Victorian times with superpowers?
"In reflection of the modern world, it's changing, I like to think its changing and getting better. But there's still a lot of work to be done.
"A lot of people are more considerate about people's ethnicities when casting now with the pressure that society as a whole has put on them. There's still a long way to go and still a huge disparity, especially for me as a working-class Glaswegian. In terms of class, that's the biggest disparity over ethnicity and gender.
"I don't think anybody should be scared about it. It's the way the world is moving and it's all about adapting and change, and change is always going to be for the better."
Since the rise of the Me Too movement in 2017 there has been a wave of revelations from female actors about the misogynistic and toxic behaviour they have endured on set.
And it is perhaps ironic that The Nevers creator Joss Whedon is now at the centre of bullying claims from women whom he worked with on previous projects.
Whedon, who was the brains behind cult horror series Buffy The Vampire Slayer, was set to serve as writer, director, executive producer, and showrunner on The Nevers before he quit last November, citing exhaustion.
But months later former cast members, including Charisma Carpenter, who played Cordelia in Buffy before moving to its spin-off series Angel, accused Whedon of abuse.
When asked about the claims, Sawar, who first began work on the show two years ago when it was under the charge of Whedon, said her own experiences had only been positive.
She said: "All I can do is speak on my experiences, which were absolutely wonderful. But I do understand by saying that I don't mean to negate anybody else's experiences from the past. I can only take it on face value from what I experienced, but I also understand that other things could have happened. I don't know."
Described as a cross between The X-Men and Oliver Twist, the epic drama, which launches tomorrow night, follows the girls at a special orphanage led by clairvoyant Amalia True (played by Laura Donnelly) as they face supernatural enemies and look to change the world with their special talents.
Sawar plays one of a group of the "touched" girls and women given powers following a mysterious phenomenon that grips London at the end of the 19th Century.
After auditioning for the part of a chambermaid, Sawar got to make the part of gifted orphan Harriet her own – Scottish accent and all.
She said: "Harriet is very strong-minded, very book-smart and very intelligent, and just wants to create a better world for the touched but also for women in general.
"It's very exciting. It's a giant cast and it's the first time I've done anything American to this extent so it's great to be on a brand new show in a brand new world.
"I'd never done VFX and green screen work like that before. It's a lot of fun and been a huge learning curve for me.
"It was a world I was so new to. It allowed me to do so much research into that world and the law around women and how we were treated by the court and the justice system.
"But it's weird. A part of me felt that I don't know how much I fit in this world with these costumes and I don't know how much it makes sense with my face and everything.
"A lot of other actresses are maybe more used to doing these types of shows so found it easier, but it was something I definitely had to research from scratch."
And, even though her character's particular skill – turning things into glass using her breath – meant Kiran missed out on the kind of fight scenes some of her co-stars got to enjoy, she loved bringing her feisty subject to life.
"It was great fun. I didn't get to do any fighting, but there are some very cool action sequences in this," she said.
"I did feel like I never had enough breath to make it look real and I just kept running out of breath and the director was like 'Don't hyperventilate by accident'."
Sawar has racked up 32 film credits in the past six years. After her stunning debut in the BBC honour-killing drama Murdered By My Father, she enjoyed roles in major drama series including Black Mirror and Next Of Kin alongside her childhood heroine Archie Panjabi.
And last week she starred alongside Toby Jones and Anthony Boyle in another BBC feature, Danny Boy, about a lawyer investigating alleged war crimes.
Ahead of her 30th birthday later this month, Sawar's work ethic shows no sign of waning. While she'd love to spend more time shooting back in Scotland, the London-based star says she just wants to keep chasing the best scripts.
She said: "That first job in 2015 still seems really recent. I've been very lucky, I think, just getting to be involved in lots of cool projects since then. I just really want to tell incredible stories on film and on television. I'd love to lead a show or a film and really get to delve into a character and be completely taken away on a proper journey. That would be the dream I think, proper storytelling."
---
Mystery of monstrous villainess
Kiran Sonia Sawar is joined in The Nevers by fellow Scot Amy Manson, and was delighted to work with the Aberdeenshire-born star for the first time.
Amy, best known for films like Run and Beats and TV shows like Being Human and Once Upon a Time, shines as super powered villainess Maladie who terrorises Victorian London.
With a huge ensemble cast, the actors and characters were spread out all across different scenes, but Kiran hinted at a major clash of the Scots.
"I'm not gonna say anything because I don't want to spoil it but there's one moment for me and Amy that was really, really super important to the story, and really gorgeous.
"It was amazing, it was so nice to work with Amy. I'd never met her before, but she's so nice and a real bundle of energy.
"She's brilliant and so dedicated. I really enjoyed our working together. Maybe there'll be more in the future."
The Nevers launches on Sky Atlantic, Monday, 10.10pm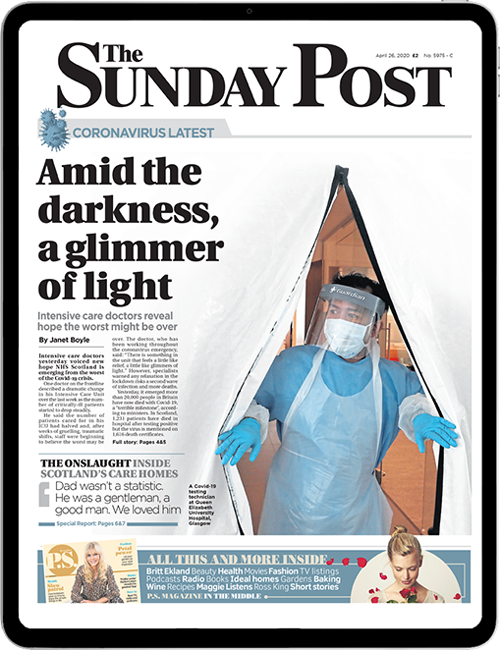 Enjoy the convenience of having The Sunday Post delivered as a digital ePaper straight to your smartphone, tablet or computer.
Subscribe for only £5.49 a month and enjoy all the benefits of the printed paper as a digital replica.
Subscribe