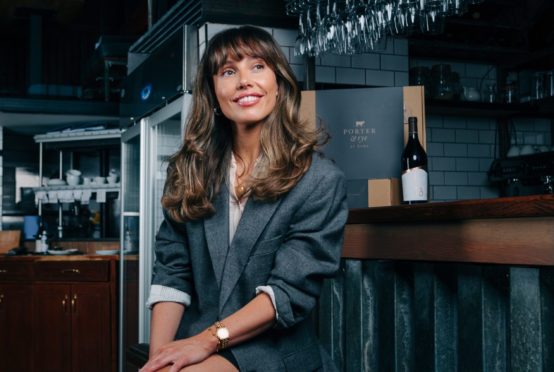 Here we don't go again as a brief respite from lockdown comes to an end and staying in becomes the not-that-new going out.
We can't meet our pals for a pint or even head out for a date night dinner in most areas.
We can't sing our hearts out at a concert or dance the night away in a club. Or can we?
From rustling up a meal worthy of a Michelin star in your own oven to dancing the night away on the living room table, the possibilities are endless. Here, Tracey Bryce gets some tips on turning another quiet night in into a big night out.
---
The Movies
by Siobhan Synnot, Film Critic
Shortly before lockdown, I had my first elbow bump. It was at the Glasgow Film Festival in February, and I was about to host a chat with a movie director at a sold-out screening.
She rushed to the movie theatre from the airport, grinning with relief that she'd made it in time, then shook her head at my outstretched hand. China and Europe were already closing down cinemas, so instead of a handshake, we bashed arms awkwardly.
None of that – easy-breezy transport, running into a public building, sitting in a packed cinema – is possible now. Since March I've been to the cinema just twice; once to see Russell Crowe stab someone in the eye with a pencil in Unhinged, and once to see the brain-bending Tenet, the first and last big-budget spectacular of the year.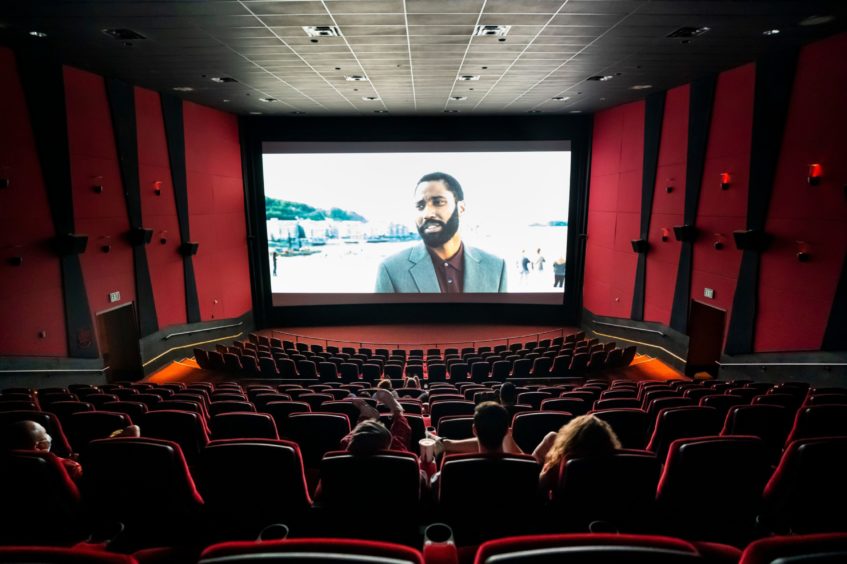 So we finally bought the telly of our dreams, a slick monster with 4K HD, a sound bar that shakes the lights during high-octane car chases, and voice control. And I'm working my way through new releases on Netflix, Amazon Prime and Disney+, and revisiting classics for BBC Scotland's Afternoon Show.
Catching up on what you may have missed has proved a surprisingly popular part of Covid Cinema; some have held up surprisingly well while others, like Pretty Woman, look decidedly dodgy now. It's also been a good opportunity to watch friends' movie recommendations, and then decide whether we want them as friends anymore.
Covid could change the cost of films we see in the future – it's impossible to recoup the cost of a Bond or a Marvel film through streaming services, so we may see fewer of these financially risky blockbusters being made. Even Disney has taken a hit by releasing a £150 million movie like Mulan on its own streaming platform at a premium price.
Disney+ has 60 million subscribers, which is quite a way behind Netflix's 182 million, but the studio is definitely shifting its focus to streaming in the belief that we would all rather stay home and watch movies in our living rooms, on our computers, and even via our phones.
It's certainly more convenient to watch films from the sofa, and my movie-staying snacks have become a bit smaller and a lot healthier; in the last six months, I've eaten more carrot sticks than Bugs Bunny, a snack that's way too crunchy and disruptive for a cinema.
But I miss the excitement of a film theatre, and I have one friend with two small children who is desperate for his weekly cinema fix in a fancy-posh deluxe seat because it was his best chance to get two hours of uninterrupted sleep.
---
The Concert
Like most musicians, jazz singer Georgia Cécile was forced to cancel gigs when Covid struck.
But while she misses the buzz of live shows, she has used the unexpected hiatus to immerse herself in the sounds of her biggest influences and discover new artists. And she has turned to recordings of performances by her musical heroes, including Judy Garland, to recreate the atmosphere of a gig at home.
The 31-year-old, from Lanarkshire, named best vocalist at last year's Scottish Jazz Awards, said: "Music has been a magical antidote to this entire pandemic.
"I love listening to Judy At Carnegie Hall which was recorded with an orchestra led by Mort Lindsey. It was known as 'the greatest night in showbusiness history'.
"Every song has a beautiful arrangement, the orchestra framing Judy's big voice. She sings with every inch of her body and soul and gives a highly emotional performance.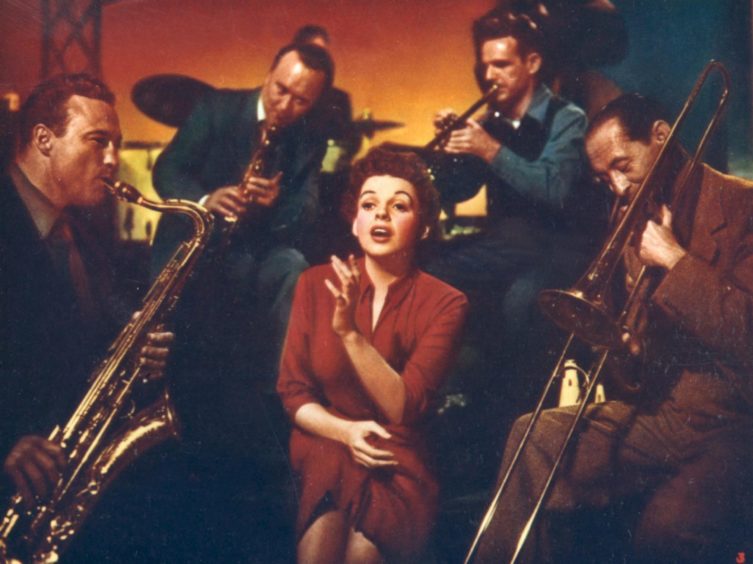 "Apparently that night the entire audience ran to the front of the theatre – they worshipped her.
"Sarah Vaughan's At Mister Kelly's live album is one of the first records I fell in love with and I've revisited it a lot during lockdown. Sarah sounds her best and most relaxed, backed by a genius, Jimmy Jones, on piano. Recorded at an intimate club in Chicago, you can feel the atmosphere.
"It captures that smoky jazz club scene perfectly. When we get the time machine I'll go straight to that night."
As soon as recording studios reopened in July, Georgia began work on her debut album, due out early next year.
The first single from the record, Always Be Right, written with composer Euan Stevenson, was released last month. And, rather than promote it on tour, Georgia will be doing it all online. On November 12 she'll stream a live set from a music venue complete with the usual lighting and sound effects, just no audience.
Three days later Georgia will join her band at the London Jazz Festival to perform for a limited-capacity audience with more fans watching online.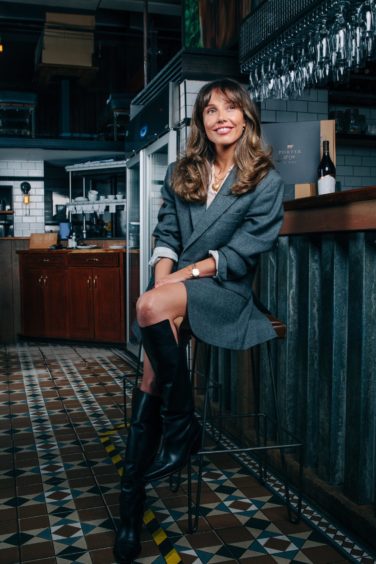 Georgia said: "There's a big question mark over how long it is going to take for the music industry to get back to where it was before the pandemic so we need to find ways to adapt and use the technology we have. It's going to be weird doing gigs with no audience to connect as it's always a two-way experience, but I guess we just need to make the most of it and do what we can.
"And it's still live. I'm just excited to be performing again!"
---
Dressing Up
by Tracey Bryce, Sunday Post writer
I've spent eight months in my gym gear – and can't have worked out more than a handful of times.
But, like many women, lycra has been my lockdown go-to, the one clothing fabric that, while pretty unforgiving, hasn't punished me for gorging on too many snacks while working in the vicinity of the fridge, or for sinking a few glasses of wine on a weekday night to help the pandemic stress melt away.
For a long time there seemed little point in dressing up to hide out hunched over a laptop at home all day, with the only highlight – or chance of seeing evidence of other human existence – being the school run (and almost always in the rain!).
My poor wardrobe, which has taken years of cardio racing round the shops to build, lay gathering dust. The high heels were banished in favour of trusty trainers and the contents of my make-up bag were nearing their sell-by date.
The thought of trying to squeeze back into a pair of size 10 skinny jeans gave me nightmares, never mind trying to put slap on without looking like a circus clown!
But one day last week I woke up, opened my cupboard and realised I missed the old me. I missed heels and handbags and lipstick and nice lingerie. So, I pulled on some sequins and sock boots and walked my daughter to school.
I was overwhelmed by the amount of people who commented on my outfit or asked if I was going somewhere nice. Of course the answer was no.
But by the time I got home, I felt fabulous, albeit with sore feet – and vowed to burn the lycra. Well, I'll perhaps hang on to it just in case…
However, it's good to know my actual  clothes still fit, even if walking in heels again needs a little more practice. And with so many old pieces to rediscover, I won't need to shop for the rest of the year at least.
---
The Restaurant
by Graham Suttle, managing director of bar and restaurant group Kained Holdings, including speciality steak restaurant Porter & Rye, in Glasgow. Here, he gives his guide to cooking the perfect steak.
THE CUT
Fillet is like butter but lacks flavour, rump is tougher but packed with flavour, sirloin is tender and tasty, and all-rounder ribeye should verge on a thicker cut, allowing the eye of fat to melt. Great for the BBQ. The bavette and my wife's favourite, onglette, are unforgiving but deliver the flavour and texture to die for if cooked correctly. There's a cut for everyone so find yours, and get it from a local butcher.
ROOM TEMPERATURE
Remove from the fridge an hour before cooking. Cover with a cloth and let it sit.
DRY
Pat dry with a cloth. This helps get that amazing crust you want when you cook it.
SEASON
You can't put too much salt on a steak. Leave for 5-10 minutes before cooking. Pepper is for after. It burns easily and can impair flavour.
THE PAN
Get your pan smoking hot, then leave it a little longer. A heavy skillet is best as it keeps its heat when the meat is first applied. You want a hard, fast sear.
ONE TURN
You want to keep as much of the juices and flavour In as you can, so flopping it about like a pancake isn't good, neither is squishing it down with tongs. Leave it alone. Flip it once, when you have a good crust on the first side and can see the cooking rising up the side of the steak.
REST
A wee relax is good for everyone. So err on the side of caution, slightly underdone. Remove and leave on a warm plate. Cover in foil and wrap in a thick cloth for 5-10 minutes. This will allow the meat to rest, soften and distribute the juices more evenly. Add pepper now if you like. It soaks into the juices and seasons while you wait.
A FINAL TIP
Olive oil. The best you can get. It's a trick I learned in Italy and my best foodie secret. Steak, sea salt and heavenly olive oil are a marriage made in heaven. The creamy oil gives a mouthfeel to die for and the biggest bonus is the intense peppery notes to the oil that takes the meat to the next level.
---
The Club
by Gerry Lyons, DJ
DJ Gerry Lyons has a gift for entertaining, and put it to good use during lockdown by hosting weekly online discos.
Gerry, 45, spent every Friday night spinning the wheels of steel and transforming the living rooms of the nation into cosy clubs with his two-hour sets of floor-fillers. He said: "I could see from friends' messages that people were starting to struggle with having to stay in the house all the time, so I thought I could do a live DJ set on Facebook, to lighten the mood and encourage people to have fun."
The dad of two, from Uddingston, Lanarkshire, hosted his first club experience two weeks into lockdown, and is now planning a series of online gigs in the run up to Christmas.
"The first one was 80 minutes of the '80s," he said. "It was meant to be a one-off, but the response was phenomenal so the next week I did 90 minutes of the '90s, then a school disco theme – and so it continued.
"There were so many of my old school friends on Facebook who hadn't seen each other for decades, all chatting about their old teachers and good times we used to have as teenagers.
"The memories came flooding back. It was giving people that little bit of escapism and interaction again."
Gerry got right into the spirit, dressing up and switching on strobe lights and smoke machines to get as close to a club atmosphere as he could.
"I took a bit of a break when things started to open up, but now that pubs and restaurants are closed again, I'm planning a few more," he said.
"It will be a nice alternative to nights out. And all the events I was booked for are being moved back to 2021 and 2022, so it's not like I've got anything better to do!"
---
The Playlist
A few highlights from Georgia's Spotify playlist for a night in:
Always Be Right – Georgia Cécile
Holding On – Gregory Porter
But Not For Me – Chet Baker
I Wish You Love – Nancy Wilson
My Baby Just Cares For Me – Nina Simone
Freddie Freeloader – Miles Davis
Someone To Watch Over Me – Ella Fitzgerald
Turn Me On – Norah Jones
Teach Me Tonight – Dinah Washington
Mean To Me – Sarah Vaughan
Manhattan – Blossom Dearie
Baby I'm A Fool – Melody Gardo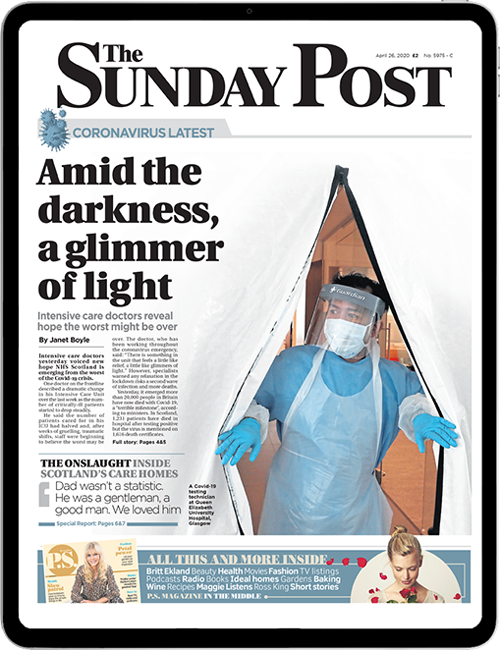 Enjoy the convenience of having The Sunday Post delivered as a digital ePaper straight to your smartphone, tablet or computer.
Subscribe for only £5.49 a month and enjoy all the benefits of the printed paper as a digital replica.
Subscribe