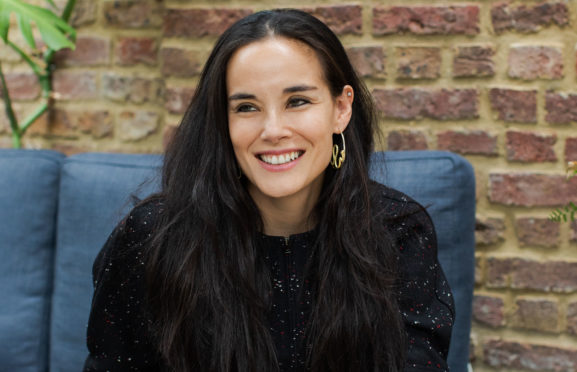 Creeping out of her kids' bedroom after a night feed and trying not to wake the baby, Asia Mackay chuckled to herself as she considered how Army Special Forces training might be handy.
But the idea wasn't quite so barmy. And, as the half-Scots-half-Chinese mum was soon to discover, it would change her life forever.
Her middle-of-the-night musings became the first draft of Killing It, a hilarious debut novel written while she was on maternity leave about first-time mum Lex returning to work as a spy and assassin.
When TV's Richard & Judy were Searching for a Bestseller in 2016, the book – partly based in the Dumfriesshire of her childhood – came second, landing the writer a two-book publishing deal and second place to Jilly Cooper in last month's inaugural Comedy Women in Print awards.
Now, with the laugh-out-loud sequel The Nursery to launch next month, mum-of-four Asia revealed she has sold the films rights to 42 Productions, makers of this year's Emmy award-winning Watership Down.
The 39-year-old told The Sunday Post: "They bought the film rights to Killing It before it came out, and they also bought the rights to The Nursery. I can't mention who they have cast in the lead role and I don't know when it's coming out but I can see it translating well to film.
"It's exciting to imagine. Normally ideas that come to you at three in the morning can be laughed at and forgotten but this has been the start of something amazing," said Asia, mum to Tavie, eight, Arlo, six, August, four, and Silva, 2.
For her latest books the London-based writer draws inspiration from the nursery gates as Lex continues to hone her skills as a trained assassin, like Uma Thurman's character The Bride in Kill Bill, with covert expertise. Asia said: "It sparked from the struggle working mums have – the mum guilt, the rushing to get home for bath time. I was just literally crawling out of my kids' bedroom one night trying not to wake my third child – he was just a baby – and I thought, 'if only I had some kind of special ops training I might actually manage to make it out of here.
"I started making notes on my iPhone: gun in nappy bag, formula being mistaken for cocaine, breast pump being mistaken for a torture device – it seemed like there were some amusing cross-overs.
"By the time I had two pages of notes, I thought I either had to do something with it or forget about it. So I sat down and starting writing one day. The first page I wrote as Lex is still the first page of Killing It."
And The Nursery, she said, was a nod to the John Le Carre spy school of the same name and to the clandestine information exchanges at the gates of the nursery school attended by the spy's daughter.
"A lot of the mum chit-chat at the gates has been inspired by my real life," she revealed. "Things like the amount of times they send us home with folders full of artwork that is utter rubbish and you feel guilty for having to throw it away. I imagined it as a way to communicate using a child's drawings."
Asia, who gave up a career as a TV project manager for Ewan McGregor and Charley Boorman on their round-the-world motorbike documentaries so she could work in the family engineering firm and better juggle motherhood, said: "It was quite useful for setting the scene for Lex, my heroine, in that it is a very male-dominated industry.
"I was the only woman. Speaking no German and trying to tell a German colleague I couldn't go straight from the office out to dinner because I had to go home and express milk was one of the most embarrassing things.
"I stood in front of this very serious man, pointing towards my breasts trying to explain that they were now full of milk and my pump was at the hotel – it was just awful.
"That's why I gave it to Lex and the spy world.
"I pondered whether she would be questioned as new mums would be in any other job. She would probably still get colleagues going, 'Oh, you're a bit hormonal or baby brained now' and all that kind of prejudice women face.
"A lot of it was just me imagining James Bond and his private life. All he had to do was sleep with different beautiful women, whereas with Lex it's about wondering if she'll ever get a full night's sleep.
"It was the classic way of summing up women – expert multi-taskers who get on with it with a lot less fanfare and probably a lot less gadgets. Lex could be careering around in her Volvo with a rear-facing car seat while Bond has machine-gun headlights – but she still gets the job done.
"It's a celebration of women, saying, 'Look at us. We can do anything – even be secret agents."
Asia now has a third book in the series in the planning and is currently working on a serious, standalone thriller.
And the Dumfriesshire farm near Eskdalemuir, where she spent the summers and Christmases of her youth with her brother Brooke, 37, her Chinese mum Rina, 76, and Scots dad Simon, 85, life peer Lord Tanlaw, is mentioned in the sequel.
She said: "Scotland is a big part of my life. My dad grew up in Ayrshire and moved to London. He then decided he missed his Scottish roots and he bought some forestry with a run-down house on it that he did up. Whenever we could get in a car and drive for seven hours, we were there.
"Platform Eight, the shadowy organisation Lex works for, has a training facility called The Farm in remote western Scotland which is basically a description of where our farm is. My dad loved that."
Asia added: "And it is where my husband – Andrew Trotter, as in 'Del Boy' – proposed to me.
"We married in Langholm Church 12 years ago. He is one of many reasons I write under my maiden name. Asia Trotter sounds like a far eastern travel guide."