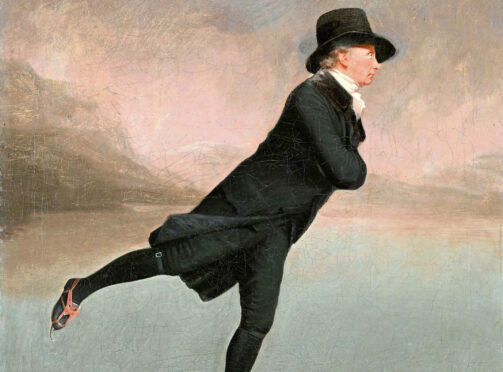 It is one of Scotland's most famous paintings and can be seen on countless postcards and mugs, but The Skating Minister remains one of the art world's great mysteries.
Now the distinctive painting of the formally dressed cleric gliding across an icy loch has inspired a novel – The Edinburgh Skating Club.
The author, Michelle Sloan, has been fascinated by the oil painting ever since as a child her father took her to see it in the National Gallery of Scotland. "It has always been part of my life growing up in Scotland, but I realised I had never absorbed the details," said Sloan who is from Edinburgh but now resides in Broughty Ferry.
"I started to wonder why he is skating in an austere outfit. When I did some research, I found out about Edinburgh Skating Club, which practised on Duddingston Loch in the 18th Century.
"The idea of this gentleman's club was slightly comical with these smartly dressed, upstanding Edinburgh men having to pass a skills test of leaping over three hats before they were voted in."
The author's research also revealed controversy surrounding the painting. It is attributed to acclaimed portrait painter Sir Henry Raeburn, though some art historians have cast doubt on this.
Rev Robert Walker, known as the Skating Minister, was minister of Canongate Kirk and a member of Edinburgh Skating Club. He learned as a child to skate in Rotterdam when his father was minister there.
The painting, in the Dutch style to reflect Walker's childhood in Holland, was passed down through the Walker family and was practically unknown until 1949 when it was bought by the National Gallery for about £500.
The art world had always accepted the painting as the work of Raeburn despite it standing out as unusual among the artist's traditional, studio-based formal portraits of the prominent figures of the age, such as Sir Walter Scott.
The origins of the painting were challenged in 2005 by Dr Stephen Lloyd, then a senior curator at the Scottish National Portrait Gallery. He claimed the unsigned work was by Henri-Pierre Danloux, a French emigre who lived in Edinburgh in the 1790s, known for his paintings of soldiers running, their legs in similar poses to the Skating Minister.
The National Gallery insisted, however, there was no evidence suggesting Raeburn was not the creator. This was bolstered by a BBC documentary that made a link between the minister and Raeburn. In 1896, a portrait of Walker, by Raeburn, was sold in Edinburgh by the minister's lawyers, but the painting has never been traced.
Jan Leman, producer of the documentary, said: "Significantly, we could also find no evidence that Danloux ever met Robert Walker or Raeburn in Edinburgh."
The row was reignited again in 2013 when X-rays failed to show lead-white paint in the face, making it inconsistent with Raeburn's other work. But the National Galleries again insisted there was no "concrete or convincing" evidence the painting was not by Raeburn.
The Scottish National Gallery website states the painting is by Sir Henry Raeburn and is thought to be of Reverend Robert Walker (1755-1808) skating on Duddingston Loch, but notes add: "This small picture, showing a figure in action, is quite unlike other known portraits by Raeburn."
The row has inspired children's author Sloan to write her first adult book, which she calls an "art history mystery". Her heroine, based on the real-life Edinburgh literary hostess and writer Alison Cockburn, who was friends with the philosopher David Hume, conspires with his sister, Katherine Hume, to live as a man to infiltrate the all-male Edinburgh Skating Club.
"Alison was one of the few women I could find from the Enlightenment," said the author. "She was a real character, a great laugh, fun, upbeat and optimistic.
"If she'd been a man, doors would have opened for her, but there is only a tiny plaque to remember her by. If anyone would have a go at passing herself off as a man and learning to figure skate, it would be her."
The 18th Century story sits alongside a modern-day storyline where two 50-something academics delve into the mystery behind the painting's provenance and come to a startling conclusion that questions the very identity of the subject as well as that of the artist.
Sloan added: "I thought it would be fun to look at this well-visited iconic painting in a different way and to be an amateur art historian, and ask, 'what if?'"
The Edinburgh Skating Club by Michelle Sloan, published by Polygon, is out now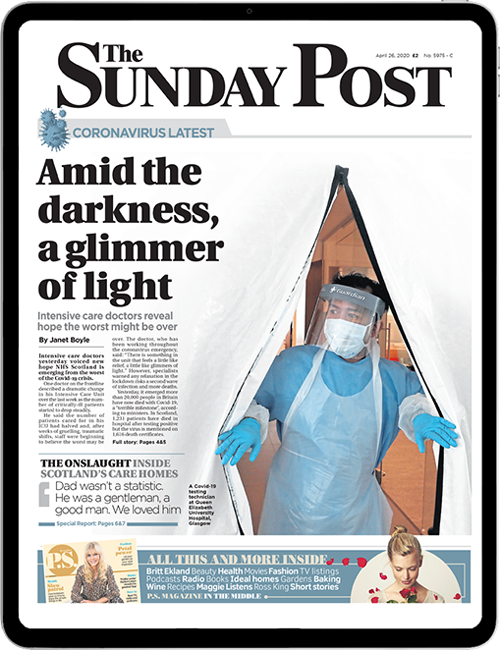 Enjoy the convenience of having The Sunday Post delivered as a digital ePaper straight to your smartphone, tablet or computer.
Subscribe for only £5.49 a month and enjoy all the benefits of the printed paper as a digital replica.
Subscribe