From beauty spots, powdered faces and rouged cheeks in the courts of Louis XIII to Egyptian eyes lined with kohl in Egypt 3000 years ago, men reaching for makeup is certainly nothing new – but why is it once again on the up?
Experts believe thanks to the emergence of YouTube male makeup sensations like James Charles and Patrick Starr (who between them have almost 20 million subscribers and hundreds of millions of video views a piece) as well as Generation-z's rejection of strict gender and sexuality pigeonholes, makeup for men is becoming more and more thrust into the limelight.
Social media, higher beauty standards and male celebrity endorsements are also said to be pulling the strings of the now £40 billion global male beauty industry.
MMUK MAN, which recently opened a warehouse in Sussex, is emerging as one of the biggest global players in the boom. The brand now offers over 60 luxury male cosmetic products, which include foundation, concealer, anti-shine powder and 'manscara'. And for guys who prefer the more natural look, tinted moisturiser, clear brow gel and beard filler are also on the menu.
Tom Ford also launched a men's concealer and brow gel comb in 2017 and last month in the UK, Chanel launched a tinted foundation, a matte lip balm and four shades of eyebrow pencil under its new Boy De Chanel brand.
But while MMUK MAN and Boy de Chanel specifically target male consumers, Scots trans beauty blogger Talia James, 28, believes that men should be embracing the use of female beauty products as well and that 'male' products continue to fuel the fire of stereotypes.
"I don't believe in skincare for men as it tends to be poorly formulated and filled with drying alcohols and irritating fragrances," she says.
"I have never really used skincare for men as I don't believe in it. It's such a pointless thing to make men think they have different skin so they use more 'manly' products."
Talia's blog, The Skincare Saviour  doesn't discriminate against 'male' or 'female' products, and offers honest reviews on cosmetics for men and women alike. She also offers 'how-tos' in male grooming, from makeup to hair, which began out of her own personal experiences.
"I used to have pretty bad skin and I wanted to find ways of making it better and helping others out at the same time," she continues.
"I grew up in a really liberal household so things were never male and female or masculine and feminine – I was just me – so the use of things seen as typically feminine never bothered me."
This continued growth in general acceptance and inclusivity seems to be one of the more deep-rooted reasons behind the growth in male beauty. Speaking about the shift, US-based Korean-American editor David Yi, founder of men's beauty website Very Good Light says: "Even 10 years ago, men weren't as interested in grooming or beauty and weren't as free to express themselves as they are today, without social repercussions – that is, feeling that their masculinity is being questioned for partaking in so."
For male makeup wearers like Joe Kent, 26, however, he still believes there is a long way to go in eschewing stigma from men's beauty, and thinks that wearing makeup is still seen by many as a completely feminine sphere.
"There is certainly greater acceptance towards men who like to wear make-up, but it still isn't widely considered normal in the same way that women wear make-up," he says.
"Beauty brands rarely show men in their promotional material, which thereby maintains the notion that make-up is only for women. And there will always be those narrow-minded individuals who believe that wearing make-up undermines a man's masculinity."
Joe, a photographer and blogger at Unlimited by JK, says it also took a while for his family to accept the fact he liked to wear makeup.
He continues: "My parents have been a little hesitant about it – perhaps that's a generational thing. But they've accepted that my wearing make-up is simply another avenue for my creativity.
"My friends on the other hand can't get enough of my make-up looks, and they can be surprised if I turn up to a party as my normal self.
"I also posted a photo of one of my make-up looks to a dating app, and much to my astonishment, it received more interest from women than anything else on my profile."
And as inclusivity and gender norms continue to broaden, so does the profile of the men reaching for makeup and beauty products.
Engineer Tom Walker, 30, uses tinted face and body moisturiser during the winter months.
"I used to do it secretly because I thought my friends would laugh at me for wearing it," he says.
"But I feel like I look a bit ill if I'm not using products to give myself a bit of a healthier skin colour.
"I don't really see it as not being masculine – my girlfriend certainly prefers me looking a bit less peely-wally! I just look at it the way I do trimming my beard or tidying up my hair. We all just want to look our best at the end of the day."
But is male makeup really a viable product of the future?
In the early 2000s, thanks to the fluttering lashes of cover boys like Noel Fielding and Russell Brand, Superdrug launched a 'guyliner' and 'manscara' – both of which flopped.
French fashion designer Jean Paul Gaultier launched the men's only "Tout Beau Tout Propre" cosmetics range, later reissued under the "Monsieur" label.
Others rolled out one-off offerings, like Yves Saint Laurent's L'Homme, which produced a masculine version of its "Touche Eclat" concealer. But before the end of the decade, most were discontinued.
But according to MMUK MAN and the success of this burgeoning UK male makeup brand, what's different now is the social media ready generation and social pressure on men to look immaculate and well-groomed. TV shows like Love Island and TOWIE have also added to the popularity of the pristine, looks-conscious man.
A spokesperson for MMUK MAN said: "As the 'selfie generation' continues to bulge the men's cosmetics industry and threaten to align it to the female market, we're now sitting here on the cusp of an entirely new population of men. A group who are no longer frightened to tear off the shackles of their 'macho' tags, that have suppressed all too many before them."
And as for any men out there thinking of dipping into the world of makeup?
"Confidence is a big thing – you need to own it because if you don't it shows," says Andrew.
"I would say start small and work your way up. If you want to just do a bit of cover up start with a good concealer and watch a few videos on YouTube on how to apply makeup.
"It doesn't just have to be how to apply makeup as a man."
---
www.mensmake-up.co.uk/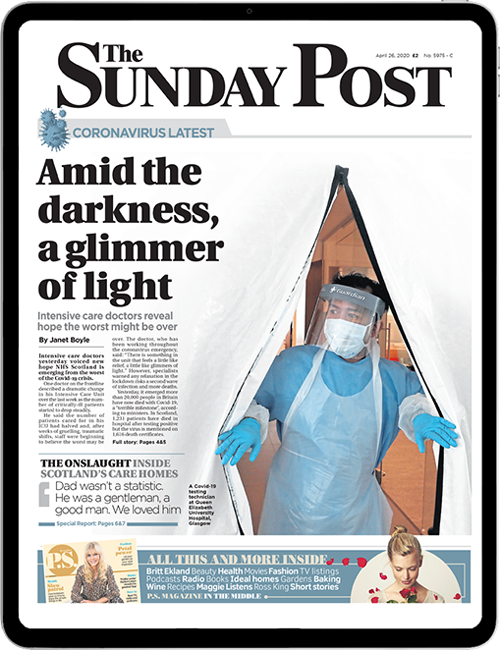 Enjoy the convenience of having The Sunday Post delivered as a digital ePaper straight to your smartphone, tablet or computer.
Subscribe for only £5.49 a month and enjoy all the benefits of the printed paper as a digital replica.
Subscribe