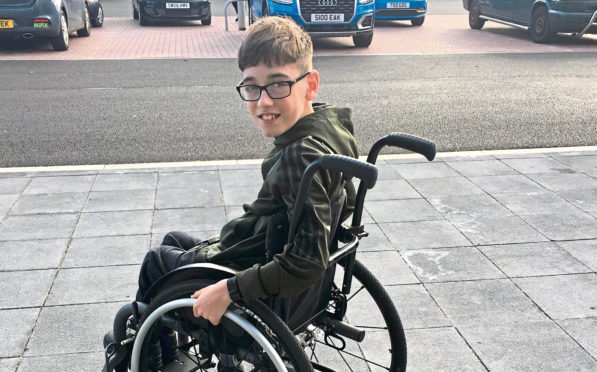 Riley Murray is enjoying some long-awaited independence.
A wheelchair power pack, co-funded by a children's charity, has proved life-changing for the 13-year-old from Montrose with diplegic cerebral palsy (CP).
Previously known as spastic diplegia or Little's Disease, CP is a form of cerebral palsy marked by tense muscles and spasms.
Leg muscles in particular tend to be extremely tight, and over time this causes joints to Cestiffen, reducing the range of motion.
Diplegic CP is considered one of the milder forms of the disorder, and most children's intelligence and cognitive functions are not severely affected although they may take longer to reach intellectual milestones.
Neonatal asphyxia is the most common cause of diplegic CP, which generally happens when a newborn is deprived of oxygen during the delivery process.
In Riley's case, he's a twin who was affected by twin-to-twin transfusion syndrome (TTTS), a condition that can occur in identical twin pregnancies who share a placenta.
TTTS happens when there is an imbalance in the placental blood vessels that connect both twins.
If the blood doesn't flow evenly between the twins, one twin receives more blood and therefore nutrients, causing developmental problems.
Riley's parents were aware throughout the pregnancy that their children may suffer physical and potentially mental disabilities due to the condition, and he and his twin brother were delivered 11 weeks prematurely.
Sadly, Riley's twin brother, Brodie, did not survive. He had a testicular hernia which was operated on when he was just 11 weeks old and tragically he did not survive the anaesthetic.
As Riley has grown older his desire for independence has grown, too, and his manual wheelchair and motorised wheelchair presented limitations.
Trudy, Riley's mother, explains: "Like any other 13-year-old boy, Riley wants to be able to enjoy time with his friends and experience the freedom to enjoy a typical teenager's life.
"The NHS provided a powered wheelchair, which is great, but a simple trip to the cinema or even going to the local shop aren't possible using it.
"Plus, it doesn't fit in the car so whenever we travel we can't use it.
"We bought a manual wheelchair ourselves to offer more flexibility. Riley is very able cognitively but physically he struggles to push himself any distance in the manual wheelchair, so he needs someone to help him which means we have to be there right behind him.
"I'm quite petite myself as well, so as he's growing up it's becoming more difficult for me to control the manual wheelchair.
"We initially started looking at a motorised manual wheelchair but soon realised that wasn't the answer.
"Then we saw the smart drive wheelchair in action whilst on holiday at Centre Parcs and immediately applied for a demo when we got back, which proved it was perfect for Riley."
A wheelchair power pack is a set of battery-powered wheels which can be attached to most standard manual wheelchairs.
The operator can then simply guide the wheelchair rather than push it, providing much needed assistance when climbing steep ramps or crossing grassy or uneven terrain.
With a wheelchair power pack costing up to £4,800, the family reached out to a number of charities and grants for funding for the equipment but as Riley already had a motorised wheelchair and a manual wheelchair, his application was rejected multiple times.
Children Today, though, realised how life-changing the equipment could be for Riley and co-funded his application with the support of an anonymous charity.
"I can't put into words how truly life-changing this equipment has been for Riley," explains Trudy.
"It's given him a new-found freedom. We recently went on holiday with friends to Ibiza and for the first time ever Riley was able to go off with all the other kids instead of being stuck with the adults.
"Riley and his 12-year-old sister Layla are very close, too, and now he's able to do so much more with her instead of being left behind.
"Simple activities that people take for granted, like taking the dog for a walk or going to the supermarket, are now possible.
"We like to go camping as well, so the new power pack will enable Riley to join us on rough terrain and enjoy our camping trips even more."
Children Today provides funding for specialised equipment for children and young people under the age of 25 with disabilities across the UK.
They receive no government funding so are reliant on voluntary donations to keep providing these grants.
If you know a child who needs funding for a specialised piece of equipment or would like to donate to Children Today, please visit www.childrentoday.org.uk or call 01244 335622.