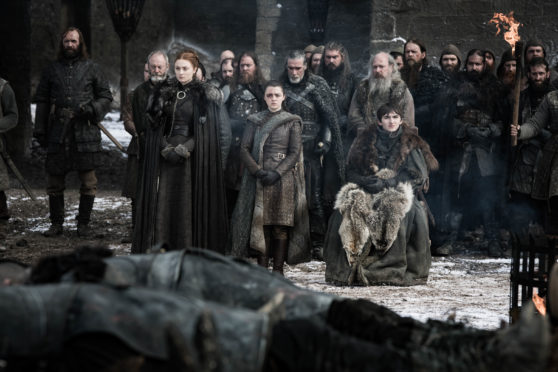 The snow has barely settled on the dead of The Battle of Winterfell and the icy shards of The Night King and his frosty cronies, but the characters of Game of Thrones are already back to doing what they do best – committing betrayals and making really bad decisions.
So let's dive into the fourth episode of the final season of GoT, much like you have to dive into the sea to avoid what should have been an relatively predictable attack by Euron Greyjoy (Daenerys, you've got some explaining to do)…
---
After what's left of the Northern Alliance say goodbye to their dead, they have a big feast to celebrate not being dead themselves. Gendry, more in love with Arya than ever now that she killed The Night King (and not threatened by his girlfriend's success – we stan a supportive boy-toy), is wandering around looking for her like a love-sick pup when Daenerys pulls him up in front of everyone. You think she's going to guilt-trip him about her dead family again, the frequency of which is getting a little out of hand (you can just imagine her berating a servant at this point, "you're serving me pheasant?! MY EVIL DEAD DAD HATED PHEASANT!") but no, she legitimises him as a Baratheon, making him a lord and giving him the Baratheon stronghold Storms End. Armed with a bargaining tool to woo Arya, he heads off to make the most ill-fated proposal ever.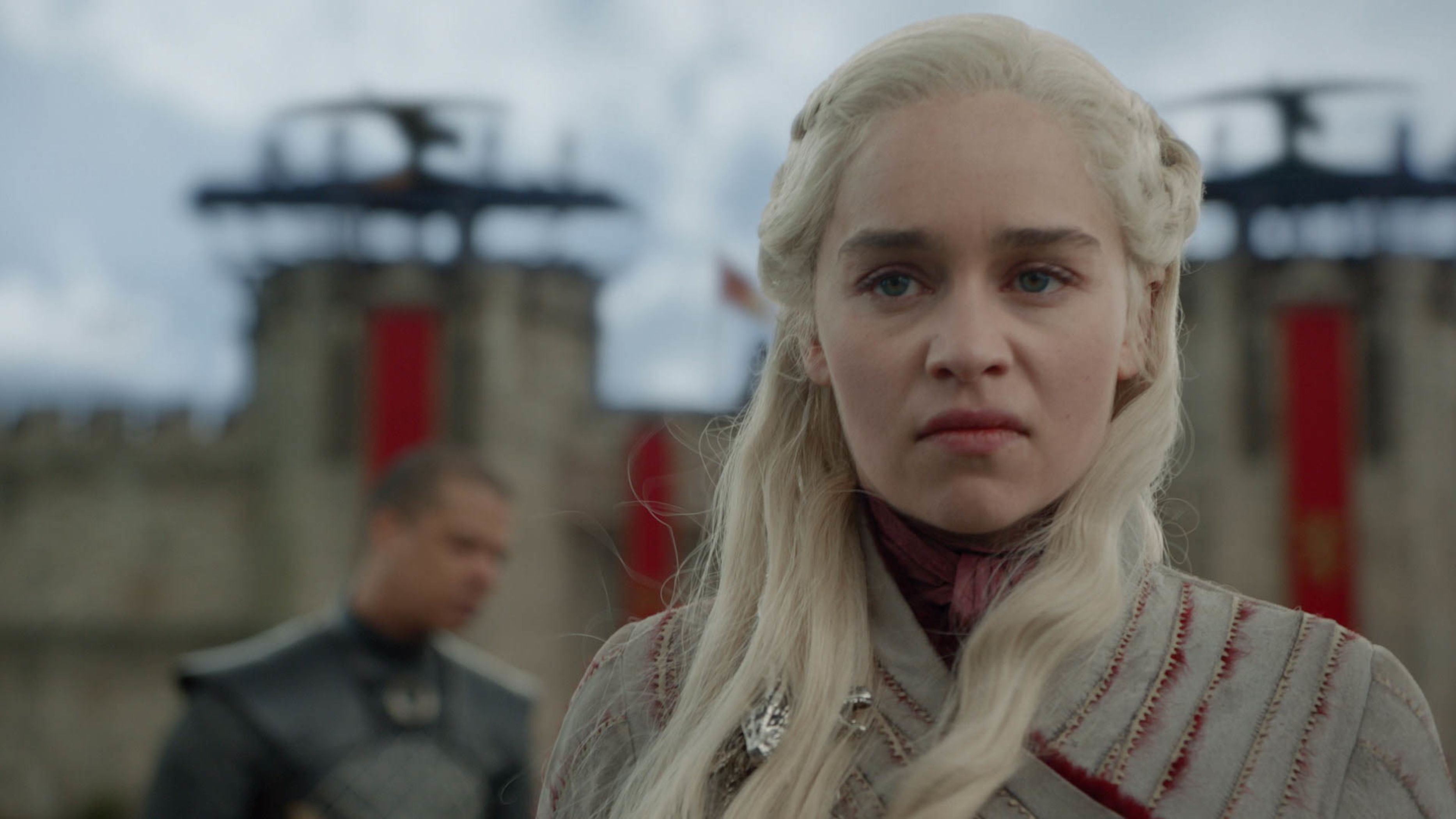 Brienne, Tyrion, Pod and Jaimie are playing a weird GoT version of never-have-I-ever, which is all fun and games until Tyrion accuses of Brienne of being a virgin. Tormund chooses this very awkward moment to appear and make a (can I say, pretty funny!) joke about cacking his breeks but Brienne gives him the brushoff and is smugly followed out of the room by Jaimie. Tormund gets the picture, and is utterly devastated, so much so that he goes to The Hound for comfort. He obviously finds none, but he's immediately propositioned by some random woman and hooks up with her in an attempt to mend his broken heart.
Even at episode four, we're still having reunions, so Sansa and The Hound finally get to reminisce about their terrible time in Kings Landing circa season 1 and season 2 (remember, The Hound was protective and weird about Sansa before he was protective and weird about Arya). He tells her none of the bad things that have happened to her would have taken place if she fled Kings Landing with him when he asked her to, and she responds saying that if those bad things never happened to her she'd still be a naive little girl and not the political power player she is today.
Reader, lets pause this light-hearted recap of a fantasy television programme to say that this is a garbage, terrible, crappy way for the writers to interpret the trauma Sansa has been subject to in previous seasons. There's never a bright side to torture and marital rape, and to suggest that Sansa would still have the mindset of a 13-year-old even if she hadn't been subjected to the things she has been subjected to is like, not how growing maturity and natural intelligence works. GoT has mostly left its seriously questionable treatment of women at the door for the last few seasons, but I guess they couldn't let the show finish without making at least one more ugly, gross misstep.
Unpause. Gendry's proposal to Arya goes as well as you'd think, which is to say, the answer was a big fat no. Jamie and Brienne finally consummate their relationship after season upon season of charged sexual tension. Daenerys tells Jon she doesn't really mind that he is her nephew, and while he tries to go along with it, it's clear that macking with his aunty gives him a touch of the jandies. Daenerys then begs Jon to tell no one of his true heritage, because it will divide their combined support even if Jon says he doesn't want her throne. He's like, "can I tell my sister-cousins though?" The response to which is a cold hard night on the sofa.
Regardless, Jon spills everything to Sansa and Arya in the Godswood, and even though Sansa swore she wouldn't tell anyone, she almost immediately and without much prompting blabs to Tyrion, who goes on to tell Varys, who is increasingly over Daenerys schtick and thinks she's going mad. Just as Daenerys predicted, her support is splintering even though Jon has no interest in pressing his claim. And oh yeah, she's lost another dragon.
In every film, book, TV show, poem or gang-focused Shangri-Las song, one thing that's made clear is to never, ever, EVER, go home when there's some big baddie out there who'd like to take you off the board, because your house is the first place they'd look. So why in Seven Gods is Daenerys rocking up to Dragonstone in broad daylight with her entire fleet and dragons in tow without sending a few scouts ahead? I mean surely by the Old Gods and the New someone would have spotted Greyjoy ships if they just did a quick sweep of the area?
But it turns out rudimentary preparation doesn't make for good TV, so Euron's fleet shoots poor, recovering Rhaegal out of the sky. One of the most manipulatively upsetting deaths ever on GoT, we had to watch Daenerys and Drogon proudly look on as Rhaegal slowly healed from his injuries just to see him killed in an incredibly violent and cruel way only a few beats later. Frankly, I'm totally scunnered with the animal cruelty and neglect on this show, and you just know that wasn't the end of it. There's going to be a few hundred barbecued horses to get through before now and the end of the series, mark my words!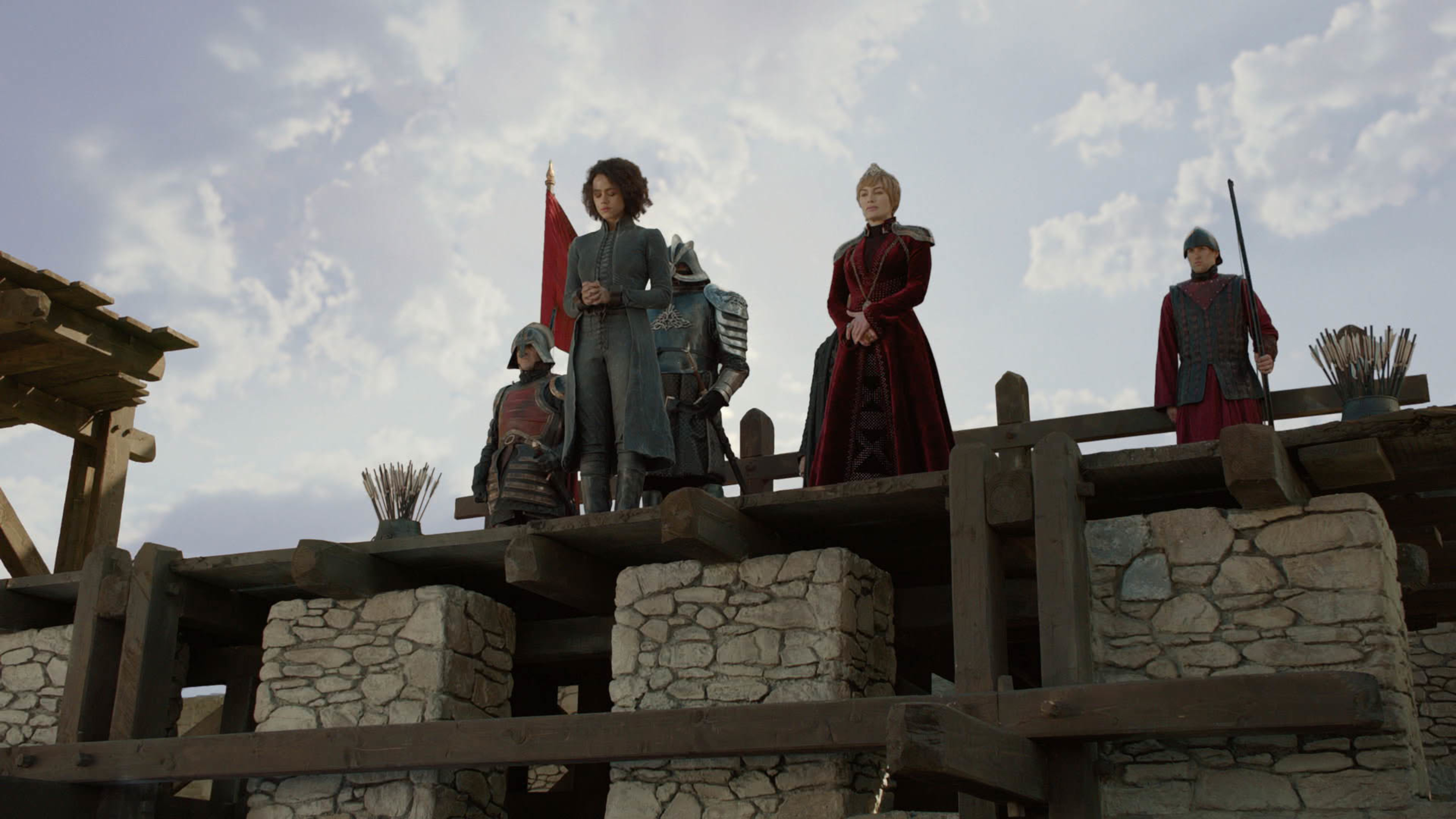 Word reaches Winterfell that Cersei has killed a dragon and taken Missandei, Daenerys' best friend and chief adviser, as prisoner. Knowing that Daenerys will have no mercy for Cersei, Jamie sneaks out like a thief in the night to return to his sister-wife. New beau Brienne tries to convince him he's a good man, but he tells her once a bad boy, always a bad boy, and leaves her crying in the courtyard. Ah Brienne! Send a raven to Tormund and get him back here stat!
If Daenerys thought she was angry now, this clearly is her first time at the Cersei-is-an-utter-I-can't-use-the-word-in-The-Sunday-Post rodeo. To prove to the people that she wants to avoid bloodshed, she attends a, what even is it, a Westerosi throw down outside the gates of Kings Landing to allow Cersei one last chance to surrender. But Cersei, the ultimate stunt queen, uses the opportunity to execute Missandei in front of Daenerys and the love of her life Grey Worm. So far, Cersei has always triumphed over her enemies because she's willing to cross lines of human decency and honour that others couldn't even fathom. But offfft, the look of white hot fury on Daenerys face as she marched back to Drogon was something else – has Cersei finally bitten off more than she can chew?
---
Race to the throne
Daenerys is down but she's far from out if her face at the end of this episode is anything to go by. And if you look back at Daenerys' storylines, this is actually pretty common ground for her. She gets boxed in but somehow always makes a stunning comeback (okay, usually with the help of dragons, but still!)
---
Race to the grave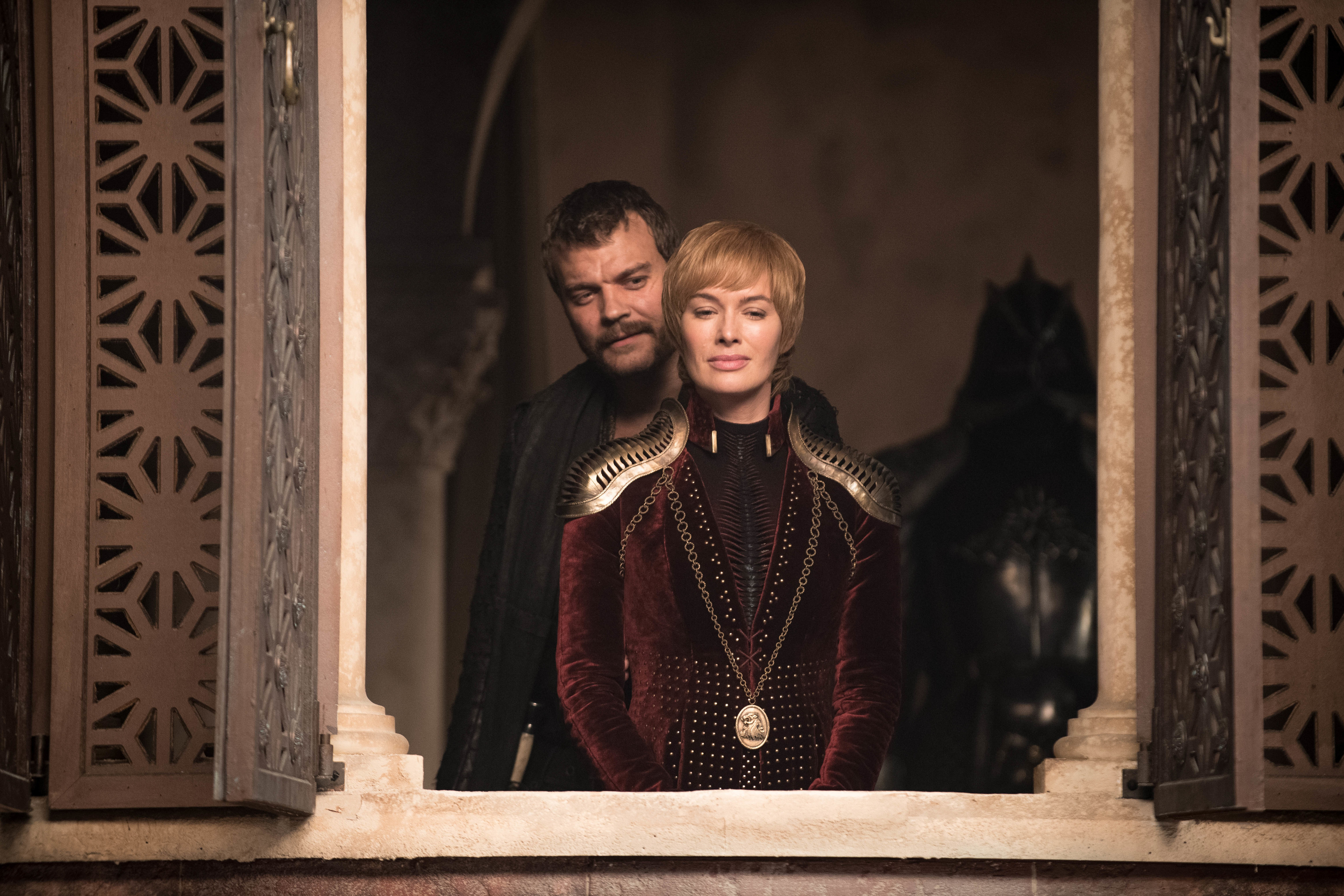 Cersei is a goner, so it's just a case of guessing who gets to be the one to kill her. Lots of people online are backing Arya, but I don't think they'll let her kill both The Night King and Queen Cersei. Even though Jamie is heading down to Kings Landing to help her, I think he'll be the one to finally put an end to her after she does something drastic (even for her). Murdering Tyrion would be a good way for her to push Jamie over the edge.
Speaking of Tyrion, his little slip about Cersei's pregnancy might throw a spanner in the works for the evil queen. She's told Euron that the baby is his, but in reality it was conceived a while back with Jamie. Euron's stupid, but I don't even think he's dumb enough not to understand the significance of Tyrion somehow knowing that Cersei is pregnant when he was just told himself.
---
Heartbreak of the week
Watching Brienne cry in her housecoat over Jamie abandoning her for his evil sister-ex was tough, so I hope the GoT writers are pulling a move I like to call the Jane Austen One-Two-Punch. BAM! A heroine gets dumped by a flashy but flawed romantic interest only to BAM! find true love with the good man who was in front of her all along. I mean, statistically speaking, a few characters have to walk out of this season with a happy ending, right? So who better than Brienne and Tormund!
---
Outtake of the week
I was ready to write a furious takedown of Jon Snow for unceremoniously offloading his incredibly loyal and all around good dog Ghost to Tormund midway through this episode. But when I saw what happened to Rhaegal the dragon, I thought, 'you know what actually that was probably a good shout'. It's this type of pragmatic pet care that makes Jon Snow a worthy king!