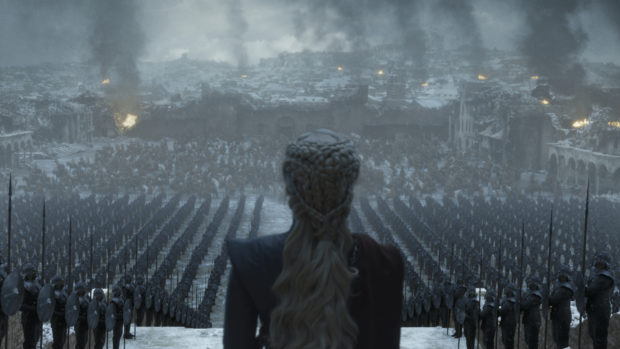 That wasn't as bad as you thought it was going to be – or – was it? No matter how're your feeling now (angry, pleased, relieved to released from the grip of this nightmare show), this episode was thick with things to get through, so for the final time reader, let's recap!
We start with Tyrion walking through the wreckage of King's Landing and feeling a like a damned fool, gingerly side-stepping the charred remains of mothers and children one minute, apologetically lowering his eyes to passing traumatised citizens the next. When he comes across the broken bell of surrender you can tell he wants to curl up under a pile of ash and have a good cry, but decides instead to keep piling on the pain and goes to find his brother and sister. He discovers them where he inadvertently sent them to their deaths, crushed under rubble next to an escape tunnel out of the Red Keep. He knows he has to confront Daenerys, but first, he finally has that much needed bubble.
Jon and Grey Worm almost come to fisticuffs over the execution of Lannister soldiers, which Jon says is literal overkill, but Grey Worm says is the Queen's orders. Davos intervenes and tells Jon he can take it up with the Queen, and for the first time in his life Jon successfully picks his battles and keeps on moving (RIP Lannister soldiers). Daenerys finally flies in on Drogon in full goth gear, and tells her soldiers that she for one had a fabulous time at the razing of King's Landing, and, if they're willing, would very much like to do an arena tour. They're all up for it, especially the Dothraki, who are sure making a lot of noise for a group of people who were supposedly annihilated three episodes ago.
Tyrion puts a dampener on the party and shows Daenerys up, sassing her in front of all her pals and throwing his Hand of the Queen pin down the Red Keep steps. He's arrested on the spot, and Jon uneasily watches as he's hauled away. We also catch up with Arya, who for all that dramatic galloping on the horse last week, is eh, still in King's Landing and sans horse. She pops up to tell Jon that he will always be a threat to Daenerys, and that Sansa, who is supposed to be smart and has no feasible way to fight Daenerys off, will never accept her as queen.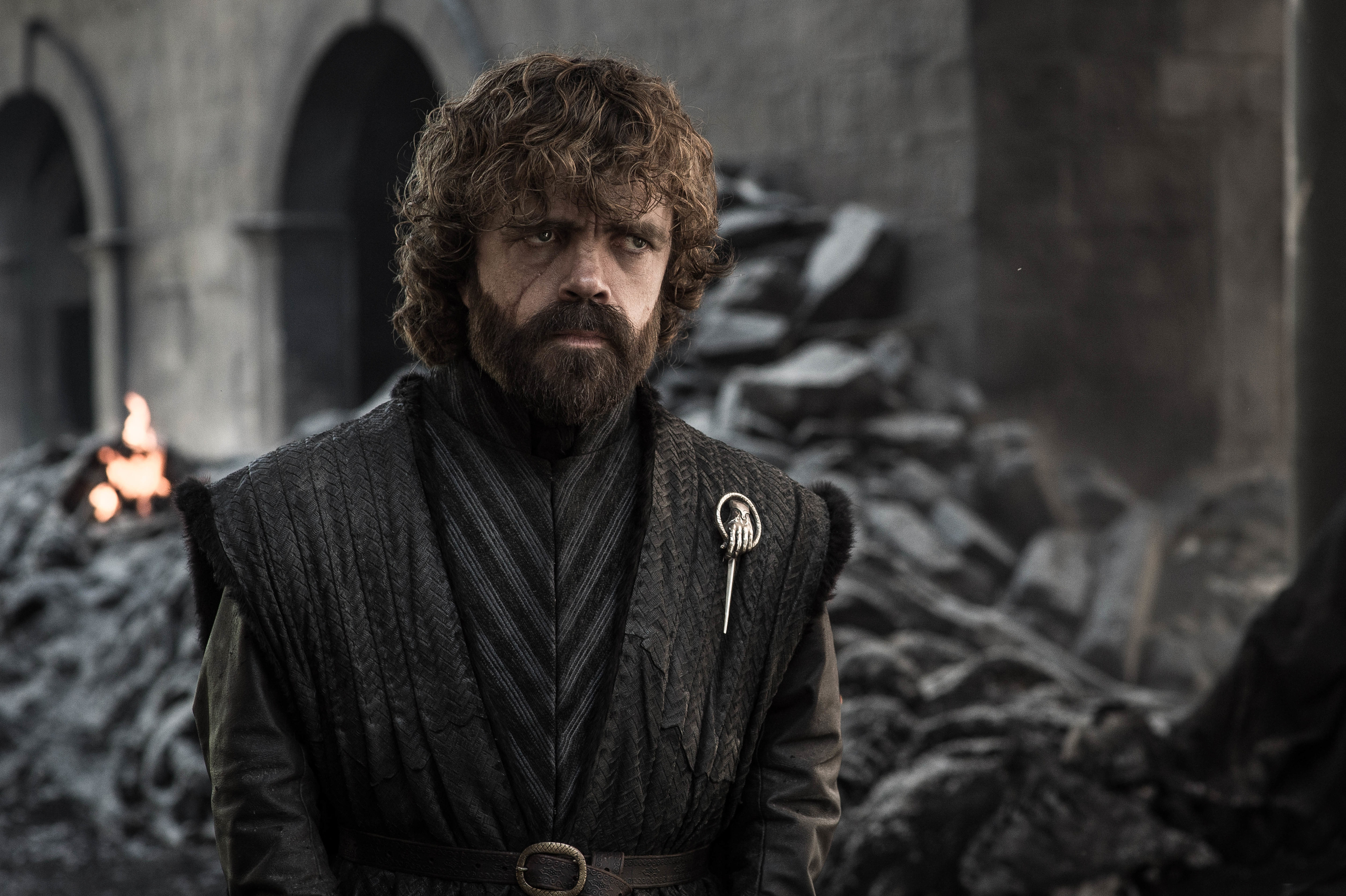 Jon visits Tyrion in prison, and is allowed to speak to him without supervision for some inexplicable reason (it makes you wonder what Jon's position is in Daenerys' court, he's not king or commander of her forces, but he seems to have the authority to do pretty much whatever he wants. Maybe some sort of unofficial consort?) Tyrion spurs Jon on to treason, telling Jon that while love may be the death of duty, duty is sometimes the death of love. Tearful, Jon leaves to find Daenerys.
Daenerys finally enters the Throne Room which has been destroyed 'just so' to give it a cool, post-apocalyptic look but safe enough so that she can walk around without fear of being taken out by a rogue crumbling pillar. Just as she's about to take her throne, Jon comes out from lurking in the shadows to give her a hard time for the all the genocide she just committed. She's pretty blithe about it, saying that once she conquers the whole entire world, then she'll be a good merciful queen, but not before. Jon pretends to back her, giving her a big romantic smooch, but then stabs her through the heart to end her tyrannical reign before it begins. She then becomes the second woman to die in Jon's arms, making him the Black Widow of Westeros (I know he's pretty ladies and gents, but avoid at all costs!).
Sensing something very wrong has happened, Drogon turns up and has a really sad Mufusa/Simba moment with Daenerys' body, prodding her to try and wake her up. When she won't, it seems like he is going to barbecue Jon, but instead locks onto what really killed her – her ambition for the Iron Throne. With all the subtlety of a first year film student, Drogon melts the throne into a puddle with dragon fire and then takes off into the sky with Daenerys' body. And that's pretty much the end of that eight year storyline – moving on!
Some time has passed and all the most important lords and ladies of Westeros have arrived in King's Landing to discuss how to solve a problem like Jon Snow. All the Westerosi are a-okay with letting him go free for killing Daenerys, but Grey Worm and The Unsullied, who hold the city, want him dead. Tyrion, who is still a prisoner, is brought out to solve the problem and to help decide who is going to be the next king. They all bat a few ideas around, some more successful than others (Sam suggests democracy and the uppity toffs laugh him into next week) but they finally settle on abolishing the line of succession, with the throne going to whom the nobility think is most worthy (a bit like always then? When has anyone in Westeros ever really followed the proper line of succession?) Tyrion then says that the crown has to go to someone with a great mythic backstory, and then picks the one person whose story is so boring they actually cut him from season five – Bran Stark. Everyone agrees, because there's only twenty minutes left on the clock and they still have to get through the 'what they did next' montage, and so Bran wins the Game of Thrones – cool!
His first act is to pardon Tyrion, make him Hand of the King, and to banish Jon to The Night's Watch to stop a war breaking out between the Westerosi and The Unsullied. Sansa takes this opportunity to cash in her nepotism points and asks if The North can be independent again, which Bran is pretty chill about – seems like the Indy movement played out well for fictional Scotland, if not real-life Scotland. Grey Worm takes The Unsullied and heads to Missandei's homeland of Naath, and Jon lets down his luscious locks a la season 1-6 and rejoins what's left of the Watch, finally giving Ghost that much needed hug – turns out there was some budget left over for the direwolves after all! Brienne sits down to write The Secret Diaries of a Westerosi Knight, and Tyrion works with the Small Council to rebuild King's Landing (although the refurb of The Red Keep looks like it's going very well, since it was pretty much a ruin twenty minutes ago).
And so ends Game of Thrones with a happy ending for the remaining Stark children, with Sansa being crowned Queen in the North, Arya becoming an imperialist explorer, Jon kicking it North of the Wall far away from pesky politics, and Bran as King, letting other folk do all the work for him while he wargs into crows for fun and riffles through his subjects' memories for a laugh. It may not be the ending we wanted, or the ending we deserved, but we've made it the end of this cultural phenomenon together, and it's been an absolute pleasure watching it with you (and also the memes. The best part was definitely the memes).
---
FINAL THOUGHTS
The more the show explained it, the more I liked the idea that Daenerys was so caught up in her own mythology that she couldn't see her tyranny for what it was. Tyrion directly addressed my point last week that Daenerys only brutalised evil people in the past, but points out that it was inevitable that her self-righteousness would be fatally misplaced one day (thanks Tyrion, I get it now!).
Still, this part of her arc was still incredibly undercooked, and needed season upon season to simmer and develop, but it only really got six episodes to kick off and play out in. It's a real shame, because Emilia Clarke gave her best performance to date in these final episodes, showing that she could have wonderfully delivered on this arc with the right material.
---
RACE TO THE THRONE
So Bran takes the remaining Six Kingdoms – who saw that coming? I wonder if this was a result of streamlining the series after around season 5. Bran was built up as this important figure early in the series, but the writers soon realised they'd have to drop a lot of the mythology to bring the show to an end within the time they wanted, knocking out storylines that would pay off how effective Bran would be in the battle against The Night King. So in order to make sure his whole 'Chosen One' arc wasn't a complete dud, they give him the throne to explain his early prominence away. Just a theory!
---
BEST HAIR
I can't believe this, but I'm giving it to Arya Stark. She pulled it out the bag at the last minute with a very cute braided bun that was chic but still very 'deadly assassin'. Love it!
---
WHATEVER HAPPENED TO…
Slavers Bay. After Daenerys left Essos, it was understood that while Daario ruled in her absence, the fear that she would return with her dragons was what kept the slave masters from trying to retake the cities and the freed slaves.
Now that's she's dead and Drogon is a free agent, will they still behave themselves? The optics of the showrunners completely forgetting about the cities and countries not focused on white westerners isn't very good, but when has this fictional-continent sprawling show ever been good at seeing the bigger picture?