ITS heyday was a time before low-cost airlines, when hopping on a cheap flight to foreign parts couldn't have been imagined.
Instead, a packed-like-a-sardine train trip to catch a ferry Doon the Watter was holiday heaven.
But now Wemyss Bay station, the gateway to the Isle of Bute, is being lauded as one of the nation's greatest gems. It takes pride of place in a new book, Britain's 100 Best Railway Stations, not only being given a five-star rating but being chosen for the all-important front cover.
And for author Simon Jenkins, seeing it in all its glory has a special significance as he helped to play a vital role in saving it from ignominious ruin.
Simon's involvement with the Clyde coast beauty dates back over 30 years.
"I founded the Railway Heritage Trust in 1983 and Wemyss Bay was one of the early recipients of one of our grants," said Simon, a former board member of British Rail.
"It was in a terrible state and I saw it subsequently. I went back in its resplendent restored state, and it was just one of the most charming, most complete works of art of any station in Britain."
---
Click on the map icons to read more about each station
---
The Caledonian Railway station was built in 1903, when steam ruled the tracks, and was a collaboration between two of the pre-eminent figures of the Scottish railways scene.
Architect James Miller, formerly of the Caledonian, was responsible for many of the country's finest station designs and he had the closest of relationships with the company's engineer Donald Matheson.
Matheson had just been to America studying large crowds, and he put what he'd witnessed into play to cope with the eager travellers heading from Glasgow to the Rothesay ferry.
"They had to move a train-load of people in five minutes to beat the rival ferries," explained Simon.
"He'd worked out that they moved faster in a curve than a straight line. Then he had to get the luggage separately – as that would slow passengers down – so it went down a ramp behind the station straight to the boat. It was an exercise in people movement and efficiency.
"And Miller was a remarkable architect who had the most extraordinary approach to engineering. He had an eye for drama and magic."
Like many stations, Wemyss Bay fell on the hardest of times as the crowds dried up. But grants and the tireless efforts of those who refused to see it wither and die in the shape of the volunteers of the Friends of Wemyss Bay Station have helped transform its appearance.
Hanging baskets and a garden brought colour and a secondhand bookshop and gallery have provided an additional reason to visit.
Although lacking the vibrant bustle of yesteryear, Wemyss Bay was a very different entity when Simon paid a visit for his book.
"The sun was shining and it was like a station out of a magic story.
"The only other people there were two delightful ladies in the bookshop discussing the British Empire. It was a wonderful scene. It's a splendid station."
Train travel is once again booming in the UK with over well over 1.5 billion journeys annually, an increase of some 50% in just over a decade.
And unloved stations are now being cherished all over again.
"They are part of our heritage and we do value them more than we did before," added Simon.
"The most encouraging thing about doing the book was discovering that, compared to the really desperate state of them 30 years ago, they were well looked-after.
"I was particularly charmed by the Scottish ones.
"We are beginning to appreciate that these are works of architecture which is a really good thing."
Britain's 100 Best Railway Stations by Simon Jenkins (Viking £25) is out now.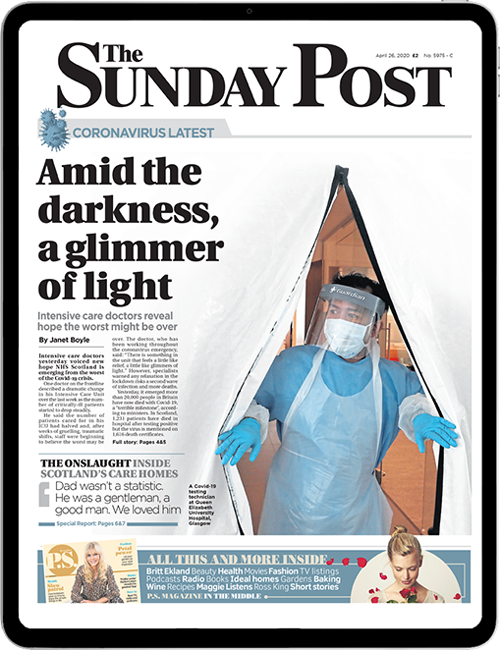 Enjoy the convenience of having The Sunday Post delivered as a digital ePaper straight to your smartphone, tablet or computer.
Subscribe for only £5.49 a month and enjoy all the benefits of the printed paper as a digital replica.
Subscribe