The man wrongly convicted of the Ice Cream Wars murders has revealed how he ended his 35-year feud with co-accused TC Campbell just weeks before his death.
Joe Steele, breaking his silence after Tommy Campbell's death, told how the men spoke recently after years of silence between them.
After they were wrongly convicted of a fire attack that killed six members of one family, including a baby, in Glasgow in 1984, the pair made a pact never to accept parole because that would mean admitting the murders.
But, when Campbell broke the pact, it led to the long-standing feud that escalated over the years. Speaking for the first time since the death of Campbell, Steele said: "We'd made a deal with each other that we'd never accept the Special Unit which was cushier, we'd do hard time.
"But when TC reneged on the deal and went to the Special Unit we fell out badly and that continued for years, even though we were thrown together as we campaigned to be cleared.
"There were times when we had to smile for the cameras but we were never friends. If we were it was a friendship forged in hell. We really hated each other.
"But I am glad that we finally made up just before he died.
"I realised the anger was just another part of the burden I was carrying over what happened, so I feel better for pushing it aside.
"I will go to his funeral and pray for him."
Steele revealed he also prayed for the Doyle family every night of the 18 years he spent in jail. He said: "I still pray for them to this day.
"What happened to that innocent family was beyond cruel, the poor wee baby too.
"The night they perished in the blaze I had been staying with my mum and grandmother because I wasn't well, and I remember my gran saying as we heard the first details of their deaths on the radio 'God Bless and save them'.
"I stood watching their funeral ­procession and the streets were lined with people ­crying. I remember saying a prayer for them as the hearses passed me in the street, never imagining that days later I'd be arrested for their murder.
"My family knew I was innocent, but I've spent the rest of my life hoping that the Doyle family eventually believed that too."
Steele and TC Campbell spent 16 years in jail before finally being released in 2004. As they campaigned to clear their names from behind bars, Campbell went on hunger strike while Steele escaped three times.
But, after finally being freed, the pair struggled to rebuild their lives. Steele said the case will "always haunt" him.
He added: "It's been a huge burden ­carrying that about on my shoulders and even after the appeal court proved I was innocent, fitted up by the police, there will be people who still suspect I was involved.
"My family always knew I was innocent. But it was a relief that my ma went to her grave after the appeal court cleared my name and she could tell everyone that.
"The toll on my family and loved ones has been so very hard, and I carry that guilt with me constantly.
"My eldest boy John Paul is 39 now with a family of his own. But he had to grow up with other children calling his dad a baby killer, and that's affected him deeply. He never once threw it back in my face or told me what he was being put through, but I know, and I know how it has scarred him.
"Little Joseph was too young to know about all the awful things that were said, but it was hard for him, too, never sure if I was going to be taken from him. Worst of all has been the strain on my wife Dolly, who's stood by me since she was just 14 years old.
"We were just teenagers when I was taken from her, and she had to bring up John Paul on her own, travelling the length of Scotland to see me every prison visit and battling to prove my innocence outside.
"We've come through so much together, she has been my rock, my everything, and it kills me knowing how much hurt she has been put through."
Campbell, who had not been seen or heard from for weeks, was found dead at his remote home outside Dunoon last week by ex-wife Karen, 49, when he failed to respond to a Father's Day message from their daughter Shannon, 21.
Steele, 57, from Ruchazie in the east end of Glasgow, said: "TC is dead now, but he still has family who loved him. For that reason, I won't decry the man.
"We both spent almost 20 years in jail and a lifetime trying to escape the horror of being labelled mass murderers and baby killers.
"I believe TC knew more than I did about exactly who lit that fire and destroyed so many lives in the process. But we both come from a world where we lived by a code of silence, no matter what, and he has gone to his grave with that.
"He died as he lived, alone, with nobody but his two dogs."
For the last years of his life, TC became a recluse, living alone in an isolated house outside Dunoon.
Steele said the strain of everything had finally taken its toll on TC.
He said: "Spending so long in prison, it becomes your whole world. You become used to the brutal regimes, being told when to get up, when to eat or sleep.
"Outside is a whole different ball game, but no matter how fast life goes for everyone else, for us, we're still prisoners of our own minds.
"When he went away, Tommy was TC the hard man, a reputation he relished. But, by the end, he was TC the Ice Cream Killer, and he couldn't cope with that.
"The loneliness and isolation took over, until he eventually only found peace outside Glasgow.
"He lost trust in everything, including who he could even trust anymore.
"That's why he took off."
Steele believes there is little chance of justice for the victims now and scorns claims that a Glasgow gangster, Gary Moore, made a deathbed confession nine years ago.
He said: "Make no mistake, Gary Moore was a bad man. But I had known him since we were kids and spent time inside with him over the years.
"If Gary had done the Doyle murders, under our code, he would have told me because he knew I would never have passed it on.
"Everyone who was involved is now dead, so I don't see the authorities ever wanting to go back and right that terrible wrong.
"I believe the Doyle family deserve the truth though, but I doubt they will ever get it now. The police have had many years to set the record straight, so you have to ask why they never did."
---
The Crime
Six members of the same family lost their lives when their home was set ablaze in a crime linked to Scotland's Ice Cream Wars.
The Doyle family was targeted as they tried to move into lucrative ice cream routes in Glasgow's housing schemes.
Andrew Doyle had refused to bow to pressure to sell drugs or give up
his route.
The 18-year-old's stance led to shots being fired through the windscreen of his van in February, 1984.
Weeks later, six members of his family, including a baby, were killed when their top-floor flat in Ruchazie was torched with petrol.
Andrew died along with his dad James, 53, brothers James jnr, 23, and Anthony, 14, his sister Christina Halleran, 25, and her 18-month-old son, Mark.
Six months later, Thomas "TC" Campbell and Joe Steele were unanimously convicted of murder and jailed for life.
Campbell was said to have told police: "The fire at the Fat Boy's was only meant to be a frightener which went too far."
Police informant William Love also gave a key testimony about overhearing the two men talking about the attack.
Campbell and Steele maintained their innocence and fought tirelessly to have their convictions overturned.
In 1992, Love admitted to journalists that he had lied under oath when he gave his crucial evidence.
The case against Joe Steele, who speaks of Campbell's death for the first time today, centred on statements alleged to have been given to four detectives in a police car in which he was reported as saying: "I'm not the one that lit the match".
Joe, who was released in 2004, consistently denied making the statements and the Appeal Court proved he had been framed by police.
He believes there is now no doubt Glasgow gangster, Tam McGraw, who died in 2007, ordered the fire to scare off rival van operators.
He said: "McGraw was a ruthless man who had no conscience.
"I doubt he lit the fire himself but he ordered it and his henchmen followed his orders.
"He was responsible for a lot of awful things, but being a grass kept him out of jail. I hope he rots in hell."
---
The Licensee
Joe Steele believes there is no longer any doubt that Tam McGraw, the gangster known as The Licensee, ordered the blaze that killed six members of the Doyle family.
He said: "The police who fitted me up when I was just a teenager, knew McGraw was the man who really was behind it.
"They told me to my face that they knew I hadn't done it."
Joe said McGraw, who died in 2007, wanted the Doyles frightened off after they threatened to move into lucrative ice cream routes in Glasgow housing schemes.
He bumped into McGraw, who reputedly secured police protection by informing on gangland rivals, the morning after the murders.
Joe said: "I asked how he was doing and 'how did last night go' – meaning something entirely innocent, and McGraw jumped like a scalded cat.
"He blustered, 'I called it off' and looked wildly at the other man for back-up.
"Later, when I was arrested and sat in the dock charged with killing the Doyle family, it finally hit me why McGraw had behaved the way he did the day after the fire.
"McGraw ended up sitting in the dock with us, but he was the only one to get out while we were remanded.
"All in all, McGraw did less than two weeks in jail. We ended up spending a lifetime inside."
Joe said claims of drugs being sold alongside ice cream cones were nonsense.
He said: "This was a time when there were few shops in the schemes, and those ice cream vans were making thousands of pounds a week because everybody used them.
"There was no need for McGraw to sell drugs out of the vans when they were making so much money from ice cream and sweets, and the Doyle family were just hard workers who just wanted a slice of that.
"The routes were jealously guarded because they were so lucrative, so of course it was McGraw who decided to get rid of any competition to his vans, except the frightener turned into an inferno which killed the Doyles.
"McGraw's drug dealing came later, but the myth that you could buy an ice cream cone and some heroin made good headlines, but it wasn't true."
---
The Compensation
Joe Steele admits blowing the £750,000 compensation he got for almost 20 years behind bars for a crime he did not commit.
He said: "It sounds a lot of money, doesn't it?
"But it's not worth a moment of your life behind bars.
"I used to think it would bring an end to all my problems, and once I got it, we could go away and live happily ever after.
"The truth is that the money caused nothing but heartache and hassle, and I wish now that I hadn't received a single penny because it caused rows, fall-outs and jealousy.
"Money could never take the place of not being able to watch my kids growing up.
"It felt like blood money, not just for the Doyle family, but for what I'd lost of my own family.
"I squandered it all, gave it away. I've got nothing left, but I don't care.
"The truth is that I never wanted the government's money – what I wanted was to clear my name for my family and if I'd been offered the choice, I would have taken being cleared over a single penny."
Because Joe was unemployed when he was arrested for the Doyle murders, his compensation was a fraction of that paid to TC.
He said: "In court, Tommy was described as earning £4,000 a week from his ice cream vans. So the government could hardly challenge that when they came to work out how much he would have earned during his 18 years behind bars.
"TC told me he got £2.5 million, but in reality, it did him as little good as it did me. It made him even more paranoid, and probably contributed to him becoming isolated.
"Money can't buy you freedom."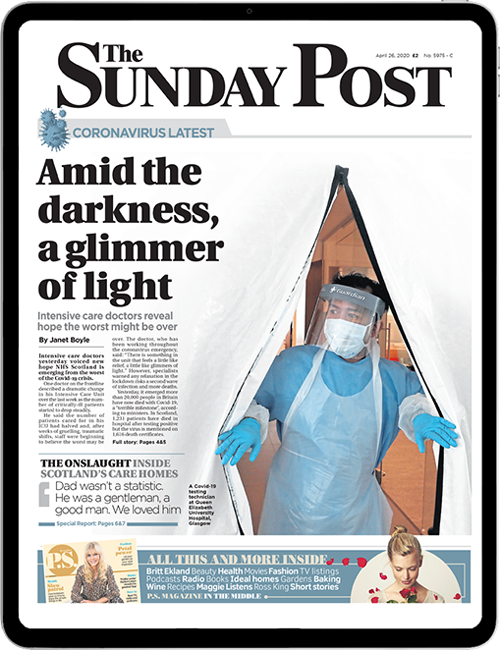 Enjoy the convenience of having The Sunday Post delivered as a digital ePaper straight to your smartphone, tablet or computer.
Subscribe for only £5.49 a month and enjoy all the benefits of the printed paper as a digital replica.
Subscribe