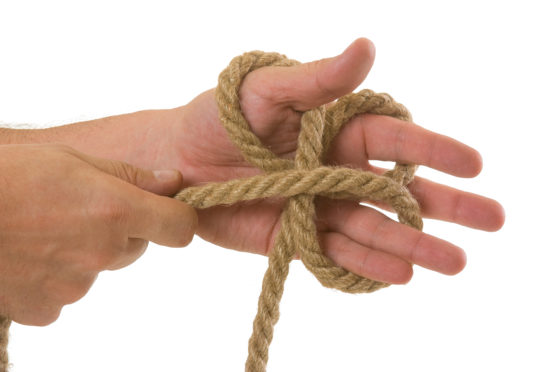 From tying your shoe laces each morning to sewing on a button, knots are a vital part of our everyday lives.
Here, Tim MacWelch, outdoor survival expert and author of How to Tie Knots, tells Alice Hinds the Honest truth about the ins and outs of an intricate skill.
---
Why are knots so important in everyday life?
In an age of duct tape, Velcro and zippers, we often forget all the things knots actually do for us. From fastening your shoes on your feet to the career-related knots used by watermen, arborists and other rope users, knots have been with us since antiquity and I think they'll always be a "tool" in the human "tool kit". They help us accomplish tasks and chores, and they provide a beautiful outlet for creatively, such as jewellery-making and knitting.
Do many of us tie specific knots without realising they have their own name?
I think we do. Some knots are so simple and useful, that we almost seem to tie them instinctively. But when we dig a little deeper, we can learn that the knots we use go by many names, and some are so old they can be found in pre-history.
What is your favourite knot?
Without hesitation, my favourite knot is the sheet bend. This strange fastening can allow us to connect very different lines and materials together, and it holds with surprising strength. I love using it around camp, and I enjoy showing it to my bushcraft classes. I'll use it to tie a rope to the corner of my jacket, and classes are always delighted to see how strong the fastening can be.
What knots would we use for camping?
You could use all of them! Camping is a great opportunity to reconnect with nature, and it's the perfect setting to practise your skills. For an "everyday" camp-out, you might find yourself using a taut line hitch to connect your tent to the stakes in the ground. You might hang your food in a bag using half hitches. You might even use some unexpected knots, like those more commonly used in climbing or around the water. Once you understand how each knot works, you can often find many applications for it.
Is learning knots essential for survival in some situations?
It's absolutely vital for survival and rescue work. Without the knowledge and experience of knot-tying, you may not be able to fasten a rescue rope securely or perform a task in a timely manner.
For anyone who wants to be better prepared for emergencies of any kind, knot-tying is a vital skill set and almost as important as first aid skills.
Do you have any tips for untying stubborn knots?
Stubborn knots often cause people to look for a knife, to cut the "Gordian knot" and solve their problem, but there's a less destructive trick you can try. If you're unable to find the right place to pull or push, try striking the knot. By smacking it with a spoon or some other hard object, it may actually loosen up and present you with the opportunity to unfasten the knot.
Why is a boat's speed measured in knots?
When on the water, a ship's speed is still referenced as a "knot", which comes from the practice of tossing out a wooden float attached to a knotted rope. As the ship sped away from the float, the "knots" were measured and the speed could be determined. Today, one nautical "knot" means you are travelling one nautical mile per hour.
We also use the word "knot" for strange references in modern culture, including when couples are wed, we say they "tied the knot". This references the ancient practice of symbolically binding the hands of the betrothed.
---
How to Tie Knots by Tim Macwelch is published by Modern Books