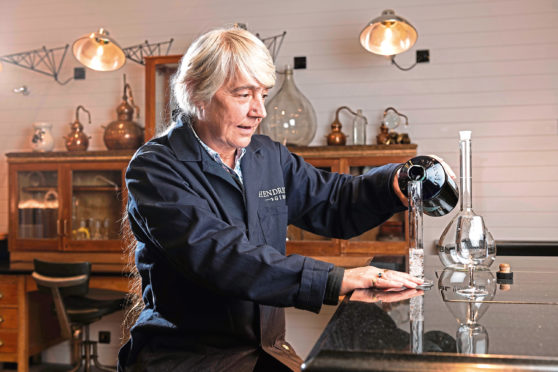 Gin has been enjoying a real flourish as the on-trend drink, with Scottish distilleries at the heart of the boom.
Ahead of World Gin Day next month, Fiona Laing, who has been delving into the past for new book The Gin Clan, told Bill Gibb The Honest Truth about our Scottish gin.
---
Why is there so much gin in Scotland?
It's partly our reputation for making spirits – both whisky and gin. Our natural resources help as the pure water and wealth of botanicals inspire people to be creative as they create gins. There is also a market for Scottish gin: people like to try products made in Scotland.
Is it as simple as that?
Not really. Many different factors come into play. At the height of the Gin Craze in the early 18th Century, Scots were taking advantage of the thirst for spirits. In the 1770s, Scots were exporting spirit to England to be "rectified into gin" and it's said that, by 1786, Scottish production accounted for a quarter of the English market.
Historically, Scotland had strong connections with what is now the Netherlands, the home of jenever, the forerunner of gin. Its key ingredient, juniper, was exported from Scotland and the result imported. The taste for gin travelled the world and in the noughties, when rules changed and people were allowed to use smaller stills, craft distillers in Scotland were ready to rise to the challenge.
How much gin is there in Scotland?
We know from the Wine & Spirits Trade Association that last year Brits bought 73 million bottles of gin and it's said that 60% of the UK's gin is made in Scotland.
That has much to do with the fact Diageo makes both Tanqueray and its European supplies of Gordon's Gin at Cameronbridge in Fife. But there is also a lot of gin being crafted in Scotland in smaller operations.
When I started researching the book last September I thought there were about 175 gins. We passed 200 by Christmas and in April the Gin Co-operative website added its 250th profile of a Scottish gin.
In my book, I listed 77 distilleries making gin in Scotland but I now know of several more.
What was the first modern Scottish gin?
The one that made the headlines was Hendricks when it was launched in 1999 by William Grant & Sons.
It was a while before the next ones came along. Boë was in 2007, then Caorunn in 2009 and Darnley's, Edinburgh and Gilt in 2010. The Botanist was launched in 2011. All except Boë were from whisky companies.
However, the crown for the oldest Scottish gin goes to one of the Kith & Kin. Old Raj Gin was launched in 1972 by Cadenhead's, based in Campbeltown.
How did you make sense of it all?
The Distilling Clan consists of the distilleries – its members have a still in Scotland and they use it to make gin.
The Kith & Kin are the rest: the gins we think of as Scottish. There are makers, creators and brand owners who have gin made for them in Scotland – and elsewhere. There are cuckoo distillers who make their gin on other people's stills. And there are makers who use compounding techniques to create "bathtub" gins. Some are the Distilling Clan "in waiting" with a distillery in the making.
It must have been tough researching the book?
Before you say it – no, my home is not the best-stocked gin bar in Scotland. I went to several gin festivals and tried to taste the gins that way. I have tried to tell the stories of the makers.
Is there a typical gin maker in Scotland?
No, and that's what made writing the book such fun. There are graduate distillers, shopkeepers, bar owners, mixologists, farmers, gardeners, project managers and software developers – name a job and I can probably find a maker who has done it. There are a few themes, such as the whisky makers waiting for their malt to mature or the estates and farms diversifying their income.
---
The Gin Clan: Scottish Gins & Distilleries by Fiona Laing, Great Northern Books, £11.99