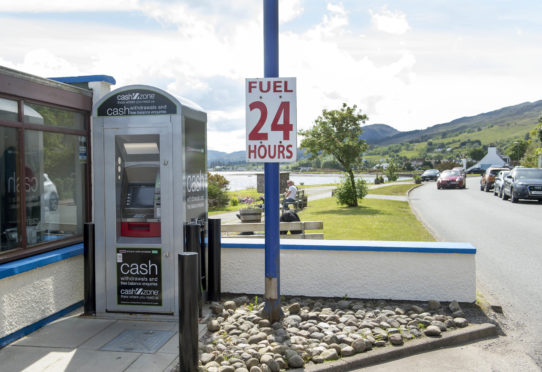 Residents and visitors in some of Scotland's most remote areas are among those hardest hit by bank closures and the introduction of fee-paying cash machines.
In Lochcarron, the local Bank of Scotland branch closed down in November 2016, and with it went its ATM.
Now, the only 24/7 cashpoint, operated by Cardtronics, charges £1.75 per withdrawal.
The nearest "free" cash dispenser can be found a 22-mile drive away, in Kyle of Lochalsh.
Rather than foot the charge, resident Steven Proudfoot withdraws cash when he visits Inverness. "I try to avoid paying charges for accessing my own cash, as any sensible person would," he said. "I wait till I am in Inverness, which is 90 minutes away, and these journeys take a lot longer than that during the tourist season."
Mr Proudfoot said the only other way of getting cash in the Highland village is via the Post Office inside the Spar, but it operates half-day on Wednesdays and Saturdays, and is closed on a Sunday.
"Since the free cash machine at the bank went, it has been a negative experience. For the elderly or people with restricted mobility, paying fees to withdraw cash might be the only option."
A local restaurant worker, who didn't want to give her name, said: "Tourists don't like it, but what can you do? We don't have much choice but to pay if we need money in a hurry."