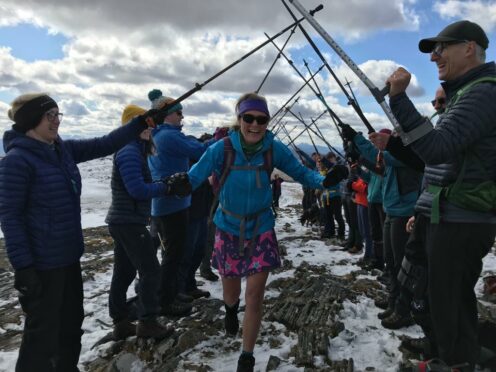 One Friday afternoon, with early April weather promising to be better than forecasted, two cyclists set off from Loch Laggan in the Highlands to reach a remote meeting place.
As the Inverness friends, Cath Bunn and Claire Piper, ride 16 miles from the A86 south on a rough track that undulates past lochs and below mountains, a walker is already partway through her journey to the same location at the heart of Corrour Estate.
Claire Hopkins, who started her day travelling by train from Edinburgh to Rannoch, south of Corrour, continues on foot via three mountain summits – a Meall na Meoig, Sgòr Gaibhre and Càrn Dearg – on a 14-mile challenge with almost 4,500ft of total ascent.
All three are carrying the clothing, kit and food they require for a self-sufficient weekend at Loch Ossian Youth Hostel.
Another two guests have already arrived at the eco accommodation owned by Hostelling Scotland. Susan Lacey and Ben Herbert met by chance on a train from Central Scotland on the scenic West Highland Line.
Although Corrour Estate is many miles from a public road, the trains between Glasgow and Fort William stop at Corrour on request. The station, the UK's highest at 1,340ft above sea level, gained notoriety in the iconic 1996 film Trainspotting when characters Renton, Tommy, Sick Boy and Spud "arrive in the great outdoors".
From Corrour platform to the hostel is a walk of around a mile on an easy-to-follow track.
I join the gathering that afternoon, after catching the train in the north at Spean Bridge. Before claiming a bed at the hostel, I bag a Corbett (a mountain of more than 2,500ft), Leum Uilleim, easily accessed from Corrour Station and offering a pleasant three-hour circuit taking in the 2,982ft summit.
From the top, an expansive vista reveals the long whaleback-shaped outline of the following day's aim.
For this is the weekend I hope to reach the top of the Munro, Beinn na Lap, my final summit in a list of the 282 Scottish mountains with a height of at least 3,000ft. Although one of the easiest Munros, with a return walk of six miles and a total climb of 1,850ft, a large part of the adventure is the journey to Corrour.
As Saturday dawns, more people arrive. My husband Gordon Lacey and two friends alight at Corrour after an early train from Tulloch.
In the late morning, another 20 friends step off a train from Glasgow and walk to the hostel, some having travelled from as far afield as South Korea, London and Penrith. Three cyclists – Vicky Begg, David Anderson and David Wilson – are also approaching, riding from the B846, close to Loch Eigheach, at Rannoch.
The 10-mile track winds upwards, alongside a stream and around the base of many lofty summits to a height of 1,800ft, before a delightful free-wheeling descent of 600ft to the shore of Loch Ossian.
En route, the fit cyclists are surprised when they are overtaken on an uphill by a father and son duo. It isn't until they meet again later – and realise their destination is the same – that Gus and Marc Pattullo confess they are riding e-bikes. For Nicola Dawson, the same track offers the opportunity for a run after alighting at Rannoch, the stop before Corrour.
By lunchtime, around 40 people are gathered at the hostel, from where we set off en masse towards Beinn na Lap. The warmth of a brightening spring sun is quickly melting a dusting of overnight snow on the mountain.
Beinn na Lap: One of the gentlest Munros is still summit to appreciate
With the crowd a slowly progressing line on a steeper section of the southern slope, I float from friend to friend, chatting and delighting in our surroundings.
I join David Venables and his wife Alicia, who are at the rear of the group. Their pace is dictated by David, who is fulfilling a dream of the previous five months.
In October 2021, he suffered a freak fall on a Munro at Strathfarrar, resulting in a potentially life-changing prognosis. His most severe injury was to his leg, which was described by a surgeon as limb-threatening.
Through many operations, plus tough physiotherapy and gym sessions, David focused on the idea that he would be at my final Munro.
"I needed something to focus on," he says. "I could hardly dare to believe it might be possible and today seems surreal.
"I can't tell you how happy it makes me to be walking to the summit of my first hill for five months."
The higher we climb, the more emotional I become. I find myself reflecting with greater clarity on my almost two-decade-long path to reach this point. Although my "compleation" (tradition dictates the use of the archaic spelling) of a first round of Munros – registered with the Scottish Mountaineering Club as the 7,115th – is not record-breaking, nor particularly significant, it is a huge achievement for me.
I'd had to face the challenge of a severe fear of heights, especially on some of the UK's most precipitous ridges, such as the Aonach Eagach in Glen Coe, Liathach in Torridon and the Cuillin on the Isle of Skye.
In that time, I had met my husband – on a Munro, of course! – seen my daughter grow, flourish and leave home for university; forged a career as an outdoors journalist; learned new skills of mountain navigation and winter safety; passed my half-century birthday and, more recently, moved to live in the Highlands. In the process, I had also made many new and wonderful friendships.
As I approach the 3,067ft summit, many of these friends raise their walking poles to form an arch. I walk through, hearing their cheers, and my tears come as everyone toasts me with paper cups of Champagne.
The joy stays with me through clearing up before we leave the summit, the descent of Beinn na Lap, through an evening of drinks and cheers, through waving goodbye to my friends who depart the same way they arrived, my own journey home and for many days afterwards.
---
Into the wild: fionaoutdoors.co.uk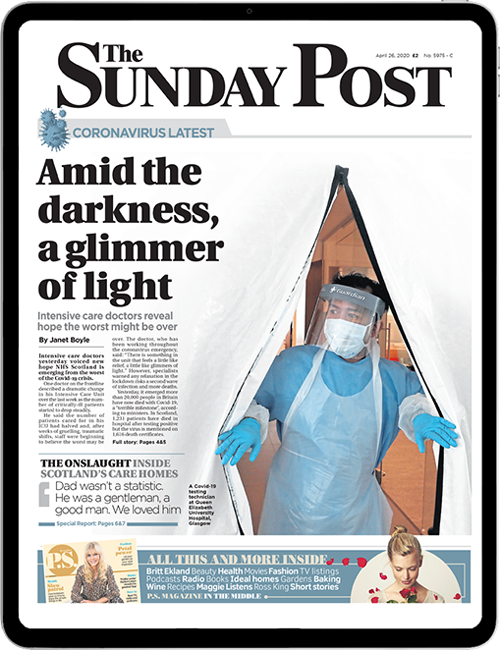 Enjoy the convenience of having The Sunday Post delivered as a digital ePaper straight to your smartphone, tablet or computer.
Subscribe for only £5.49 a month and enjoy all the benefits of the printed paper as a digital replica.
Subscribe