Having officiated in a baker's dozen of Old Firm derbies – and awarded a penalty in the last five minutes of a Scottish Cup Final – John Rowbotham knows what it is like to be a referee under pressure.
He dished out red cards to Lorenzo Amoruso and Neil McCann while they were playing for Rangers, Terry Butcher when he was Motherwell boss and Ivano Bonetti, at the time player-manager of Dundee.
Six feet three inches tall, and with his distinctive bald head, the "Kirkcaldy Collina" had no problem with the attention that came his way – from inside and outside the game – for asserting his authority during his years as one of Scotland's leading men in the middle.
Yet as he reflected on the uniqueness of the 2020-21 campaign, he picked out the lack of focus on referees as an unexpected benefit of a season policed by Covid protocols.
"I think, as ever with our game, there has been no shortage of talking points," said the 65-year-old Fifer.
"And, inevitably, a good number of them have centred around foul play during games.
"What I have felt, though, is that there seems to have been a shift away from all the noise about this or that referee getting a big decision wrong.
"Instead, the focus seems to have shifted on to the culprit – or alleged culprit – at the centre of the incident.
"So, for example, instead of people saying: 'Bobby Madden should have sent him off for that', the debate is: 'I wonder what punishment the player is going to get for that'."
The reason for that change in attitude, Rowbotham reckons, could be the number of players being hit with retrospective bans by the SFA.
Rangers striker Alfredo Morelos is a recent example, with the Colombian picking up a three-match suspension after the club admitted they had no defence for his stamp on Hibernian's Ryan Porteous at Easter Road on January 27.
Albian Ajeti, the Celtic forward, is now facing the possibility of a two-game ban after being charged with diving to win a penalty in his side's win at Kilmarnock last Tuesday.
Scott Brown has already been cleared of violent conduct by the association's panel of former referees for an incident in the same game, in which the Hoops captain caught Killie's Aaron Tshibola with his elbow.
Then on Friday, Rangers striker, Kemar Roofe, was brought to book and could be facing a retrospective ban following a tackle on St Johnstone's Murray Davidson.
"We are seeing quite a few of these cases being dealt with by the fast-track system, so fans are getting used to it," Rowbotham continued.
"Of course, they can only get involved when an incident, or part of an incident, hasn't been seen fully by the match officials.
"So you are not going to get a match re-refereed, or anything close to that.
"But players – guilty of nasty tackles that might have been missed by refs in the past – do not have the same room to hide.
"They are getting the incidents studied in detail and, if they are guilty, they are dealt with it appropriately.
"I think that is a really good thing.
"Sadly, fans are not at the games but they are following their teams on TV and are going to be as infuriated as ever at the thought of rival players getting off with stuff.
"This system takes that away and, as a result, I think the anger at the refs, who might not have caught the fouls in the games themselves, is not there. At least not to the same extent, anyway.
"Listen, football is a game of angles, and referees only get one at a time.
"You can be having a great game, but get your view of a certain incident blocked. If your assistants don't catch it, then that is it gone.
"The retrospective stuff does give the match officials a bit of protection in that respect."
The former Grade One official believes the other big change in terms of how referees have been handling games this season has been the absence of supporters inside stadiums.
"I think that one is massive, I really do," said Rowbotham.
"You can be talking about taking charge of important top-flight matches.
"But when you are out there, the atmosphere is what you would encounter in a training match.
"Yes, players are giving their all, and managers and backroom staff may be shouting the odds from the sidelines.
"But the heat is not there.
"What you are left with is just the game itself, meaning the referee can focus on the incidents in a calm and composed manner.
"As a consequence, I think we are possibly getting a higher standard of officiating this season.
"Certainly, I do not remember seeing anything like the scrutiny on the number of errors made by refs – and remember these are human beings we are talking about here – as there have been in previous years.
"That would suggest it is an easier working environment for officials."
The irony of that last statement is that Rowbotham reckons he would hate it.
"I loved taking charge of big occasions and was fortunate enough to be involved in plenty of them," he said.
"There were the Old Firm derbies, World Cup qualifiers and, of course, the Scottish Cup Final between Celtic and Dundee United in 2005."
In that end-of-season showpiece, won 1-0 by Martin O'Neill's Celtic, he awarded the Hoops a penalty five minutes from time for Garry Kenneth's foul on Craig Bellamy.
Chris Sutton took the kick, but slipped and sent the ball high over the crossbar.
"That was a big call but that is what you were there for," he said. "Being part of those big matches, and walking out into that wall of noise, was something special.
"The adrenaline pumps away like mad, especially when you have important calls to make.
"But these are the days you have dreamed about, in the same way as players do growing up.
"I have refereed games at the likes of Forfar and Arbroath when there is hardly anybody in the crowd, so I saw it from both sides.
"Without question, you wanted to be involved in the ones that are packed to the rafters with 50,000 or more in the ground.
"I know there would have been times when a good chunk of those supporters would have been sending abuse my way.
"But that was OK. It was part of the deal.
"The refs who are in charge just now have to remember that this is a temporary situation we are living through. The sooner we can get back to something like normal, the better."
For Rowbotham, that will mean easing himself away from his new-found passion for baking, and returning to his after-dinner speaking duties, a circuit in which his resemblance to the aforementioned Pierluigi Collina comes in handy.
"The man is a legend, the best of all time," said the Scot.
"With the height and the lack of hair, there is something of a visual similarity between us, and we have had good fun about it when we have met up on official business.
"I usually do a Collina bit when I am talking at the dinners, and it seems to go down pretty well.
"Who knows? Maybe he is out there in Milan and Venice, trying to kid on dinner guests he is John Rowbotham!"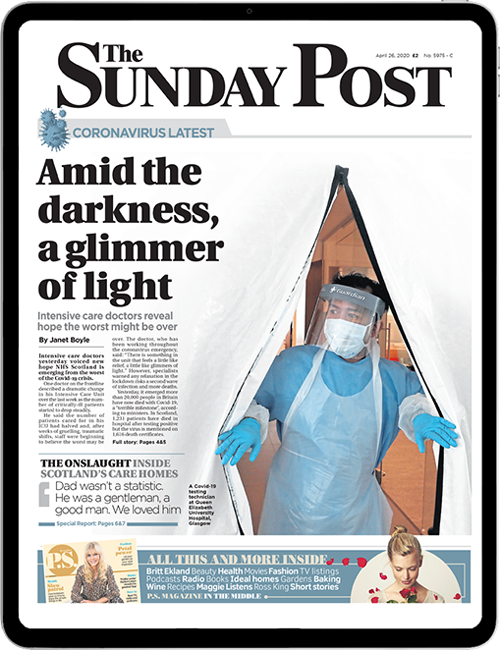 Enjoy the convenience of having The Sunday Post delivered as a digital ePaper straight to your smartphone, tablet or computer.
Subscribe for only £5.49 a month and enjoy all the benefits of the printed paper as a digital replica.
Subscribe