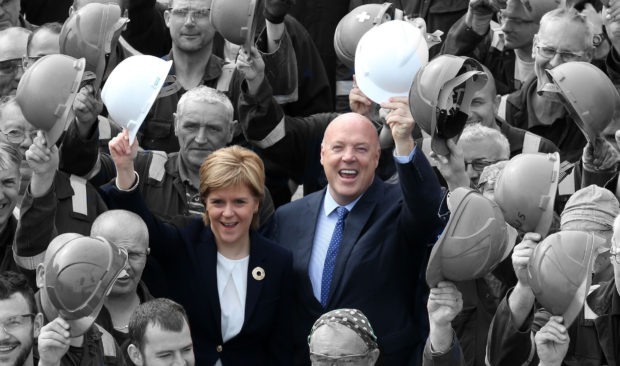 All governments waste money. The unique feature of the Scottish Government is that no ­politician is ever held accountable and rarely is there even an inquiry into what has gone wrong.
Yet the sums involved are eye-watering. The Ferguson's shipyard fiasco already represents an additional bill of £100 million with two ferries still to be built. Extra costs at the Edinburgh Children's Hospital are put at £150m, but nobody really knows.
Prestwick Airport ­continues to represent a large blank cheque. Then there were recent IT debacles at the Scottish Pensions Agency and Scottish Rural Affairs Department, each costing tens of millions. The list goes on and on.
Make no mistake. Every penny wasted comes out of the same large pot of money which, at the same time, grossly underfunds our local councils and fails to pass on full "Barnett consequentials" to our NHS.
Even the half-million shelled out on Alex Salmond's legal costs, in pursuit of a doomed defence, would have kept a few libraries and community centres open. Yet no heads will roll in St Andrew's House where the watchword is to protect their own and keep talking about independence.
Wasting other people's money is not a victimless political crime. The Ferguson story is a good example of how ­headline-grabbing political opportunism has consequences not only for taxpayers but also communities which depend upon vital public services.
While this is portrayed as a row between the SNP and Jim McColl, the immediate victims are island communities served by an ageing Caledonian MacBrayne fleet. The two ferries at Ferguson's – one already two years late and the other still a rusting hulk – were vital to the company's operations.
CalMac is left to shuttle ferries around its network to cover for breakdowns and essential maintenance. But while it is at the sharp end of criticism and must answer to the public, the reality is it now has less control than ever before over the fleet that serves island communities.
At the centre of the dispute is a Scottish Government quango called Caledonian Marine Assets Ltd (CMAL), which was set up to procure vessels and terminals used by CalMac. It has been at the centre of one botched job after another – yet is never held accountable for anything.
The chairman, who could safely walk through any island community without being ­recognised, is a Danish logistics expert who flies in for meetings. No board members live in places served by CalMac. They answer to Edinburgh – not the islands.
Yet, while decisions taken by CMAL involve hundreds of millions of pounds, I can find no record of any Holyrood committee or Audit Scotland taking a serious look at their record of performance – far less of any minister accepting responsibility.
So will there now be a formal authoritative review of what went so wrong at Ferguson's? Probably not because, almost certainly, responsibility would end up with SNP politicians who have no intention of inviting that level of scrutiny or, indeed, any at all.
The McColl deal always smelled of a political stunt in the run-up to the 2015 Scottish elections. Who could possibly be against "saving" a shipyard? My guess is the specification was cooked up to avoid EU competitive tendering rules but without the necessary diligence to ensure the yard could actually do the job. But guessing is not enough. We need a proper inquiry, with proper ministerial accountability.
There is very little human touch about the Scottish Government. There are 33 ministers and endless visits to the more attractive parts of Scotland, particularly in summer. But they always take place within the comfort zone of bureaucracy, whereas devolution should surely mean meeting the people acting on real concerns.
The same traits are evident in response to the various crises affecting the NHS. Above and beyond the financial arguments and construction failures, the Edinburgh hospital scandal is primarily about people, their expectations and concerns for the welfare of their children. There has been precious little recognition of any of that while the continuing lack of information about how this situation was allowed to develop over at least two years before a last-minute recognition of reality adds insult to injury and demands face-to-face explanation.
Certainly, another quango in urgent need of scrutiny is the Scottish Futures Trust, which runs the SNP's version of the Private Finance Initiative. It is only the case of the Edinburgh Children's Hospital that has finally drawn public attention to the way in which most major projects in Scotland are funded.
The principles are the same as those Nicola Sturgeon and her ministers were previously so vociferous in denouncing.
For the next 25 years, Lothian Health Board will be repaying Australian and Spanish multi­nationals to manage the building and its equipment, at three times the capital cost.
In principle, that may not be a problem – though the hypocrisy of past condemnations is obvious. However, it is essential that every deal entered into is scrutinised for value and where responsibility lies when things go wrong.
When Holyrood was established, its committee system was supposed to be the watchdog that would hold ministers to account.
That has failed miserably, resulting in an arrogant assumption that nobody in Edinburgh ever has to carry the can for incompetence or failure.
---
View from abroad
By Craig McDonald
Nationalising Ferguson's shipyard to complete the troubled ferries' contract could work but only as a short-term fix, according to a leading industry expert.
Finnish academic Professor Pentti Kujala said there was no reason Scotland could not, like his native country, have a successful shipbuilding industry despite fierce competition in the sector.
Both countries have a population of about five million people and share a rich maritime history and shipbuilding tradition.
But, while Finland has seen major successes in yards producing vessels for niche markets, Ferguson Marine, Scotland's only remaining commercial yard on the River Clyde, was taken into public ownership on Friday after problems with a contract to build two CalMac ferries.
Prof Kujala cited the Meyer Turku yard in Finland which has seen success after being established five years ago jointly owned by a private company and the Finnish Government.
Prof Kujala, head of the marine technology research group at Aalto University in Helsinki, said: "We have experienced problems with our maritime industry and the Finnish Government has come to support the sector.
"It's a good idea if they can be involved with a company for a few years – but after that order must be restored. Government can be there for short-term but not the long-term. This is exactly what happened with a company in Finland called Meyer Turku where the Government was there for a couple of years.
"The Finnish Government paid for a stake so they could have a good start-up. When everything was going well, the Government left. It has to be private in the long-term."
He pointed to the types of vessels he believes smaller European nations can produce successfully – and to areas where it's impossible to compete with the huge Asian yards.
He said: "Finland has done well in one particular respect and that is specialisation.
"We have become good at making ice-breakers and cruise ships and we are good at these niche markets.
"We have also managed to develop good networks for sub-contractors and we have about 2,000 companies in Finland now working in the maritime sector.
"We have developed a maritime cluster of all different types of expertise.
"Europe needs to look at projects where you need special knowledge – ice breakers, research vessels, military work and more complicated cargo and passenger vessels.
"I realise the competition is tough but the Scottish yard can be successful if it goes for the niche markets."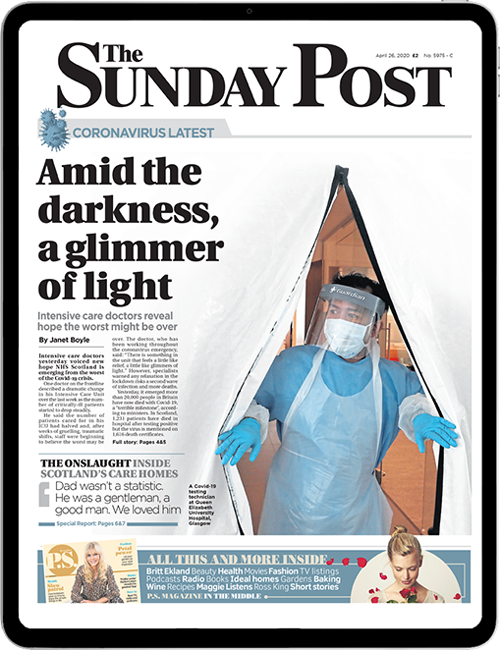 Enjoy the convenience of having The Sunday Post delivered as a digital ePaper straight to your smartphone, tablet or computer.
Subscribe for only £5.49 a month and enjoy all the benefits of the printed paper as a digital replica.
Subscribe