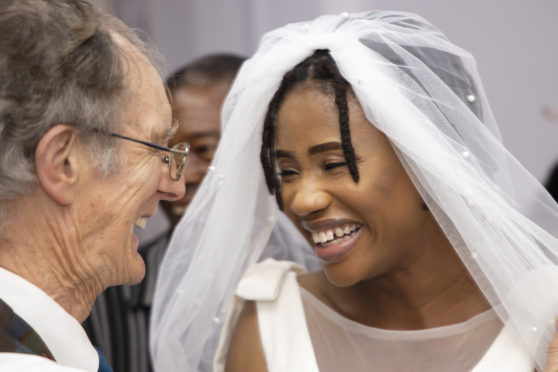 It was a spur-of-the-moment decision but the small act of human kindness from one stranger to another saved two lives and created an incredible bond that has spanned continents and endured across generations.
When Keith Thomson joined Catherine Conteh at her daughter Regina's wedding in Sierra Leone last month, overcoming ill health and the threat of coronavirus to be there, it added another chapter to an already remarkable story.
Twenty-seven years earlier, while volunteering in the African country, the Scots anaesthetist had paid for an operation that saved the lives of both Catherine and her unborn daughter, Regina.
So, when Regina announced plans for her wedding, there was one name at the top of her guest list – the man who calls her "his African daughter" and who she knows, simply, as Uncle Keith.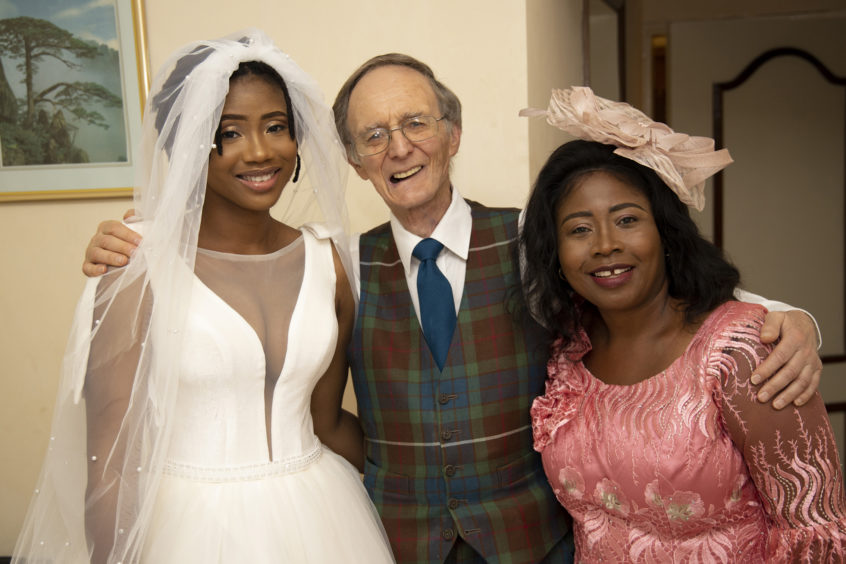 He explained: "I was volunteering with the Mercy Ships charity in Sierra Leone in 1993 when I asked if I could visit the local maternity hospital in Freetown, because obstetric anaesthesia was my speciality.
"As I was walking through the labour ward, I saw an 18-year-old girl in great distress. I asked the midwife what was wrong and I was told she was going to die.
"She said the girl had been in labour for four days and required a caesarean, but the family couldn't afford to pay for the procedure so the surgeon refused to carry it out. When you witness something like that, you appreciate our NHS all the more."
Keith then offered to pay for the operation himself. "It was £70, a lot of money at that time for someone in Sierra Leone, about a year's wage," he said.
The procedure went ahead, and the following day Dr Keith visited the new mum and baby Regina.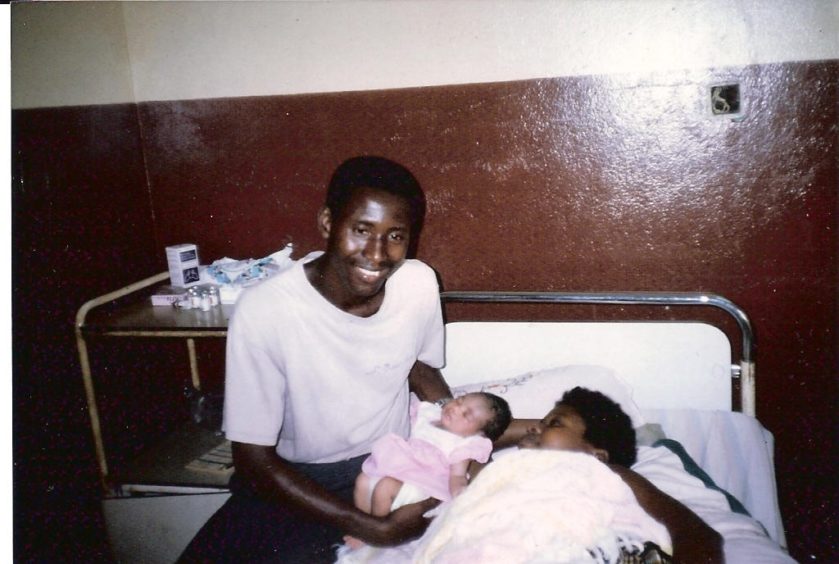 "I was told Catherine, just before the operation, thought I was an angel," said the dad of two. "She hadn't seen a white person before and, as the nurse came to take her to theatre, she explained some random white guy had come in and paid for the surgery.
"When you think you are going to die, it's an extraordinary thing to have happen."
The story might have ended there, had it not been for an incredible moment of serendipity. The following year, back home and working in a Berkshire hospital, Keith, who comes from Dundee, chatted with a theatre nurse who told him she was due to visit Sierra Leone with a charity.
He thought about Catherine and gave the nurse a £10 note, asking her to give it to the young mum should she meet her.
"I didn't really think it was likely, but it just so happened the church where the nurse was basing herself was the one Catherine attended. When my friend said to the minister, do you happen to know Catherine Conteh, he pointed to the far end of the church and said she was over there."
His friend put him back in touch with Catherine and they spoke regularly when she began calling him affectionately "Uncle Keith".
Then, when the civil war in the country escalated, he paid for the family to flee to neighbouring Guinea.
"The rebels blocked the roads, so they had to escape on a rickety boat, similar to what's happening in North Africa just now. They had no other options." It was there that Keith, alongside his wife Fiona, were reunited with Catherine and Regina.
"It was 1998 and Mercy Ships had gone to Guinea," he explained. "As we came out of the airport, my wife saw this girl in the crowd holding up a sign, which read, 'Uncle Keith, thank you for saving the life of me and my mum. You are most welcome'."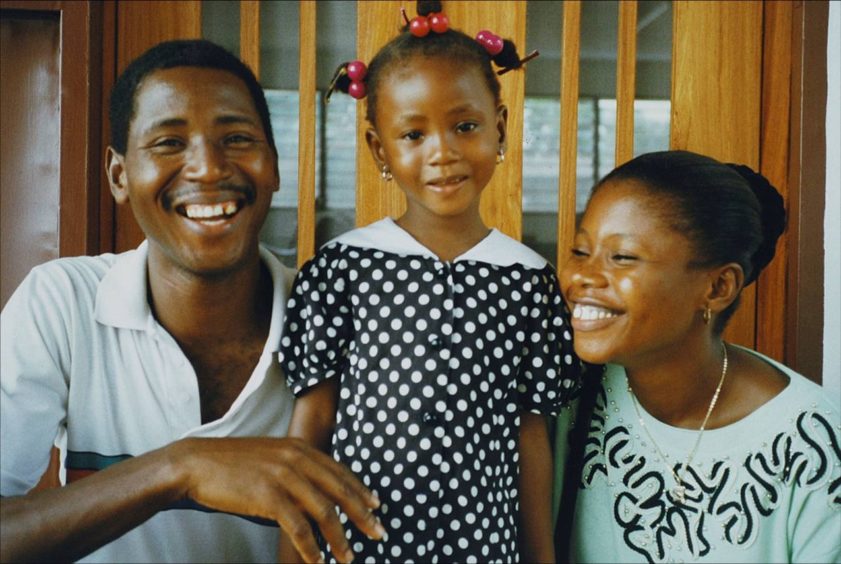 Keith, 72, describes the moment as one of the most emotional of his life, and he spent time during that trip getting to know Regina, who, he remembers, was a remarkable child.
As rebel attacks in neighbouring Liberia grew worse, in 2000 Keith arranged for the family to move to Ghana, where he had friends. And in 2005, as part of the UN resettlement programme, the family emigrated to Perth, Australia, where they continue to live today.
Both Catherine and Regina are nurses, inspired to help others in the way Keith helped them. Keith continued: "I'll call Catherine up and chat to her about all sorts of things." When Catherine and husband Augustin had another child 17 years after Regina, they called him Derek, after Keith's father. And when Keith required extensive surgery last year, it was time for Catherine to return the favour and help the man she considers a father figure.
He said: "I had a 12-hour operation on my face, where 6.5 inches of mandible was taken from my jaw and replaced with part of a bone from my right leg.
"Catherine came over to help my wife nurse me during my recovery."
When Regina announced her wedding date with Sahr Koroma, a fellow immigrant to Australia from Sierra Leone, and asked Keith to be part of the celebrations back in their African homeland, he fought back to good health, determined to join the celebration.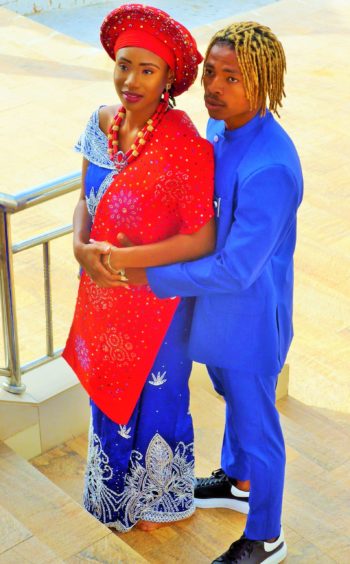 "The big question was could I get myself fit enough to make the journey," he said. "It required lots of physio, but I managed. Then coronavirus came up and my family weren't keen on me flying out. If there had been a reported case in Sierra Leone before I travelled, I wouldn't have gone.
"Actually, my travel agent changed my flight home from March 16 to 15. The first confirmed case of Covid-19 in the country was a passenger on the flight that I was due to have taken back out, had my dates not been changed, so theoretically I could have sat on the same seat as the confirmed case."
He continued: "I think Regina and Catherine were very happy I made it and I was certainly honoured to be invited. I was asked to give a couple of talks, to explain our story.
"There was a traditional wedding at Catherine's mother's house, where tribal members talked, which lasted two hours followed by a big dinner party, and then the wedding ceremony at the register office.
"I wore tartan trousers and waistcoat to ensure Scotland was represented at the wedding."
Regina was delighted Keith could join the family on her big day while Catherine remembered their first meeting: "In hospital, when I opened my eyes and saw him, I thought I had died and was somewhere else.
"It was a big miracle from God and I'll be thankful to Uncle Keith for the rest of my life. I never imagined I would see him again, so I regard his friend finding me at church as a second miracle.
"I was a high school drop-out, and when I said I'd like to go back to school, he said I could achieve whatever I wanted. He paid for a private tutor and inspired me to become a nurse. I feel humbled and satisfied to have looked after him when he was unwell, and grateful to the whole family that they entrusted his care into my hands for that short period.
"I was so happy for him to see the life he saved came up to be something, and that I can contribute back to society. For him to be at the wedding was a big joy."
Regina added: "I grew up hearing about Uncle Keith. It was special to have him at the wedding, especially when it looked at one point that he wouldn't be there. He has been a part of every major event in my life.
"It was emotional for both of us at the wedding. I'm so glad he could be there."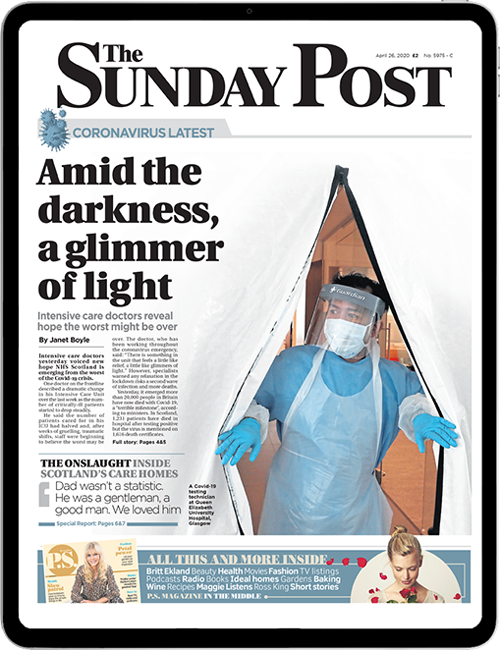 Enjoy the convenience of having The Sunday Post delivered as a digital ePaper straight to your smartphone, tablet or computer.
Subscribe for only £5.49 a month and enjoy all the benefits of the printed paper as a digital replica.
Subscribe