The incredible life of one of Ayrshire's local legends is being celebrated in a new song.
Singer-songwriter Seán Gray has put to music a poem about Johnny Stariski, a miner who worked at the Barony Colliery near Auchinleck.
A champion high board diver and bodybuilder, he famously performed a handstand on the top girder of the site's A-frame, a massive steel structure that still stands today as a monument to Scotland's industrial heritage.
It's a tale that has been passed through the generations, and brought to life by Scots poet Rab Wilson, who worked with Stariski in the 1970s and 80s.
"As soon as I read the poem, I knew I had to work on it," Gray said. "Rab had sent me through loads of poems. I read every one but this one immediately struck me. It's just a fantastic story, beautifully written in Lallan Scots which I grew up speaking.
"It struck me as a really fantastic example of what could be a modern folk song, with a story that has the potential to last forever.
"I know that Johnny was a great character, apart from doing this incredible stunt he was a fantastic character, well-known and loved in the community."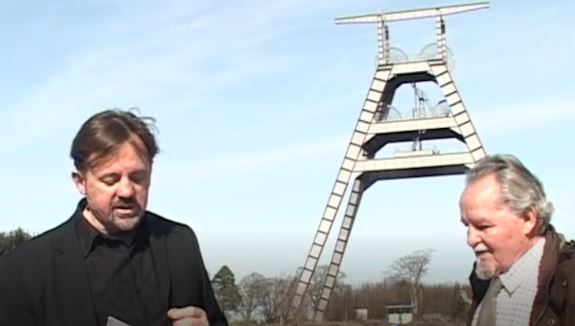 Born in 1928, Stariski's father and grandparents emigrated to Scotland from Poland just before the First World War.
He's now in his late 80s, living in a care home in Auchinleck.
"Since I've started to promote the release of the single through my social media, his grandson got in touch with me which was really great wonderful to make that connection. They love the song," Gray said.
The Barony A-frame dominates the local skyline, and served as a winding gear for the Barony Colliery, which operated from 1907 to 1989.
Built in 1954, the structure is B-listed and is the last remaining of its type in the UK.
It was saved from demolition by a community led charitable trust, who raised over £1m to refurbish the structure and landscape the surrounding area to create a monument to the local mining industry.
It was opened in January 2008 by Prince Charles, who also unveiled a plaque commemorating four miners who died there in an accident in 1962.
The area is now a popular site for outdoor activities.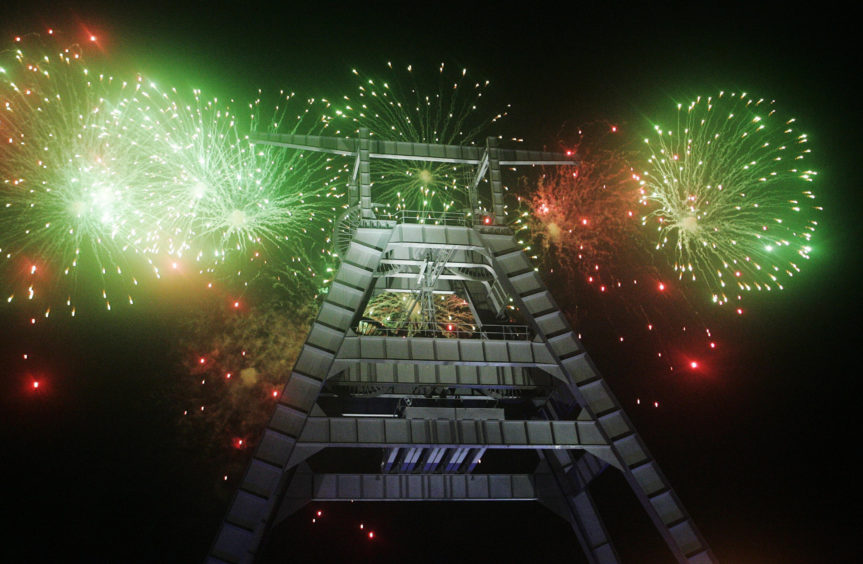 Gray, from Coylton near Ayr, believes it's hugely important to keep the stories of people like Stariski going, as such characters embody the area's industrial heritage.
Both of his own grandfathers were miners, and when he left school he served an apprenticeship at Irvine's Allenwest Wallacetown making mining equipment.
"I grew up playing folk and traditional music and singing songs of people that lived a long time ago, with maybe historically important stories, or sometimes just interesting tales," he said.
"It is really important, especially when it comes to talking about industry of the area. It formed Ayrshire in many respects, shaped the landscape which you can still see now and still see in a thousand years, these hills coal bins and various structures. I think it's vital to document that.
"It's been in the family for years and years. It's important to remember how vital it was to communities around Ayrshire and the whole of Scotland as well."
Gray's musical adaptation of The Great Stariski begins and ends with the echoing sounds of the pit's winding engine.
The song is his first solo single, having been a session musician for many years.
Also a music teacher, he has played with a variety of high-profile acts across the world including The Outside Track, Shane Cook, Caroline Keane & Tom Delany and The Treacherous Orchestra.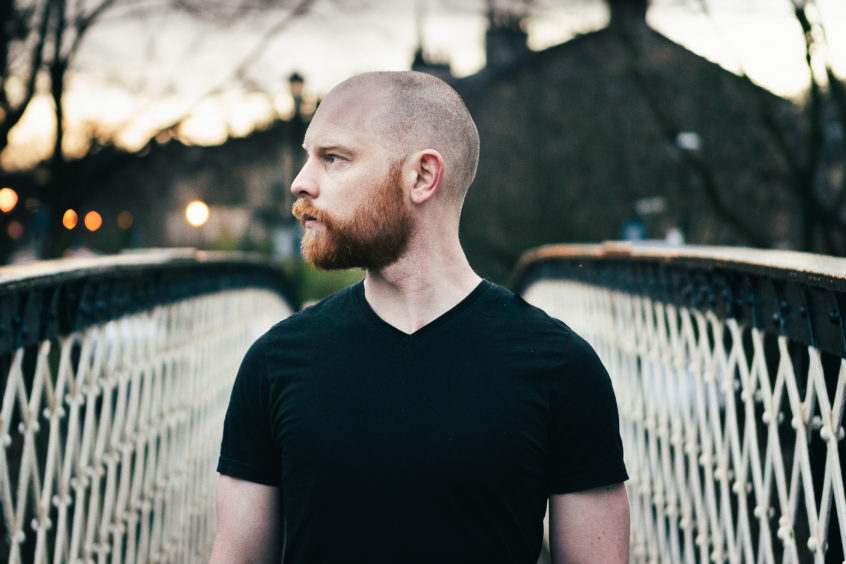 He said: "It's exciting to be releasing music. I'm definitely not nervous about it, I'm confident and happy with the music that I've made but there is some apprehension – you want it to be well received.
"In a strange way for someone who has been playing music for so many years, it's kind of like a launch of a different aspect of my career. I've been thinking about that a lot, there are a lot of people I've played to that will recognise my name but not in this solo context.
"I want people to know that this is something I can do. It's definitely been something I've wanted for a long time. This lockdown, especially the more serious parts where we had to stay home, it was a great opportunity to knuckle down and get it done."
---
One wee triumph of human spirit
Rab Wilson on why he was inspired to write the original poem
Like Billy Connolly with the shipyards, the coal industry was also full of characters and stories. It was that kind of industry. There were all these practical jokes and crazy things happening. You needed quite a dark sense of humour to cope with that kind of world at times. It was a life of triumph and tragedy, and this was a light-hearted, life-affirming moment that I think deserves to have its wee footnote in history. One wee triumph of the human spirit.
When I was a boy, the streets were full of miners waiting on buses, whole communities revolved round the pits and the mining industry. I worked at the Barony Colliery and Johnny Stariski was a 'character', he was in charge of the powder magazine where the explosives were collected at the start of shifts.
When he was young he was a weightlifter and bodybuilder, following the Charles Atlas course, a famous course in the 50s and 60s. He pursued it even though he was only about five foot four, he was built like a tank! He was also a highly skilled and prize winning high diver. He was always very immaculately turned out, always with a smile and a twinkle in his eye.
The legend went that he'd done a handstand on top of the A-frame, this huge steel structure which still commands the landscape there. During one summer there were two or three men up there fitting a ladder with hooks round it to climb up. One of the guys suffered from vertigo!
He had an attack and froze and couldn't move. His pal asked Johnny: 'what will we do now?' He said: 'you hold him and I'll knock him out!' Johnny knocked him out and that was enough to get him and lower him down the ladder onto the platform, which was still high up.
Johnny climbed up the ladder like a trapeze artist and shuffled along to the end of the beam. He shouted 'look at me!' and did a handstand on it, must've been about 150 feet above solid concrete.
It was one of those carpe diem events in life, where just there and then he decided to do this crazy thing. It was so crazy it became famous locally. He was the man that did the handstand on the A-frame and that inspired me to write the poem about him.
It's a great moment, there's something magical about it. Sean came across it and thought it would make a good song. Hopefully it'll go on to be a standard of Scottish traditional song, that would be great if it did that.
The Great Stariski (a legend o the Barony Colliery)

By Rab Wilson


The Great Stariski maks his entrance bow,

Poised oan the Cross-beam o the vast 'A' Frame;

He aiblins sees imaginary crowds,

Gawpin at his daith-defyin stunts.

Mair's a hunner feet up in the air,

Nae spider's wab o safety-net is strung,

Tae sauf him frae unsocht oblivion.

The Great Stariski luiks tae aa the airts,

Sic magick tricks depend upon their ritual,

An curtly bobs tae each pynt o the compass;

Tae the north, Ben Lomond's silhouette,

Tae the west, Goat Fell oan Arran's isle,

Tae the east, ayont Muirkirk, Cairn Table,

Tae the sooth, Sweet Afton's bonny glen.

The Great Stariski birls an pirouettes,

Then, tae admirin glances frae ablow,

Syne gangs tapselteerie, heelstergoudie,

Stauns oan his haunds, disdainfu o the risks,

An lauchs oot lood in life-affirmin joy

At aa thae wee black specks doun oan the grunnd.

The Great Stariski, balanced oan his girder,

Seems tentless o his parlous circumstance;

Up here he's free, can rax an touch the heivins,

An feel the wuin an rain upon his face.

The Great Stariski leeves athin the moment,

Taks in his queer inversion o the warld,

Syne wi some skeelie dancer's gracefu mien,

Lichtlies doun as saft as thistledown;

Dichts doun his stoorie, creashy overalls,

Sets at a jaunty sklent his auld pit helmet,

Recoups his yirdlie equilibrium,

Descends the ledder – an's mortal aince agane.
The Great Stariski will be available to download and stream on Friday May 14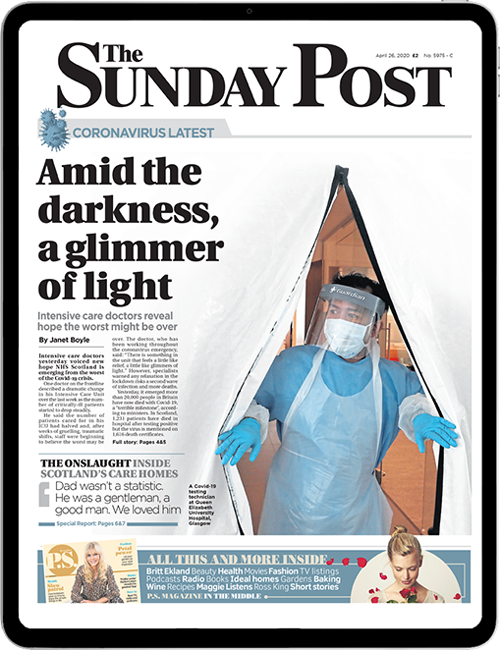 Enjoy the convenience of having The Sunday Post delivered as a digital ePaper straight to your smartphone, tablet or computer.
Subscribe for only £5.49 a month and enjoy all the benefits of the printed paper as a digital replica.
Subscribe