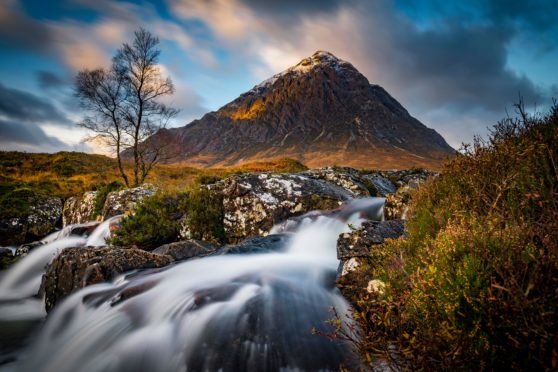 The highest of four summits – two of them Munros – that make up the Buachaille Etive Mor, Stob Dearg is probably Scotland's most photographed peak.
Buachaille Etive Mor – the Great Herdsman of Etive, or simply "The Bookle" to hill-goers, stands sentinel over the entrances to both Glen Etive and Glen Coe. The iconic image of one of Scotland's most famous mountains is of a formidable pyramid of rock, riven by gullies, craggy ridges and soaring cliff faces, seen on the approach from the east across Rannoch Moor.
This is Stob Dearg.
From this angle, the prospect of an ascent will thrill some and intimidate others – and to be told you can simply walk to the top will seem absurd. But, on the north side, the Coire na Tulaich offers a route that allows you to do just that – occasionally on steep, loose scree, but a relatively simple walk nonetheless.
Even the craggy face of the Rannoch Wall offers a non-technical – but still serious – route for competent scramblers. Climbers, meanwhile, are spoilt for choice, with routes of all grades.
In winter, these multi-pitch routes offer an alpine-like experience. However you get to the top, what awaits is an incredible vista – looking east, it's a sheer drop to the floor of Rannoch Moor. It feels like you're floating.
West, the narrow ridge twists and turns, rises and falls on its way to Stob na Broige, the Buachaille's second Munro. Buachaille Etive Mor has a special place in the history of climbing in Scotland.
The first rock climb here was by the great mountaineering pioneer Norman Collie in 1894. Following decades saw routes established by legendary climbers like William W Naismith, Harold Raeburn and WH Murray – whose marvellous books, Undiscovered Scotland and Mountaineering In Scotland, give exciting accounts of climbs.
The hill's cultural significance, history, aesthetics and sheer mountaineering versatility make it one of my favourites.
I've strolled the fantastic ridge that links all four peaks, I've scrambled on the rock with its big, deep holds and climbed thrillingly exposed routes on Rannoch Wall. It's a mountain I return to time and again, in all seasons, and never tire of.
---
Crow, no! Clever birds bag free meal
Everyone knows crows are clever, but those on Stob Dearg appear smarter than most…
Climbers tackling routes on the Rannoch Wall often leave packs at the foot of the cliff, picking them up later on descent via Curved Ridge. A few years ago, some complained that their lunches and snacks had been stolen from their packs.
Hungry after their exertions, the climbers were understandably miffed. Complaints of food thefts persisted and became something of a mystery – until the corvid culprits were caught in the act.
Somehow – perhaps by observing what humans did – the birds figured out not only that the packs contained food, but how to access it by unfastening clips, loosening toggles, opening plastic containers and then munching the sandwiches inside.
---
Guide
Pronunciation: Stob Ger-ag (Booakle Etiv More); Meaning: Red peak (Great herdsman of Etive)
Height: 1,021m (3,350ft); Rank: 110
OS Landranger Map 41
Summit grid ref: NN222542 (small cairn)
Nearest town: Glencoe is about 13km (8.1 miles) west. Although a small village it has great facilities. Accommodation options include hotels, B&Bs, caravan and campsites, and a youth hostel. There are shops, a petrol station and excellent places to eat and drink.
---
The route
Start grid ref: NN221563
Distance: 13.5km (8.4 miles)
Ascent: 1150m (3373ft)
Time: 7hrs
The above figures are for the ridge walk along Buachaille Etive Mor, taking in Stob Dearg and Stob na Broige. I also recommend an ascent via Curved Ridge for competent scramblers.
Both routes start just off the A82 at Altnafeadh. Walk past the Lagangarbh Hut and, for the walking route, follow the path right – it ascends into Coire na Tulaich. It's steep in places and winds through scree.
The path deteriorates as it steepens, the last stretch zig-zags up scree and requires care. Stob Dearg's summit lies to the left, From there, retrace back to the head of the corrie, before continuing along the ridge over Stob na Doire, Stob Coire Altruim and, finally, the Munro of Stob na Broige.
Best descent is to return over Stob Coire Altruim. Just before the bealach, a rough path leads north to the Lairig Gartain, which will take you back to the A82 west of Altnafeadh.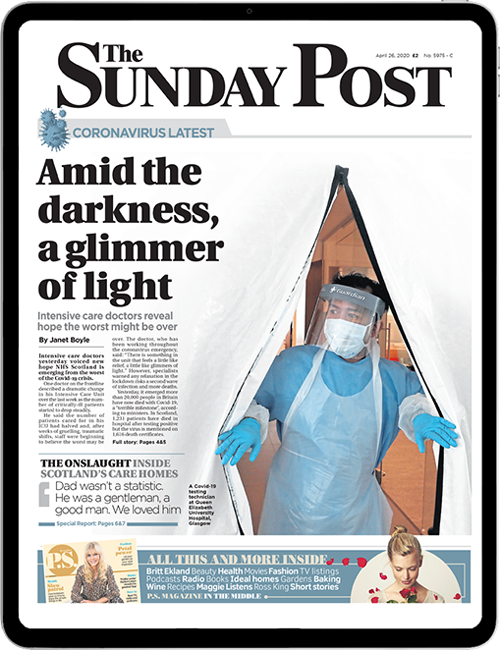 Enjoy the convenience of having The Sunday Post delivered as a digital ePaper straight to your smartphone, tablet or computer.
Subscribe for only £5.49 a month and enjoy all the benefits of the printed paper as a digital replica.
Subscribe