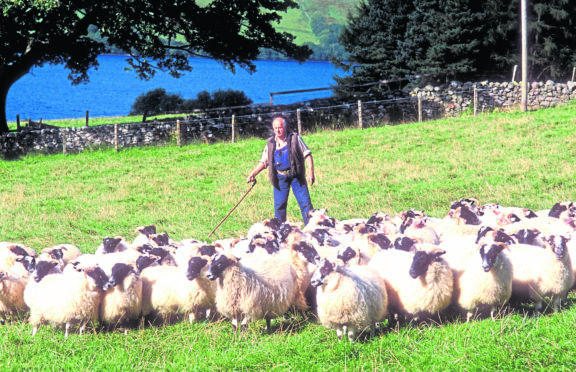 The wind is howling and the windows of Mervyn Knox-Browne's farmhouse are rattling. We are sitting by the fire listening to the elements as shadows dance on the wall, and the wood crackles, sending sparks up the chimney.
For more than three decades, I have relished these interludes when I can enjoy a chat about things that truly matter: the natural world, changing seasons, rural life, tales of the hills and glens. Here in the peace of this old house, our swiftly vanishing oral tradition stands firm.
A collie dozes by Mervyn's side. We are talking of weather-dominated days gathering sheep on the high tops with shepherds in some of Scotland's wildest terrain. We speak of markets and incidents so vivid I can smell the sheep, and hear the cacophony of voices and jostling livestock. These are tales that bring emotions to the surface.
"You won't make a fortune in a place like this but, my goodness, I'm rich in other ways," Mervyn, now 92, says.
"I feel frustrated now as I sit with far too much time to think, and my memory has gone haywire. I feel like a piece of useless deadwood."
I quickly point out the importance of deadwood in a thriving ecosystem, which earns a laugh. Mervyn knows well that a tree is as vital when it's decaying as when it's living.
"You're right, I never thought of myself quite like that."
Renowned for his warmth of character, wit and cheer, he has always been a much-loved mainstay of the community. He claims to have walked so far in his big tackety boots, that he has worn out his joints several times over.
"I have had both hips replaced several times, and both knees. My joints are all made of tin, and that gives me a healthy respect for thunderstorms while avoiding standing under power lines!"
It's more than 30 years since I met Mervyn at a ceilidh at Meggernie Castle, in Glenlyon. He was a farm manager on the estate, as well as running his sheep farm, Milton of Ardtalnaig. Situated on the south side of Loch Tay, to the west of his farm, lie Ben More and Stob Binnean, to the north, the dynamic vista of the Ben Lawers range.
Mervyn was born in County Donegal, and came to Scotland to Glenalmond College in Perthshire when he was in his teens.
"My father was a disciplinarian; we never got on. He had big ideas for how my life would shape up, and he insisted on sending me away to boarding school.
"At first, I missed home where I spent my time outside with my keeper friend, Donal McGlinn.
"He was a real character who chewed tobacco and had an exceptional take on life. He taught me to fish, and to 'guddle'. It's not a word you hear much now, but lying on a riverbank trying to catch fish with your hands is a valuable skill. We netted salmon, packed them into fern-lined boxes and transported them to the railway station in a wheelbarrow fitted with a bicycle wheel, minus its tyre so it could run over the narrow-gauge railway line.
"When I first came to Scotland, I missed Donal terribly. I soon discovered that, though I hated lessons, the bonus was that hills, and the river Almond surrounded the school, so I could escape. I was always back in time for breakfast."
Mervyn helped on various farms before securing a full-time job on a remote hill farm near Balquhidder, where he learned about blackface sheep and Border collies. "I've had numerous collies, Mist is the 22nd. Each was astonishing, but some were even more special. You never forget your dogs."
High on the hill above the farm where his loyal dogs are laid to rest, Mervyn has planted a red hawthorn hedge to mark each dog's passing. In May as the summer migrants – including warblers and cuckoos return to breed, the hillside blushes with a pink glow, and the air is heady with the scent of blossom, the marshy areas stippled with orchids, flag iris and primroses.
In 1954, Mervyn acquired the farm together with 500 acres. He had been left £1,000 by an uncle and had been saving hard. When he heard Milton of Ardtalnaig might be for sale, he asked the banker in Killin for a loan and was surprised to be given enough to secure the land, farmhouse, and astonishingly, an offer of more if required.
Building his sheep stock and improving the land took time and perseverance. "I love trees and hedges, and I've tried to farm with conservation in mind. I've kept diaries and record the weather and temperatures daily. I have a fascination for astronomy – the phases of the moon and stars, how everything is interconnected.
"We have lost touch with nature, and I believe that though extremes of weather have always taken place, currently we are witnessing wild, erratic climate patterns."
In 1957, Mervyn took on an auxiliary weather recording station on Loch Tay for the Met Office and the Climate-geological Observations Link. And it was a role he fulfilled assiduously for more than 60 years until stepping down earlier this month. Using gauges on his farm, he kept data on monthly rainfall, ground frost, temperatures, hours of sun, wind speeds, the densities of each day's cloud cover, and data on snow patches.
Some of the other records he kept have proved equally noteworthy. His logs of arrivals and departures of avian migrants, as well as the dates of the first frogspawn, and various critical flowering plants, provide valuable information. They show how climate change is affecting the natural world.
"Sadly, bird numbers have dwindled," Mervyn says. "Swallows and house martins are increasingly rare, and we no longer have swifts. Cuckoo numbers are falling and we don't have curlews, or lapwings."
In our increasingly wet summers, bracken, an invasive member of the fern family, has spread dramatically and provides ideal habitat for sheep and deer ticks, blood-sucking parasites with complex life cycles that carry numerous diseases, including Lyme disease.
Like many farmers, Mervyn has diversified. He was closely involved in the forerunner of The Heather Trust – The Joseph Nickerson Reconciliation Project, with his friend the late John Phillips, assisting in early tick research.
To return to the idea of the benefits of decaying timber, as it spreads its nutrients and provides vital habitat for a host of species, the wealth Mervyn has brought is not dissimilar.
The nutrients – his vast country lore, wisdom, friendship, kindness, and humour – are food for the soul.
In 1999 he was awarded an MBE for services to the community and conservation. Now in his 93rd year, there is indeed much to contemplate.
A life well lived would be the perfect start.