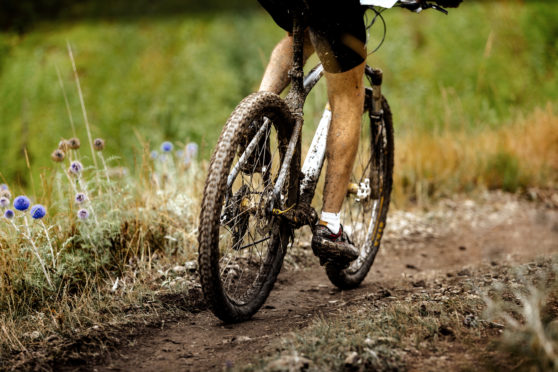 The temperatures had even caught the midges off guard.
Spending a weekend in Torridon during very warm weather, we had expected to find clouds of them over every puddle in the paths, but there were hardly any of those either.
The reality of temperatures in the high 20s is not something you face often in Scotland.
It's surprisingly hard work when you're used to wearing a long-sleeved base layer and seeing your own breath.
Despite the heat, the track along the eastern shore of Loch Damh in Torridon still had a few boggy patches.
Simon stalled in one and put his foot out to the side as he tipped over. Unfortunately, he was above the edge of a particularly huge culvert, so the ground his foot was looking for was several feet below him and he disappeared off the side of the path completely. Somehow he emerged unscathed, his rear wheel bent out of shape. Niall and I thought his ride was over, but he simply set the wheel on its side and jumped on it until it was straight-ish again.
Breaking away from the side of the loch, a thin line of buff beige singletrack headed out to Kinloch Damph before turning left for the long climb up to Drochaid Coire Roill.
Out in the full glare of the sun, we had to take regular pauses under the windless pale blue sky. About 7km (4.3 miles) of gentle ascending lay ahead as we hit lunchtime. The sweat evaporated from our clothes as we ate. That faux fresh feeling didn't last long, as the gradient reared up and sweat began to bead on our brows once more.
It's a persistent climb, but as involving a ride uphill as you could hope for – all singletrack at an angle that's entirely rideable, interesting but not exasperating, and with unbeatable 360-degree wilderness views shimmering all around. Feeling a bit dehydrated at the top, the roll back down was over loose boulders and stone slabs.
Stopping for a paddle in the river as we crossed it, the small pines almost looked like palms fringing the sparkling water.
Liathach towered behind, and all that was left was a loamy plummet through the woods, ending on a stone staircase right onto the road edge. A magical day in one of the finest parts of the country. The only way to finish was with an ice-cream on the way home.
---
Guide
Location: Torridon
Distance: 24km (15 miles)
Ascent: 490m (1607ft)
Maps: OS Explorer 428 or Landranger 24.
Parking: There's a wee layby near the foot of the descent, or you can ask to park at the Torridon Resort if you plan to eat there later. Recommended!
Top tip: If the weather's hot, wear some swimwear underneath your shorts! There's a magical pool with a waterfall perfect for cooling off near the end of the ride. You mustn't miss it.