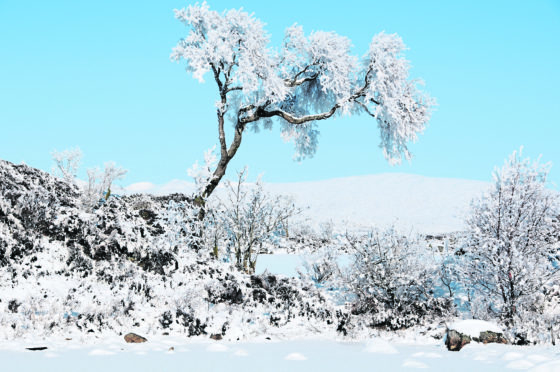 The birch tree was one of the earliest colonists after the last Ice Age, so has been in Scotland for a very long time.
In autumn, our extensive birch forests glow with a golden intensity that lifts the spirits on even the most miserable of days.
Even in winter when their little, heart-shaped leaves have fallen, bare birch trees tinge hillsides with an intoxicating deep, dark purple.
And in spring, as new verdant foliage dances in the wind, it is easy to see why the birch tree has been viewed as a symbol of purity for centuries.
Poet Samuel Taylor Coleridge described the birch as "the Lady of the Woods". It's a perfect description.
The silver birch is our most common tree. Though often thought of as sylph-like, it can appear in many forms – clinging to thin, rocky soils, it might be diminutive, scrubby or wind-sculpted. In sheltered woodland, it can transform into a wizened Tolkien-esque creature with deeply fissured bark and contorted trunk.
Fast-growing in comparison to other native trees, the birch is not long-lived, though in our cool, wet climate some can live for 200 years.
Its tall, slender form lets light fall on to the forest floor, enabling a healthy understory, as long as grazing pressure is minimised.
The birch is associated with hundreds of species and has a symbiotic relationship with numerous fungi, including the birch polypore and the fly agaric.
Favoured by many mammals and birds, birch seeds provide a valuable food source. Loved by greater spotted woodpeckers, birch is often the chosen site for a nest hole.
There are around 100,000 hectares of birch woodland in Scotland, yet it still seems that as a nation, we have yet to appreciate this humble tree's dramatic potential. When it comes to sustainably harvesting a wealth of nature's valuable products, the Scots lag far behind. Scandinavians in particular, are light years ahead and have retained their close connection to the natural world.
For them, foraging goes hand-in-hand with an intimate knowledge of edible fungi and plants and trees which have health benefits. When it comes to a natural pharmacopoeia, the birch tree is a gold medallist.
Rob and Gabrielle Clamp of Birken Tree, a new business based in Highland Perthshire, know a thing or two about the birch.
We met on a glorious morning in a birch and oak forest close to Butterstone Loch, on Cardney Estate, Dunkeld. Swathes of mist paint the water as I turn off the road and on to a private drive.
Jays are shrieking and a robin sings a melancholy overture. A burn trickles benignly as we walk up the track to the glade where Rob and Gabrielle tap birch in spring.
Rob is a forester who grew up in a treeless landscape in Caithness.
"I have always loved and been fascinated by trees," he says.
"When it comes to birch, our forbears were aware of its potential and used it up until the Highland Clearances.
"For a few weeks towards the end of winter, they tapped the trees for sap to use for medicine, and used the bark for tanning leather, as well as the wood for many vital products."
"Birchwood is magnificent", adds Gabrielle, who is a chiropractor and plant healer and who grew up close to Lyons, in France.
"The potential of plants has always been a passion for me, and it seemed a natural progression that we should start to explore ways of working carefully and sensitively with a resource that is all around us."
It's immediately apparent when meeting them that they have a close affinity and deep respect for nature. They are both aware that we are witnessing an era when our connection to the natural world has never been so tenuous.
"The only pure birch products on sale in this country are from Scandinavia and Eastern Europe. We realised there was a gap in the market, a chance to create a new business and something we would also love doing."
"Birch sap is a magical product," claims Rob. "It's packed full of antioxidants, minerals and vitamins, and can help fight inflammation, joint pain, arthritis, skin and digestive problems, and can ease insomnia.
"It also helps with wound healing and, because it contains xylitol, can be an alternative to refined sugars and is good for oral health."
In late March when the sap begins to rise, Rob and Gabrielle make a tiny hole in the trunk.
Into this, they insert a tap with a bag attached, and over three weeks they visit daily to collect the clear liquid. It causes no damage to the tree, and by the time they move on to another the following season, the tiny scar has vanished.
In the spring they also collect birch leaves which are then dried and used to make birch tea or oil.
"Given my background, we will be expanding into skin and hair care products, too," Gabrielle says. "It seems odd that we have so much around us yet we don't use it."
They hand me two little bottles of their product and leave me to sit alone in the wood with only the jays and the fallow deer for company. My back is against a birch trunk as I open the pure birch water.
Its flavour is fresh, clean, invigorating, subtle, and yes, energising. I could get addicted to this.
In ancient Russia, birch bark was used as notepaper and for making footwear.
The American flying boat Hughes H-4 Hercules was made primarily of birch. It only flew once, in 1947.
The word birch is thought to have derived from the Sanskrit "bhurga", meaning "a tree whose bark is used to write on".