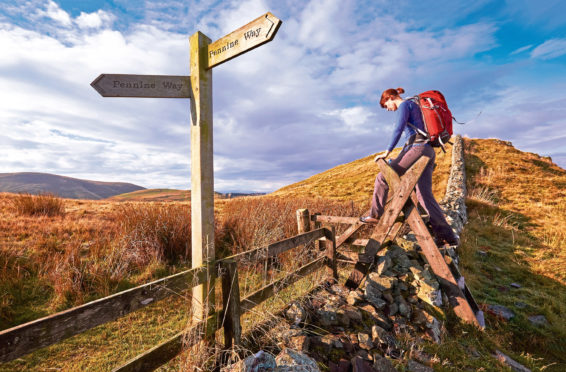 It had been staring straight at me for the last 10 miles at least. Windy Gyle, in the Cheviot hills, stands visible for a long stretch of the southbound approach. With a few wee patches of snow across its top like spots on the back of cow, it forced an early route choice.
Going high and aiming for its summit seemed likely to involve sinking into snow drifts on a long push across the exposed top… which seemed poor payback for more than two hours of driving. Nope, it had to be the lower option.
It's always a slight disappointment when you can't follow through your original plan, but whatever you end up doing, any day out in the hills is a good day.
Parking up in Town Yetholm, there wasn't another biker or walker around. It seems a shame so few make it past Glentress to good stuff like this. Leaving the last houses behind, the hills closed in around the way ahead, casting long shadows across the valley.
The scar of the upwards trail was clear in the sharp autumn light, but progress wasn't quite as simple. Snow higher up had obviously been rain lower down, and it was soft going on a muddy tractor track up a decent gradient. With brand-new scenery around me, it never felt too much of a chore, and soon the path meets the tail end of the 268-mile long Pennine Way, heading back towards to Yetholm after its long journey from Edale in the Peak District. With weather like this, I could see the appeal of the Pennine Way, one of Britain's longest national walking trails. Day after day of fine views and continuous motion seemed like a welcome antidote to office life. I wondered how much of it would be rideable?
There wasn't really much technicality to the desent, just fast open trails along the hill spine. Mind the bit where you have to push around a rocky section.
A fine ribbon of single track hugs around the hill before meeting the homeward road. I took a few sneaky pics that made it look never-ending, though in truth it only lasts a couple of hundred metres.
Cycling back into civilisation as the villages came to full life in the late morning, there was no real view or hint of the wild land you've only just left behind. A secret worth finding.
---
Location: The Pennies
Map: OS Explorer OL16 or Landranger 74
Distance: 24.5km
Ascent: 720 metres
Parking: It's easy to find a spot in the centre of Town Yetholm, although neighbouring Kirk Yetholm would be just as convenient.
Top tip: If the weather's fair and the ground firm, top Windy Gyle or push on even further over the border. Come back up and over on the Pennine Way.