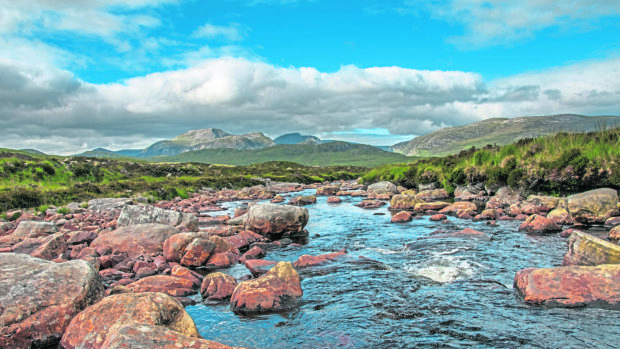 The highest peak in the Northern Highlands, Beinn Dearg is a fine big lump of a hill, dominating views south-east from Ullapool.
It's part of a group of four Munros easily accessed from Inverlael. The others are Cona' Mheall, Meall nan Ceapraichean and Eididh nan Clach Geala.
A bit of a mouthful for non- Gaelic speakers, most hillwalkers refer to them simply as "the Deargs"
As a single hill, Beinn Dearg can be climbed via the forest trails from Inverlael, and then the excellent stalkers' path to Bealach an Lochain Uaine. From there, the famine wall can be followed, diverting to the summit. The wall can be followed once again down the west ridge – which steepens toward its end. It makes a nice loop. Cona' Mheall can be added as a there-and-back.
However, the best day out on Beinn Dearg is the circuit of all four Munros – it's a superb day, whatever the time of year.
It's a big day, though – my winter round took just over nine hours so I'd recommend waiting for the longer days of March, when the snow can be crisp underfoot and the sun blazing overhead, unless you don't mind starting or finishing in the dark.
One August when I did this round, we met a lone Austrian woman at Bealach an Lochain Uaine. She'd seen us heading back from Cona' Mheall and waited.
Thick clag shrouded the summits and she told us she wanted to do Beinn Dearg but that it was "too dark". Instead, she asked if she could tag along with us on our final two Munros. We were more than happy but were stunned to discover she had a map but no compass.
My friend Ron asked if she used a compass on the hills back home.
"No," she answered. "In Austria, we can see our mountains."
---
Guide
Pronunciation: Ben Ger-ag
Meaning: Red hill
Height: 1084m (3556ft); Rank: 57
OS Landranger Map 20
Summit grid ref: NH259812 (large cairn)
Nearest town: Ullapool is around 18km (11.2 miles) north-west.
A ferry port, it's the biggest town in the area and has some great places to eat, a campsite, youth hostel, hotels, B&Bs and a good selection of shops.
As a fishing town, it's a fantastic place for a fish supper!
---
The route
Start grid ref: NH181852
Distance: 26.5km (16.5 miles)
Ascent: 1,700m (5,577ft)
Time: 9hrs
Follow main track through Inverlael Forest to gate then pick up a stalkers' path, past Lochan Lathail and up to Bealach na Lochain Uaine. Head south-east to the massive famine wall up shoulder of Beinn Dearg to summit. Retrace to the bealach. Cona' Mheall is a there-and-back and there's a path initially. Again, head back to Bealach na Lochain Uaine. From there, it's a steady pull north-west up to Meall nan Ceapraichean's summit. Head over the lower summit of Ceann Garbh. Head east from for a couple of hundred metres until the ground levels – then pick your way north-east down steep slopes to the boggy bealach. From the bealach, it's a short climb north-west up steep, grassy slopes to the summit of Eididh nan Clach Geala. Leave via west ridge for steep descent to inward route.
---
Tragic tale behind a Beinn Dearg landmark
A great drystone wall runs from the bealach up the eastern flank of Beinn Dearg, over the summit plateau and down the long west ridge.
It's a phenomenal piece of engineering, constructed from blocks of stone and, in places, is almost two metres (6ft) tall.
It's known as a "famine wall" and is part of the often sad history of the people who once scraped a living in the shadow of the hills where today so many spend their leisure time.
The wall was built in the 1840s, when disease ravaged the potato crops in Ireland and – as perhaps is less well known – the Highlands. Starving crofters were put to work on projects like Beinn Dearg's famine wall in return for a handout of food.
Often, the works had no practical purpose – the idea was those in receipt of "charity" had to do something to earn their handout.