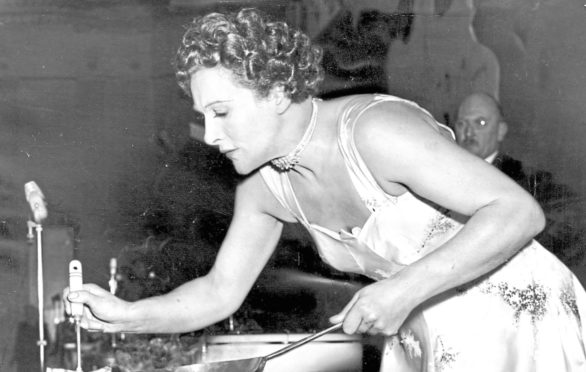 She was the first real queen of the celebrity cooks – and if Fanny Cradock was around today, she'd be bigger than Mary Berry, Gordon Ramsay and Nigella Lawson put together.
Author Kevin Geddes knows more than most about the TV cooking legend, having written books about her including his new one, Keep Calm And Fanny On!.
As Kevin reveals, the woman born Phyllis Nan Sortain Pechey in Leytonstone, Essex, on February 26 1909 became a brilliant businesswoman, cook, novelist, critic and publicity genius, and she was years ahead of her time.
"She wasn't the first person to cook on TV," says Scotsman Kevin, who has tried all the Cradock recipes himself, "but I think she was probably the most memorable.
"And I think she was the first to connect with the ordinary person and live that celebrity lifestyle, doing all the chat shows, game shows and all those things you'd expect from a celebrity.
"She did absolutely everything herself."
Was Fanny as much of a maverick, even eccentric and outrageous, as she often seemed on screen?
"I think she naturally was, and she definitely tried to accentuate it on screen and in print. She wanted it to be part of her character.
"It was anyway, but she really oomphed it up and eventually she became that person just because she was so used to living it all the time. It's just who she was."
It certainly wasn't all show, and the lady really could cook and come up with some startling creations.
"She started cooking on TV in 1955 and her mission was to re-educate people after the war. People had been unable to find food as it had been scarce or rationed, so people kind of lost a lot of their cooking abilities.
"Fanny wanted to get the housewives of Great Britain to cook again, and she did so, cooking on TV for 20 years solidly.
"In the same way we can look back at Nigella Lawson or Jamie Oliver and see that people have enjoyed cooking their stuff, but maybe some of their stuff from 20 years ago is a bit out-of-date, that's the same with some of Fanny's cooking."
Much of it, however, remains more than capable of delighting a 21st Century palate, but did Fanny Cradock have the advantage of an all-mod-cons kitchen?
Yes, it seems, and without having to pay for it – Fanny knew the value of publicity!
"She was a very clever businesswoman," Kevin admits, "so everything you saw in her kitchen was there because she had struck a deal behind the scenes with her producer.
"The deal let her have them for free, I guess, but it also let her publicise them. She publicised them very subtly, almost like product placement, on TV, in cookbooks and magazines.
"If you look at any of her TV performances, you'll see it. As an example, she was contracted by the Gas Board to promote a very particular gas cooker, the Parkinson Cowan.
"At every step, you could see it really prominently in the background, and she mentioned it time and time again in print and on TV, 'You should always cook with gas if you want good results!'
"She knew that aspirational aspect would be important to people at home, that they'd want the stuff she had on show."
The Cradock legacy has occasionally been tarnished by claims that she wasn't a great cook, but Kevin is quick to demolish that myth.
"This was one of the first things that drew me to her," he says, "because I couldn't understand why people said that. It was just after she died that people started talking that way.
"I couldn't understand why, if that was the case, she had been on the TV for 20 years solid? Surely somebody would have said, 'No, that's rubbish.'
"So… the first thing I did was cook my way through all her recipes, and I've never found one that hasn't worked. Some of them are a bit bizarre, but they definitely work, definitely taste good.
"She wasn't trained, she taught herself, but she really did know how to cook. She wasn't a chef, she didn't have a restaurant, she was a home cook, and she wanted other home cooks to do it as well as she could.
"The one thing she would always say was that if you didn't follow her instructions exactly, then they wouldn't work. From my experience, they all worked.
"And from speaking to those who knew her, to some of those assistants who appeared on TV and helped with her cookbooks, they all said she absolutely tested recipes time and time again and she definitely knew how to cook."
Fanny did occasionally use ingredients that you wouldn't find in your nearest grocery store, especially back in those days.
"Some of the spices were quite hard to get, and she always published in her books details of where you could send off and get them, in a time before the internet and mail order. It might be an obscure little shop in Soho that sold them.
"More than that, though, she would quite often adapt things to make them simpler to make, using things that people had.
"For example, she wanted everyone to cook pizza in the 1950s, when no-one had heard of pizza and couldn't get hold of a pizza base. She just suggested making pizza using puff pastry, which in itself was quite hard to come by. She also set up her own mail order system to sell people puff pastry direct.
"So she tried to encourage people to try new ingredients, but she also tried to get them to do new dishes with the ingredients they already had."
Everyone in those early days of British telly seemed to have a regal, upper class voice and accent. Fanny could come across as a bit grand, but was she like that in real life?
"Yes, I think she actually was a snob," Kevin admits. "She was always above her station, really, but that became part of her character as well, and she always said she wanted her viewers to make things that would upset the neighbours they had never liked.
"Get one up on her that lives two doors down, you know? That aspirational snobbery was part of her act, part of her gimmick and persona. But I think it was really part of her, too!"
In her own life, Fanny Cradock experienced many low points alongside the highs of her TV fame. Married four times, she had two children but had a sad childhood herself.
"She had a really tragic life," says Kevin. "She didn't have a very good childhood, she didn't get much love at home with her own mum, and she married her first husband when she was just 17.
"She became pregnant soon after that, but he was in the RAF and unfortunately he was killed in action just before the child was born. So she was left as a single mother without a supportive family round about her.
"I think that drove her on to be this success and do different things. She quickly married someone else, on the rebound I suppose, in the hope that he would be able to take care of her.
"That's what happened in those days, and they had another child, but it wasn't a happy marriage. I think it may have been an abusive marriage, actually, so she quickly left him.
"Then she married someone else but it didn't really work out with him either. Eventually she met the person that most people associate with being her husband, Johnnie Cradock, in 1939.
"But she didn't actually marry him until 1977. They just pretended that they were married.
"Fanny had a very complicated private life. She spent a lot of time when she was in the public eye trying to create a smokescreen around it, so she created this image of a happily-married woman, mother, grandmother, that kind of thing, with Johnny Cradock.
"That was what people expected, that was what they wanted to see on screen. They really didn't want to have any whiff of scandal."
What would this fascinating lady make of today's cooking and baking shows, the whole celebrity angle and all the rest of it?
"She would approve of it, especially if she was involved with it!" Kevin laughs. "Whenever I watch a TV cookery programme now, I can see her ideas brought to life. She was the person who suggested the formats, the connections between food, travel and lifestyle.
"She would have loved to have been, say, Rick Stein travelling round the world. She would totally lay claim to Nigella, Jamie and those people. She would have her own TV channel today.
"And she loved appearing on game shows, chat shows, Parkinson, Wogan, The Generation Game, Celebrity Squares. I'm not sure if you'd see her on I'm A Celebrity, but she would be on Bake Off, judging."
Mary Berry and Fanny Cradock together – what a recipe for success that would have been.
---
Keep Calm and Fanny On! The Many Careers Of Fanny Cradock is available at fantompublishing.co.uk