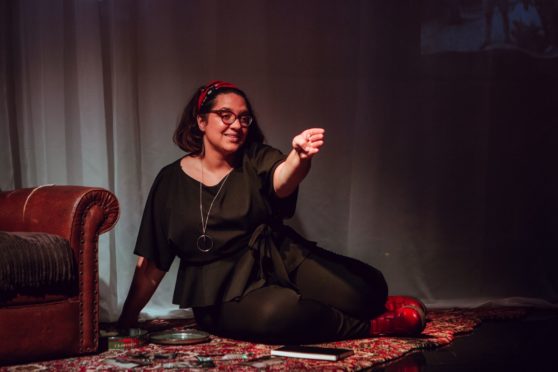 When Scottish writer and performer, Hannah Lavery's father died, he left behind no will, no trinkets – nothing for her or any of his children.
Absent for much of her life, on the anniversary of his death, Lavery began to explore what legacy of her father, a Scottish black man, remained for her.
What came of this was The Drift, a challenging and unflinchingly honest spoken-word performance of grief, loss and an exploration of Scotland's historic and current relationship with race.
Touring Scotland until October 12 as part of Black History Month, The Drift looks straight in the eye and speaks directly to a country where BAME people are nearly four times more likely to live in overcrowded homes and where the last comparable statistics show there were over 5,520 crimes recorded relating to racial incidents in 2013/14.
And, with Scotland a country proud of its warmth and inclusivity, with notions of itself as a left-leaning nation at odds with its neighbours south of the border, Lavery's portrayal of life as a mixed-race woman born and raised here speaks a slightly different story.
"Growing up in a very white Edinburgh in the 1980s and 1990s I was often subject to micro-aggressions, and what felt like the constant challenge to my belonging here," she says.
"I was also subject to a few explicit incidents as well as one violent assault.
"I think looking back it was the everyday moments of 'where are you really from?' and other forms of casual racism that I found and still find the most exhausting."
Produced by the National Theatre of Scotland, supported by Flint & Pitch and The Workers Theatre with the Coalition of Racial Equality and Rights as part of Black History Month 2019, The Drift covers the life of Lavery's father, grandmother, and Scotland's relationship with slavery, right through to present day.
"We are very ignorant of our history in regards to colonialism and slavery, for example, but we also fail to listen to people of colour and their experiences of racism in Scotland today," continues Lavery.
"We like to think of ourselves as better on race relations than our southern neighbours, but this is not true. The statistics tell us a different story, one that we are often deaf to."
Lavery's autobiographical portrayal of growing up 'mixed' in Scotland began as a performance at the National Theatre of Scotland's Just Start Here festival in 2018, before again being developed as a preview performance for Black History Month in 2018.
"I live by the sea in Dunbar, East Lothian. I am often to be found by the driftwood and seaglass, and the idea of the drift, what is bourne away, what washes up, what is collected and kept – was the inspiration and the start of the writing," she explains.
"The drift- what carries and what stays, and what is left behind- what is forgotten, what is remembered; It seemed a fitting name for a play about grief and Scottish identity."
Leading on from The Drift, Lavery continues to work on issues surrounding Scotland's complicated race-relations in Lament for Sheku Bayoh, the writer's response to the death of the trainee gas engineer who died in police custody in 2015.
"I wanted to write about Sheku Bayoh because, when I was asked to, I knew very little. I realised that I had turned away from the story," she explains.
"I didn't want to hear it. I needed to look at that. I also wanted to present the facts, allow room for the audience to decide; but more importantly I wanted to show how loved this man was.
"That Sheku was a loved son, brother, father and partner. That Scotland was not in the end a safe space for this man to live out his life.
"That is something we need to turn toward, and we need to as a country look at our racism, at what this means."
The work-in-progress was performed at the Edinburgh International Festival in August this year, and is told in the traditional lament form through poetry and conversations.
"We also use a lot of verbatim speech from the various peoples involved, gathered from what was reported at the time," continues Lavery.
"I am hopeful that it will have a life beyond the early performances that took place at the Edinburgh International Festival this summer.
"It is an important story."
---
The Drift, tours Scotland until October 12. Tickets available here.