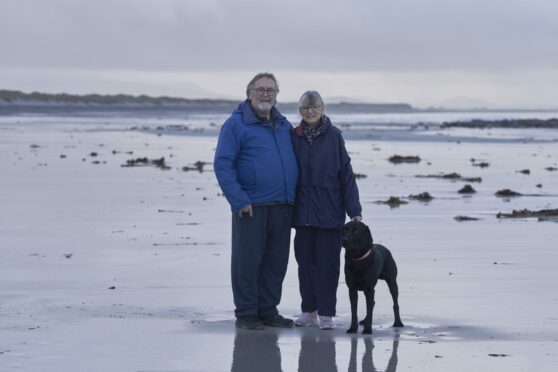 When he began suffering the debilitating symptoms of Parkinson's, Dave MacKay's home on Benbecula seemed a long, long way from a hospital.
The 300 miles between his island home and the specialists at a NHS hospital have been spanned by technology, however, as he becomes one of the first patients to benefit from a landmark treatment.
The retired telecoms engineer is being remotely monitored by doctors at the Queen Elizabeth University Hospital in Glasgow (QEUH), who can ease the tremors and stiffness linked to his condition remotely using a deep brain stimulation (DBS) implant.
The 72-year-old has very fine wires with electrodes implanted into his brain sending pulses capable of changing some signals in the brain and so reduce his symptoms.
The wires are connected to extensions under the skin behind his ear and down his neck. They are connected to a pulse generator – a device like a pacemaker – under the skin in the chest or stomach area.
The implant sends out signals which are picked up by a monitor in MacKay's home, and sent on to doctors in Glasgow before the data is analysed and the implant's pulses adjusted.
MacKay, who worked for BT on Ministry of Defence links to the remote island of St Kilda, said the results have been remarkable.
He said: "Parkinson's impacted me so badly I went from a highly specialised telecommunications engineer to someone who could no longer wire a plug because of tremors and loss of my grip.
"Living in a croft on a beautiful but remote Western Isle, you need to be resourceful and pretty skilful at DIY but even the most basic jobs were extremely difficult.
"After all my years in telecommunication, including the MoD work, I never thought I'd be treated with a device developed from the same technology. That's progress."
DBS surgery is now being rolled out by the Scottish Deep Brain Stimulation Service, based at the QEUH, with patients in remote areas benefiting through movement control being done online.
Drugs initially controlled MacKay's symptoms but eventually failed to work after 10 years. MacKay's DBS was fitted during neurosurgery last year and another control device was implanted in his chest.
Initially, he made a great recovery and moved well but after six weeks those responses subsided and the Parkinson's symptoms returned. "The results were instant but then faded but I was told the brain device would soon begin to work," MacKay said.
Dr Ed Newman, a consultant neurologist at the QEUH, said: "Dave had tremor, stiffness and slowness of movement which are now better controlled by neuro modulation, weak pulses of electricity deep in the brain.
"He has a hand-held patient controller, a bit like an iPhone and uses this to connect via Bluetooth to his stimulator, which sits in his chest wall a bit like a heart pacemaker.
"The stimulator is connected to the electrodes that sit deep in his brain and we are able to connect to his patient controller from the hospital clinic.
"This allows us to examine him via a video link and assess his movement and tremor. We can then make adjustments to his stimulation settings, hopefully improving his symptoms.
"Around six or seven adjustments are made before the patient can settle into a twice a year remote clinic visit.
"On average, the stimulator needs to be changed in day surgery every four years but in time, these devices will become smaller and have a longer battery life."
Mackay says he is almost back to normal and much better than he had ever hoped.
"Now I'm trying to keep up with the experts on my favourite TV repair show, The Repair Shop.
"Having my moving controlled remotely also means not having to travel to the QEUH."
The system is made by medical therapeutics company Abbott. It said: "The NeuroSphere Virtual Clinic – the UK's first remote neuromodulation patient-care technology – gives patients the flexibility and comfort of receiving care anywhere by connecting with their doctor or specialist nurse via secure in-app video chat and an integrated remote programming feature."
James Jopling, director of Parkinson's UK Scotland, said: "Deep brain stimulation using remote consultations is a really important development for people with Parkinson's in Scotland and while this is not a cure, it can offer relief from major physical symptoms of the condition.
"With the increasing pressures the NHS is under right now, it is even more important that people in the more remote parts of Scotland can access treatments like these.
"That is why we welcome this. At Parkinson's UK Scotland we'd love to see as many people as possible benefit from similar ground-breaking treatments for such a devastating degenerative condition – wherever they live."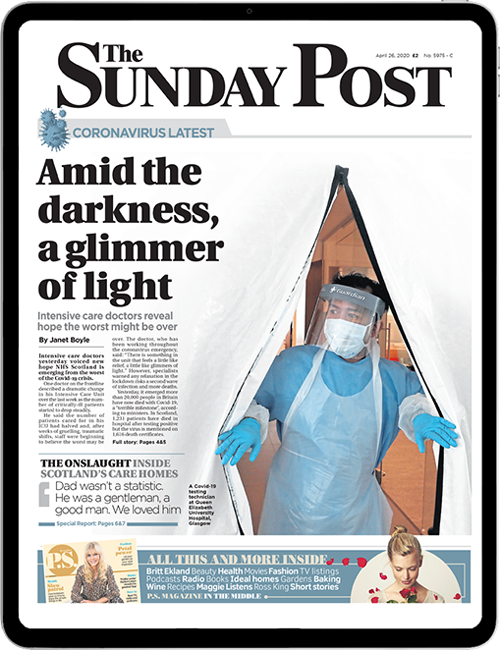 Enjoy the convenience of having The Sunday Post delivered as a digital ePaper straight to your smartphone, tablet or computer.
Subscribe for only £5.49 a month and enjoy all the benefits of the printed paper as a digital replica.
Subscribe