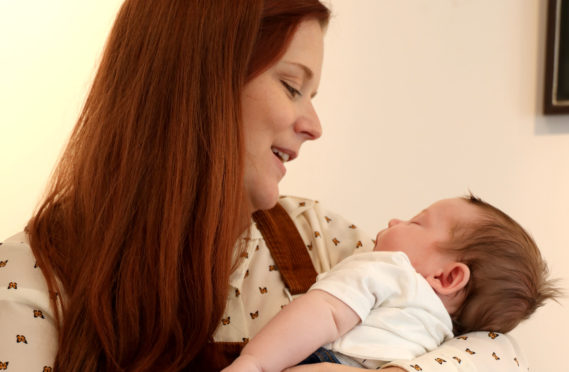 They say the moment you stop looking for Mr Right, that's when you find him.And that's exactly how I met my husband Ryan.
After years of unsuccessful dating, my friend and I both decided we were finished with men. I was 31 at the time.
We arranged a girls' night out on the town to mark the occasion and I bumped into Ryan in a bar in Edinburgh.
He was on a stag do. He was full of the Irish charm and I fell for him straight away.
For a year, we would fly back and forth to visit each other between my home town, Broxburn, in West Lothian, and Ryan's place in Belfast.
But it was getting harder being apart so eventually we decided we would move in together. The obvious option was for me to move to Belfast as there were more job opportunities in my field of employment support.
We'd been living together for about six months when we started talking about starting a family.
I fell pregnant within the first month of trying. We were so ecstatic and the thought of anything going wrong never crossed our minds.
But at eight weeks I started bleeding and was diagnosed with an ectopic pregnancy. It was devastating. I had to have one of my fallopian tubes removed.
We took some time to come to terms with it but, the following year, I fell pregnant again.
Sadly, again, it wasn't meant to be.
At six weeks, we discovered I had another ectopic pregnancy.
The doctors treated me with a cancer drug to dissolve the pregnancy.
I don't know if you want a baby more when you've experienced a loss, but I felt like I could see babies everywhere – and everyone seemed to be getting pregnant.
In June last year, we decided to try IVF. In Northern Ireland, the NHS only offers one round.
It was a stressful process. The daily injections were tough, my hormones were all over the place, the treatment basically puts you into the menopause. It put a strain on our relationship. But Ryan and I are quite laid-back and black humour got us through.
Sadly, the first attempt was unsuccessful. So our next option was private treatment. Thankfully, friends and relatives pitched in to help us meet the £15,000 cost.
As it turned out, we didn't need it. I was signed up to a support group on Facebook for people going through fertility treatments and somebody shared a link. It was a competition launched by The Fertility Partnership to win a free round of IVF.
I thought we would never win, but it would be silly not to apply.
It was one entry per person, not per couple, so I phoned Ryan and told him to submit one too. Well, we might as well have two bites at the cherry!
A few weeks later, I noticed a post online stating a number of winners hadn't stepped forward.
I checked my emails and told Ryan to do the same – but there was nothing.
After a while, there was another post saying if the winners didn't come forward, the competition would be redrawn. We checked our emails again, but still nothing.
In desperation, we checked the junk mail folders. Lo and behold, there was an email saying: "Congratulations!"
We had won. Neither of us could believe it. It felt like a dream.
We had our initial scans in Belfast, then travelled to the GCRM clinic in Glasgow for egg transfer day. My mum was able to see the flash on the ultrasound when the embryos were put into the womb.
Just four days later, I did a pregnancy test and there was a faint positive line.
Every day after that, I kept testing and the line got darker and darker.
I tested every day until the first scan at seven weeks. We had had so many misfortunes that I just had to keep reassuring myself it was real.
I think I was waiting for something to go wrong. But this time it didn't.
It was a tough pregnancy and the baby's size meant I had a tricky labour. But after an emergency caesarean, beautiful Callum arrived. With all 7lbs 12oz of him in my arms, I felt myself relax.
I was a mum at last.
Callum was three years in the making, but he was finally here – and he was absolute perfection.
He's two months old now and I still pinch myself to check it's all real.
I've started to write a book for Callum about our journey, right back to when Ryan and I first met.
It's my way of making sure he knows how much he was wanted and loved, even before he was born.
---
All you need to know about IVF
In vitro fertilisation is one of several techniques available to help infertile couples conceive.
Infertility is believed to affect around one in six couples.
If you're having trouble getting pregnant, speak to your GP who, if necessary, will refer you to a fertility specialist for treatment.
During IVF, eggs are removed from a woman's ovaries, fertilised outside the body and then replaced inside the womb.
Younger women are more likely to have a successful pregnancy, and IVF isn't usually recommended for women over 42.
In England and Wales, provision of IVF varies across health boards. In Northern Ireland, you are entitled to one free cycle.The Scottish Government now funds three cycles of IVF.
One full cycle includes ovulation induction, egg retrieval, fertilisation, and transfer of fresh embryos.
Couples must have been cohabiting in a stable relationship for at least two years to be eligible.Neither partner should have undergone voluntary sterilisation.
No one can access more than the number of NHS-funded IVF treatment cycles, even if they are in a new relationship.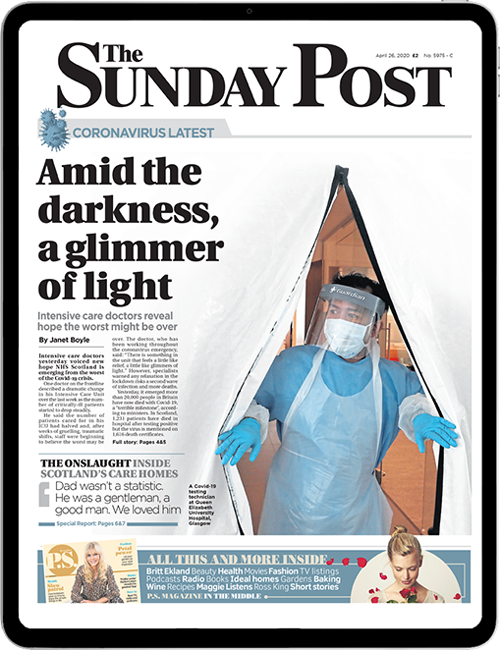 Enjoy the convenience of having The Sunday Post delivered as a digital ePaper straight to your smartphone, tablet or computer.
Subscribe for only £5.49 a month and enjoy all the benefits of the printed paper as a digital replica.
Subscribe