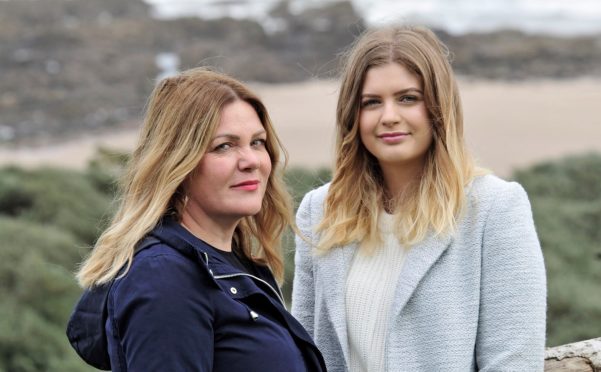 Suzie Gillespie, 49, co-founder of Moo Hair, East Lothian
I wanted to be a hairdresser from a very early age.
I used to be obsessed with my Girls World, a toy that allowed you to style the hair of a model head, and I'd cut the hair of anyone that would let me.
Back then, hairdressing was not always seen as a good career choice and, as I was quite academic, my parents persuaded me that university would be a better option.
I did a business studies with tourism degree and, after graduating, I worked in travel, hotels and as a wedding planner.
I still had the passion for hair though and decided to do a fast track course in London in 2007.
I knew that I wanted to work in men's hairdressing. Working in men's grooming is very varied and I knew that hot shaves, facials, manicures etc for men were becoming increasingly popular.
At that time, Edinburgh didn't have a men's grooming salon and I spotted a gap in the market.
I gained some experience working in my friend Emma Combes salon in East Lothian and then set up the Players Lounge on Edinburgh's Rose Street, which I've now had for over 12 years.
I have learned a huge amount about men's hair and grooming and continually do training to keep growing and up to date with new trends and techniques.
The day I got the keys to the salon was a mixture of excitement, joy – and absolute terror!
The first few years were a huge learning curve but I loved every minute of being in the salon and still do.
At home, I had always been keen for us to recycle and reduce waste and energy. And four years ago, we decided to adopt this in the salon, with a big refurb. The point was to create an eco-salon.
We used reclaimed timber for the interior and moved over to low energy lighting and appliances, even replacing the hairdryers with eco ones.
The salon staff also agreed to reduce waste and recycle as much as possible. We did away with cans and bottles, using glass instead where we can.
The next natural step in the drive to go green was to look at the products.
I realised there was a growing number of people turning to veganism, and they weren't just looking to avoid eating animal products, but to buy vegan beauty goods which haven't been tested on animals and have no animal derived ingredients.
We decided we wanted natural, paraben and sulphate-free products, but they weren't easy to source and it was frustrating.
We were bringing ethical products over from Australia, which wasn't great for our carbon footprint. I knew that if I was feeling this way, other salon owners would feel the same.
The whole thing got me thinking…if there was a gap in the market, why not fill it myself?
I had decades of experience in haircare – and my daughter Olivia was studying business at uni.
We had often joked about starting a business together and this seemed like the perfect opportunity.
Olivia had helped me in the salon as a teenager but always said she wanted to start her own business and I knew she could bring a young edge and a different dynamic and so the idea of Moo Hair was born.
We spent two years working with a lab specialising in natural ingredients and renewable sources to create our own haircare range. The ingredients, including Icelandic moss which is the least polluted in the world, all come from natural sources and the products are vegan and cruelty-free.
Just last month, we launched Moo Hair, which has become a bit of a family business.
My husband Scott, who works in IT, helps with the logistics and ordering.
And our teenage son Alistair makes YouTube videos, helps with promotions – and is also one of our models.
It's been a big change for us all, but a welcome one. The kids are at the stage where they've grown up and are beginning to live their own lives.
Alistair is 18 now and recently flew the nest and moved into his own place, which made me so sad.
I'm happy for him, but as a parent it's always hard to let go. We make a great team and the kids really have been crucial in making one of those lightbulb moments come true.
They're still young but they already know where they want to be in life and they're already on the road.
As told to Tracey Bryce
Visit moohair.com