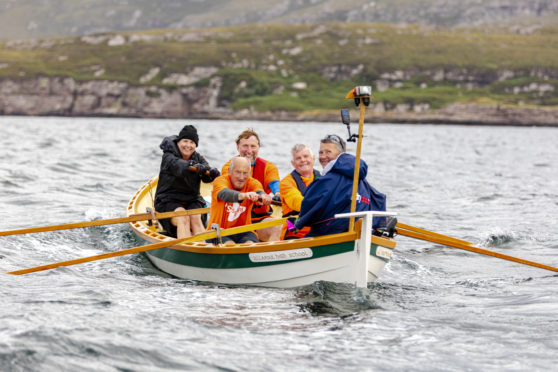 It was just after four in the morning and, above our heads, a blanket of twinkling stars illuminated the flat, calm water that stretched out for miles in front.
Sitting in our 22ft St Ayles skiff, my teammates Kathryn, John, Gary, Anthony and I were about to row 50 miles from Stornoway, in the Outer Hebrides, all the way to Ullapool on the north-west coast of the Highlands, across a stretch of water known as The Minch.
Our plan had been more than a year in the making, and now finally we were setting out to tackle the unpredictable Scottish seas – no mean feat for five rowers over 50 with a combined age of 292.
However, our journey wasn't just for fun. We had set ourselves the challenge to raise vital funds for the MS Society Scotland.
Kathryn's husband, Paul, has Multiple Sclerosis, so we wanted to do anything we could to help raise awareness of the condition, which effects more people in Scotland than the rest of the UK.
I had only started rowing about five years earlier, after going along to a taster session held by the local club. At the time, I had been looking for something new to do, some kind of physical activity that I would actually enjoy. I was surprised to find that not only did I enjoy rowing, but I was actually quite good at it, too. It was a bit of a revelation really.
Funnily enough, Kathryn went to the same taster session and both of us had signed up there and then.
I didn't ever think I would get into competitive rowing. It was just a matter of going out and enjoying the fresh air, the scenery and meeting new people. But a year or so after I started, John put out a call if anyone wanted to be in a over-50s team. I signed up and the next thing I knew I was competing in races and thoroughly enjoying myself.
When we set out on that chilly August morning, a couple of skiffs from Stornoway, a few yachts and our safety boat were the only other bodies on the water. But, as the sun started to rise, we were surrounded by dolphins – it's really quite incredible to look back on now.
The water started out calm but a swell started to pick up a bit of speed. At first, everything was absolutely fine – if anything we were enjoying gliding through the water at pace. Then the wind started.
The conditions started to get quite rough, and for the next five or six hours we had to contend with choppy seas, and suddenly three of us came down with horrendous seasickness. In training, we didn't once discuss the possibility of getting sick because it had never happened before. So it was quite a surprise when I started projectile vomiting straight over the side of the boat.
Getting through it was partly down to just sheer bloody-mindedness – I was reaching that finish line come hell or high water. And, really, there wasn't much alternative.
The circumstances were incredibly challenging. We were getting hit on the beam all the way across, which is the worst rowing conditions you can get. The forecast had said we would get westerlies and that would have pushed us on, but it didn't happen until about the last three kilometres.
It took a long time for the Isle of Lewis to disappear behind us – it felt like we had been rowing for hours and we could still see land. Then, once it disappeared, we could see the mainland in front. As we got closer to the finish line, boats started to join our journey – skiffs, motorboats, kayaks and even a flotilla. That made us sit up a bit straighter, I think. A couple of the skiffs even gave us the rowers' salute, where you lift the oars out of the water and hold them straight up. I actually start crying at that point, it was very emotional.
I thought when we got to land my husband, Charlie, would be the only one standing on the beach to greet us. But when we got to The Point, right at the tip of Ullapool, there were people there with banners, cheering us on. The community really did us proud.
After 14 hours and 20 minutes, countless strokes of our oars and only three sips of water due to the sickness, we made it to land. I can't even being to describe the feeling.
So far, we have raised more than £26,000 for the MS Society Scotland, and donations are still mounting up.
It would have been nice to have had a beautiful day. In the end, we had some terrible circumstances – if it had been a bit worse, we would have to have called it off. But when you compare the challenge to what people with MS are facing on a daily basis, it doesn't even compare.
justgiving.com/fundraising/rowingtheminchforms
---
How to get on board with rowing
Providing fresh air and exercise, joining a rowing club is a great way to get fit. Here's all you need to know.
More than 3,400 people are members of a rowing club in Scotland, and one in five are women.
Rowing can take place in a range of environments, including on the coast, canals and lochs, and indoors at local gyms.
The vessel crewed by Lorraine and her team is a St Ayles skiff. Reaching 22ft in length, with a beam of 5ft 8in, the standard crew is four rowers, each with a single oar, and a coxswain.
The name of the design comes from the former chapel which now forms the entrance to the Scottish Fisheries Museum.
It's easy to get involved as lots of clubs run taster sessions for adults and kids, allowing the whole family to get out on the water.
Rowing can burn anything from 400 to 1,000 calories per hour, and provides a cardiovascular endurance workout.
Strathclyde Country Park, in Lanarkshire, has one of only two world championship-standard courses in the UK.
Last year, the European Rowing Championships was held there, and it has also hosted the Commonwealth Games.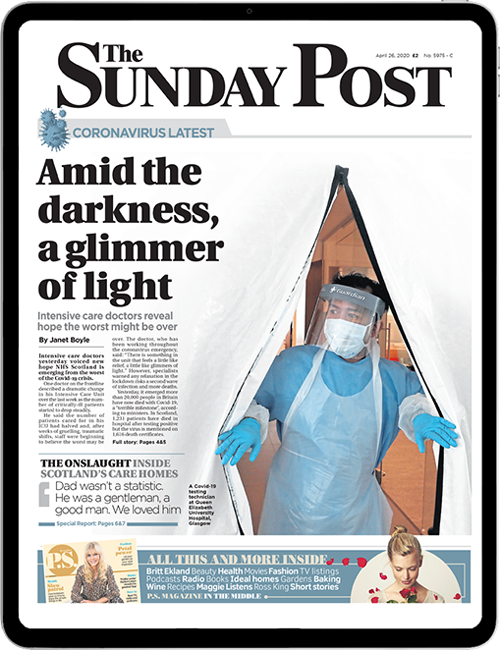 Enjoy the convenience of having The Sunday Post delivered as a digital ePaper straight to your smartphone, tablet or computer.
Subscribe for only £5.49 a month and enjoy all the benefits of the printed paper as a digital replica.
Subscribe