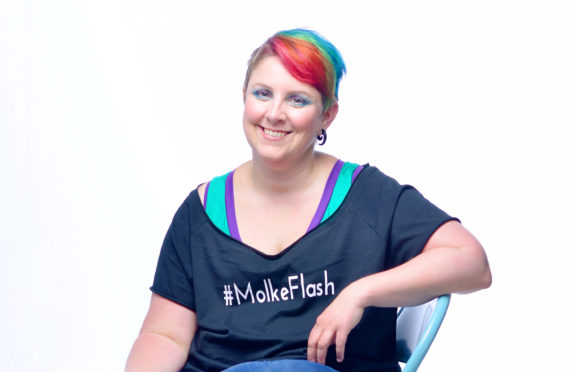 It all started with nappies. After I'd had my first son Billy in 2012, I decided to quit my job managing a pub and become a stay-at-home mum.
I have a degree in fine arts and I wanted to do something that used my creative side, so one day I bought a sewing machine. The first thing I decided to make was a nappy. We had been using the cloth ones on Billy so it made sense to make something useful.
It turned out not to be the easiest project to start on but I love a challenge and figured out a design that worked.
The other mums started to notice them on Billy and asked if I would make some for their own babies. Soon demand was so high that I had to set up a Facebook group allowing people to place orders.
Two years later I fell pregnant with our second son Alec. Money was tight, with just my husband Craig's wage coming in, so I started making clothes.
I love colour. It's a huge part of who I am – as you can see, I even have multi-coloured hair. Colour gives me confidence and makes me feel better about myself.
It's so important to express your personality, especially when you've just had a baby. Everything changes when you become a mother.
There's a massive shift in who you are and what you think, but you shouldn't have to give up parts of yourself.
When I was breast-feeding I couldn't find a bra I liked. You want something that gives you easy access and makes you feel good, but there was nothing out there.
One day I was moaning to a friend about it, and she joked I should start making my own.
I had no idea where to start so, to make sure I was getting it right for all shapes and sizes, I had lots of my friends round, getting naked and trying on bras.
That's one of the main reasons our bras are so successful. They are tried and tested.
My friends all bought one. Soon, word spread and the orders came flooding in. Our bras are not made to a digital pattern. It's far from a traditional design. It looks more like a crop top bra but it's so different in fit and design.
As things started to grow, I realised I needed help. I had met my business partner, Ros, when we were both involved in helping parents, with real nappies and fitting baby slings. As I got busier with the bras, Ros came in to help me with accounts and emails, things like that. She's so good. She's organised, efficient and a practical thinker. We make a great team and we've become great friends. I'm very much the creative. Ros is the sensible one!
We called the brand Molke because we started out breast-feeding-focused, and Molke sounds like a wee kid asking for milk in a Scottish accent.
But we are also fans of Scandinavian design, so the name is a nod to our inspiration.
We are nearly fully organic. We always source sustainably and ethically, cutting out plastic. It's so important to us. It's how we want to run our business.
Molke is no longer breastfeeding-focused. We now have customers aged from 10 years old to women in their 80s who love our bras for so many reasons.
Sometimes women in business have a hard time. Although I'm running a successful company, I still sometimes feel like I'm not a "proper" business person.
Women often feel this way, sadly, but hopefully things are changing.
Women-led businesses often have a different approach and we have been faced with the difficulties this can cause.
We are not looking for fast profit. We're not about that. We want a sustainable business that creates employment.
We have an ever-growing factory in Scone, Perthshire, and we pay our employees the living wage. I really want to break down the stereotypes in business.
We want to empower our customers, too. We pride ourselves on designing our underwear around real bodies. The Molke bra is different – and changing the way we look at our bodies. The feedback from women, about how the bras make them feel, is incredible. Body positivity is very important.
We want women of all shapes and sizes to feel great in our underwear. We have lots of customers with big boobs (we go up to an 'M' cup), and we don't have underwired bras. Comfort, as well as support, is very important to us.
We have different names for the cups, too – Stella, Cosmic, Super, Mega and Thunder – as we think all boobs are out of this world.
---
Bra straps, hashtags and flashing the First Minister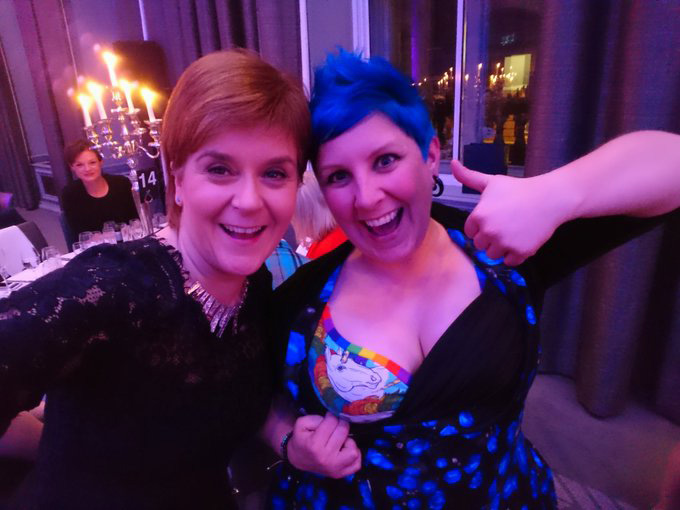 Kirsty has started the #Molkeflash campaign to encourage body positivity.
And now women all over the world are joining the movement, by discreetly flashing a little bit of their colourful bra strap.
Kirsty has even "flashed" Nicola Sturgeon. She recalled: "I flashed my bra at the First Minister while she took a selfie of us both.
"That was quite fun and she tweeted the picture, too. I met her at a business awards ceremony in Glasgow. We have lots of women from Scottish Enterprise, Business Gateway, half of Growbiz, accountants, all loving and wearing our underwear; so we're slowly taking over the business world, not just on the outside but underneath as well.
"The movement is catching on. In fact, when we were on holiday, a woman came up and hugged me in the street. She said, 'you're Kirsty' and flashed her bra strap at me…it's amazing.
"Molke now sells underwear worldwide – North America, New Zealand, Malawi, Canada, Spain, Portugal, Sri Lanka, South Korea, Israel, Japan – with an annual £700,000 turnover.
"There's no stopping this super-nova of colour and style."
---
Find Molke on Facebook here.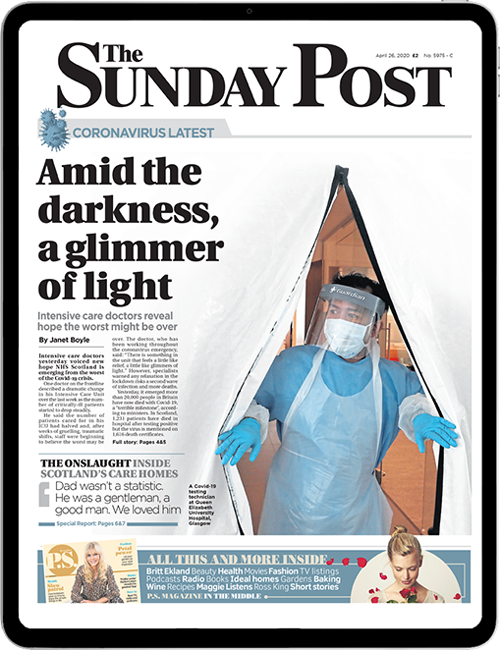 Enjoy the convenience of having The Sunday Post delivered as a digital ePaper straight to your smartphone, tablet or computer.
Subscribe for only £5.49 a month and enjoy all the benefits of the printed paper as a digital replica.
Subscribe