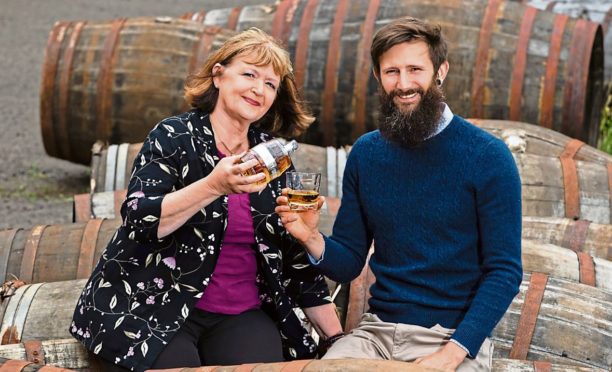 With so many gin brands and bottles sitting on supermarket shelves these days, it's hard to remember a time when the botanical spirit wasn't everyone's favourite tipple.
But 30 years ago hardly anybody drank gin – and that's exactly when we started creating what is now the world's oldest.
As a family, we acquired a distribution and bottling company back in the late 1980s. At that point, the focus was selling whisky-filled souvenirs, such as thistle-shaped glass bottles, small pottery items, and other novelty gifts you would usually find in tourist shops.
We also inherited the honour of bottling the "Smallest Bottle of Whisky in the World", which is officially acknowledged in the Guinness Book of Records. And now we have the world's oldest gin – perhaps we have always been destined to be global trendsetters.
As the business continued to grow, we started looking to expand our portfolio with new drinks, products and offerings.
We were busy bringing life to single-cask whiskies, so Scotland's national drink was covered, and the vodka market at that point was very diluted. So, in the end, we decided to buy stocks of gin.
It all started out as a bit of an experiment, really. We weren't quite sure what we wanted to do with the gin because it wasn't the kind of hot commodity it is now.
But we certainly knew how to mature whisky, and agreed it would be a good idea to use that knowledge, setting the spirit aside until we were ready to market it properly.
So, our freshly bought spirit was poured into virgin oak casks, and that's where it lay in wait for the next 10 years. When it comes to whisky, we knew that after 12, 15 or 18 years, the cask's unusual flavours start to peek out and starts combining with the spirit in a really nice way.
We wondered what would happen if we did the same thing with gin.
After a decade of resting, our gin was transferred to barrels previously used for whisky, where we knew they could mingle and mature slowly, taking on a yet more subtle taste, body and depth.
Another 10 years passed. Then the gin boom happened and it was time to bring our aged product to a whole new market.
We did yet more experimenting with different combinations of our matured spirit, mixing it with fresh, new London dry gin, and after much discussion – and tasting, of course – we decided a 50-50 split was perfect.
That's when, after 20 years of hard work, FIFTY/50 was born.
As well as being 50% matured and 50% new gin, the final product is also 50% ABV and bottled in 50cl barrel-shaped bottles – it is probably quite easy to see how we came up with the name.
The taste of whisky comes down to a few main factors; where in the country it is made, the shape of the still, and the impurities within the spirit. With gin botanicals, it's the same but also really very different, so it's been interesting to see how those flavours have influenced the final pour.
Our gin, with its golden, whisky colour, toes a fine line between both drinks, and from our research it's definitely had the longest birth of any botanical spirit – most gins spend only a few months to a year in barrels and casks before being bottled.
It really is quite unlike anything else on the global drinks market – which itself has become so unrecognisable recently.
With Scotland experiencing such a growth in the popularity of gin over the past five or six years, it's been great to see so much emphasis placed on the stories and provenance behind each bottle, as well as the ingredients, aroma and flavour.
As a small family-run business, that's something we're keen to promote with all our products.
Although we have expanded over the years, we're still a small operation with just me and my son Iain and two other working from our facility in Renfrew. Some people might think it's difficult to work so closely together as mum and son, but it's fantastic and we help each other out with different areas of knowledge and expertise.
You could say it's a real 50-50 partnership.