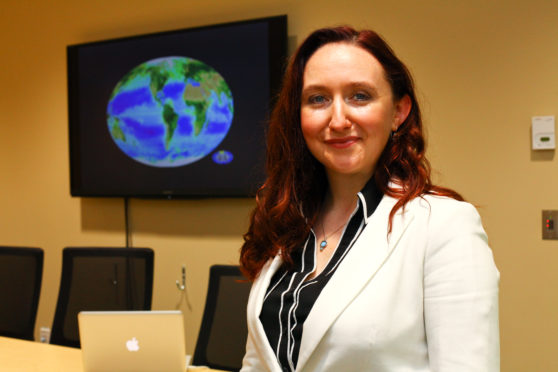 When I was a little girl, I didn't sit gazing up at the stars, wondering about distant planets and unexplored galaxies.
Instead, I was obsessed with animals and nature, and I would be glued to the television every time there was a new David Attenborough documentary on. You would always find my nose in a book, too, so I guess you could say I was a little bit geeky.
From a very young age, my mum always installed in me the importance of education. It wasn't a case of "if" I went to university, but "when".
However, at the end of high school I felt a bit conflicted, torn between pursuing my love of reading and writing or heading down a different path with science. I had an absolutely wonderful teacher, who really piqued my interest, so in the end I settled on completing a physics degree at the University of Strathclyde.
Once I finished my undergraduate studies, I stayed in the same lab to do a PHD, and followed that with about two or three years of postdoctoral research. During this time, I travelled to the US to give a talk at an Earth science conference, where I met lots of scientists and academics in my field. I didn't know it at the time, but that trip would be the moment I stepped on to my path towards working with NASA.
My PHD was focused on the optics of phytoplankton – microscopic organisms that live in both fresh and salty water – so when the time came to move on from Strathclyde I decided to contact a few of the people I'd met in the States. Luckily, one of them wrote straight back and I was offered a position in the marine science department at the University of South Mississippi.
So, I packed up my home in Glasgow and headed for the Gulf Coast. Although it was a hard to decision to leave my family in Scotland, it was too good an opportunity to turn down.
Our department was on the same base as the John C Stennis NASA Center, where the Apollo rockets were originally tested. While I worked there, from 2003 to 2005, the Space Shuttle programme was still in operation.
Every so often we would drive out to the university's bleachers to watch demonstrations of space shuttles and rockets being fired. It was pretty amazing.
When they test the engines, they use a giant pool of water to absorb all the heat and energy, which causes enormous clouds to form above the test site.
You can stand there as rocket water rains down on you.
My next job meant another big move, this time to Nova Scotia in Canada.
I always tell the story of our last night before leaving the Gulf Coast. My boyfriend – now husband – and I had decided to drive the 2,000 miles to our new home in Halifax.
I was rushing around the night before we left, cleaning out cupboards and mopping floors, but it turned out I shouldn't have bothered. Just 18 hours after we shut our door, Hurricane Katrina hit and our little beach-side flat was wiped off its foundations. You could say we left the wrong place at the right time.
For the next 12 years I worked at Dalhousie University, until last year when a colleague offered me a dream job.
Funding was available to bring on new staff in the ocean ecology laboratory at NASA's Goddard Space Flight Center in Maryland, where the first ocean colour satellite was launched in the late '70s.
It's basically a fancy camera that measures the quantity and quality of light reflected from the ocean which, with a bit of fancy, whizz-bang maths, helps us understand what is in our water and how the earth's eco-system is faring.
As a physicist with a big interest in ocean life, I work on the instruments that measure the light, as well as the maths that allows us to understand the information that comes back from the satellite.
We're also working on a brand new mission which will be launched in 2023.
It will be a much more sophisticated instrument that allows us to continue recording and monitoring our environment, something I think is of vital importance.
Every day of my job is so exciting, and it's amazing to work with so many incredibly talented scientists.
It's strange to think a wee girl from Glasgow is now working for one of the best known research agencies in the world. But I suppose you could say my fate was written in the stars.
As told to Alice Hinds
---
Meatballs, moon walks and microgravity
Founded on July 29, 1958, NASA is focused on more than just space and stars. Here are some fun facts you might not know.
NASA's official motto is For The Benefit Of All.
The scientists at NASA affectionately refer to their round logo as the "meatball design".
The original footage of Neil Armstrong's moon walk was accidently erased, after old magnetic tapes were reused to record satellite data.
The cost of the Apollo program was $25.4 billion, equivalent to $200bn today.
More than 17,000 people currently work for NASA.
Buzz Aldrin might have been the second man to walk on the moon, but he was the first to take a selfie in space. He snapped a pic while on the 1966 Gemini 12 mission.
It takes 45 minutes to put on a spacesuit, which weighs around 280lbs. However, in microgravity it is weightless.
Although not visible to the naked eye from Earth, the US flag still flies on the Moon.
After one year on the International Space Station, a returning astronaut will be about 0.0085 seconds younger.
John Glenn, 77, became the oldest person to fly on the Space Shuttle in 1998.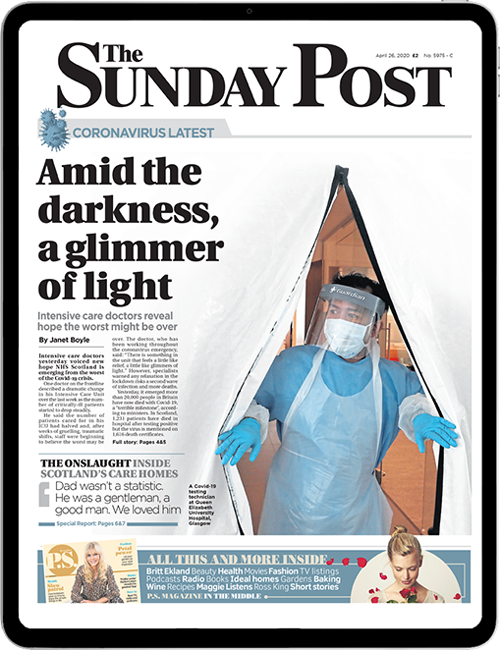 Enjoy the convenience of having The Sunday Post delivered as a digital ePaper straight to your smartphone, tablet or computer.
Subscribe for only £5.49 a month and enjoy all the benefits of the printed paper as a digital replica.
Subscribe