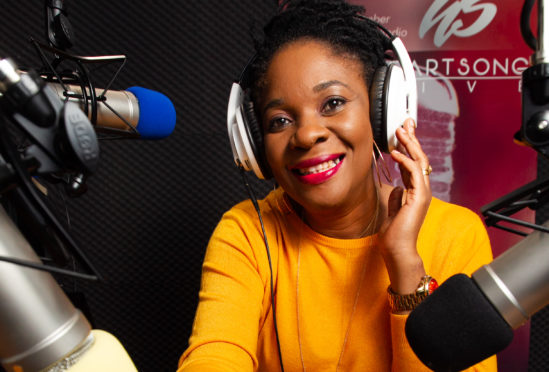 Four days-a-week I don't switch on the radio to start my day. Instead, I pop downstairs and broadcast from my own radio station in my garage.
I spent more than £7,000 setting it up two years ago with the aim of spreading goodwill.
And, within months, 10,000 listeners from all over the world were tuning in for their daily dose of positivity.
I'm a singer who has released a couple of albums and I'm also huge fan of social media, having taken a marketing course with the Digital Marketing Institute.
I'm now a social media consultant for busy creatives (hslsocial.com) and I have almost 60,000 followers.
But I think it's vital in this day and age that we communicate better and are just nicer to each other.
I wanted to spread a bit of joy in people's lives, so I decided to do that by starting my own station, Heartsong Live.
It was a big decision – not least because my husband Jude works away a lot and I need to look after our three children, Nathan, 15, and eight-year-old twins Amy and Josh.
As a busy mum I knew it would be a lot of work, but Jude is an engineer and he drew up some plans for the garage next to our Edinburgh home.
We didn't use the garage for the car – like a lot of people, we just used it for storing all sorts of things that didn't fit in the house. The idea was to have both a radio station and a recording studio where I could make my music.
We got a joiner, came up with a design, and it really was a case of starting from scratch.
The whole place needed to soundproofed – floor, walls, ceiling, the lot.
It probably took a couple of weeks to do all the work, including converting it and partitioning it off for the radio studio.
That cost about £4,000 and then I needed to get equipment such as a mixer, computer, microphones, headphones, speakers, broadcast software and the like for the station.
That and the furniture was another £3,600.
But finally, almost exactly two years ago, Heartsong Live was ready to take to the airwaves.
It was a big deal, that day, sitting at the microphone and getting set to broadcast.
I might not be Zoe Ball, talking to millions across the whole of the UK on her new Radio 2 Breakfast Show, but it was just as important for me starting off on my radio journey that morning.
I think it went well, though and the show is available through our website, heartsonglive.co.uk, through our app and now even just by asking Alexa.
We're on air Monday to Thursday, between 6.30am and 7.30am and there's a good reason for the restricted hours – I have to get the kids off to school!
I have to be off air so I can do the school run by 7.45am at the latest, so I always have to keep an eye on the clock.
I play music and offer words of encouragement for the day ahead.
I'm a firm believer that the morning is the most important part of your day.
How you start it determines how the rest of it will go.
Even if you don't think it's going to be good one, you can always find something positive somewhere.
As you head off to work, think how you can make someone's life a little better or how to put a smile on someone's face.
And I set challenges, such as saying hello to five people.
It's really a case of inspiring listeners to be good to others.
The show also has guests – some on the phone, some who'll come along to the station in person.
They come from all walks of life – singers, authors, people with motivational stories to share and even my local MSP Alex Cole-Hamilton.
It really is a case of getting out the word about those making a positive impact in their community.
My 10,000 listeners come from all over.
Obviously, a lot are local and more widely from the UK, but people tune in from America to Russia, France to Nigeria and Spain to the Netherlands.
The feedback I get makes it all worthwhile. Listeners say I have made their day better and that means the world to me.
I even heard from a woman who had lost a baby through miscarriage and she said my broadcasts had helped her through it.
My kids listen in, too, and they'll talk to me in the car about things they've taken from the show.
Now I just want to expand and make more and more people's day joyful.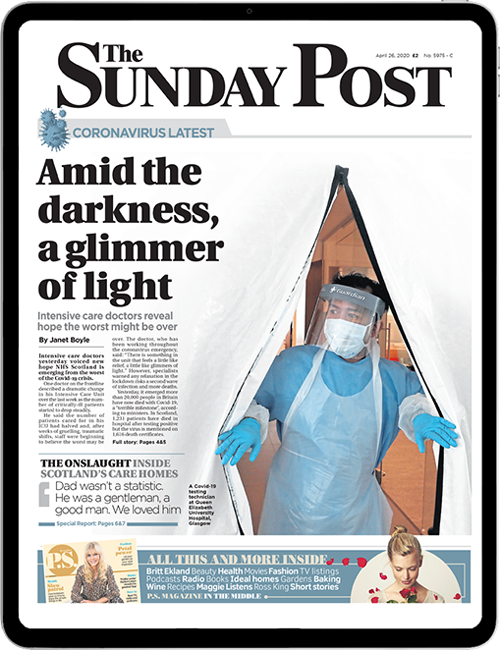 Enjoy the convenience of having The Sunday Post delivered as a digital ePaper straight to your smartphone, tablet or computer.
Subscribe for only £5.49 a month and enjoy all the benefits of the printed paper as a digital replica.
Subscribe