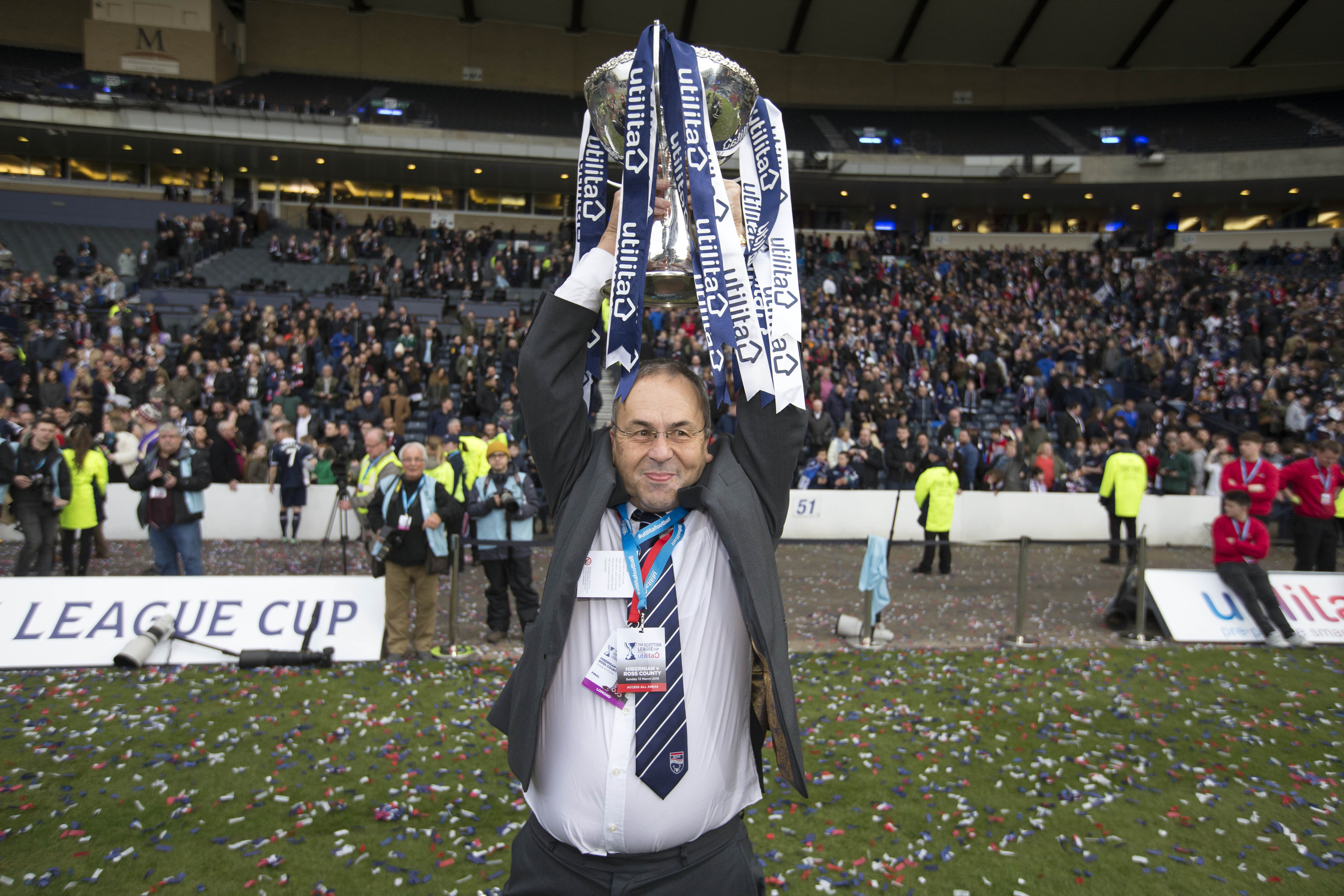 ROY MACGREGOR grins at the notion Ross County's great giveaway might have been part inspired by Fergus McCann.
The Dingwall club has made admission to Tuesday night's Premiership fixture with Hamilton Accies free for both home and away fans.
And that one-off gesture is to be followed up with a reduction in the price of season tickets for the 2017-18 campaign, which average out at £100 per head.
That is a response, the County chairman says, to a crowd of 1500 coming out to watch the game that eventually led to the Under-20s clinching the SPFL Development League.
Yet, if it is a generosity at odds with the hard-headed business approach of Celtic's great saviour of the 1990s, MacGregor insists 'The Bunnet' was a big contributor to his footballing philosophy.
"I really like Fergus," he said.
"He is a good pal, who taught me a lot of what I know about the football industry.
"You have to get under the bunnet to know him, and he doesn't let people do that lightly. That is his character.
"Once you do, though, you find he is a funny guy.
"I was there with him in March, 1994 on the day he stopped Celtic going to the wall.
"We met in Glasgow at the office of my lawyer, Elspeth Campbell, who was later to become his wife.
"I was down in the city buying a business myself. As I remember it, I got mine at five to five. He got his about two minutes to five.
"A couple of minutes later, and it would have been too late for them. Celtic would have been bankrupt.
"But, for all the problems of the time – and I remember a tour of Parkhead he gave me at a time when they had only 6000 season-ticket holders – Fergus (below) always had a clear vision of how successful Celtic could become.
"Actually, where they are just now under Brendan Rodgers is probably pretty close to the end of the line that Fergus was thinking about.
"The stadium all built, and with 50,000 turning out every other week to cheer on a good team, who are dominant in this country and competing in Europe.
"That is what he foresaw.
"Most people, whether they liked his approach or not, would have to concede he was a catalyst for the current success.
"He said what they were going to do – and they did it. I don't particularly agree with the way he took his money out. They could have done the Academy at Lennoxtown earlier if he hadn't.
"But that is a personal view. Without doubt, the evolution from the club they were to where they are today is incredible."
It was that ability to see through the difficulties of the day to a brighter future which so appealed to a Highland businessman who, later that same year, would lead his own club into the Scottish senior leagues.
"Like Celtic, we have worked our way right up – albeit on a different scale," MacGregor continued.
"Ross County were a part-time club with a dream. By managing our business properly on and off the pitch, and by getting involved with the community – making that connection – we have made the dream come true.
"We have done really well, and we have done so in so many different ways.
"To land our first major honour when winning the League Cup last season was tremendous for everyone involved in the club.
"At the same time, I would say the same about the achievement of our Under-20s side in winning the Development League just there.
"The Academy was such a big part of what we wanted to do here, and to see our players kick on and finish best in the country is a source of great pride and satisfaction to us all.
"If you look at where we come from, and the size of the population in Dingwall (listed as less than 6000), there is no way we should be on this stage. No way we should be a regular in the top league.
"Even now I still go to the centre circle of every away ground at about 2pm, and every time I ask myself the same question: 'Why is my wee club from the Highlands performing here today?'"
The foundations of County's success were, MacGregor says, laid in those early meetings with Fergus McCann.
"When I got that tour of Celtic Park, the thing that really struck me was the real humility towards the fans and the community," he revealed.
"I couldn't get over the way you could go into the club and sit down at the restaurant next to the chairman.
"I have always tried to use that as my model for Ross County.
"Everyone matters. There has to be a line right from the top to a fan who maybe only comes along occasionally. As a club, you need your fans with you and, for that reason, we encourage fan participation wherever possible.
"At the moment, we are having monthly meetings with the supporters.
"We have to make sure everyone is working towards the same goals, and that everyone is happy.
"I employ 4000 people in my company (Global Energy), and the principles with which we run the club are the same as the business – we all have to share the same values.
"You look at someone like Sir Alex Ferguson. He has got to the very top of the game, but he still has the same values he had when he started out.
"I was at a dinner with him for a charity we are involved with, which helps the homeless of Govan.
"Sir Alex took along 20 people who he went to school with.
"I have read his book on leadership – probably three times now – and the way he strikes the right balance with his players between humility and ambition is fascinating.
"Robbie Brady (then a teenager, now at Burnley) once got hauled in for a row after he stood aside to let Cristiano Ronaldo get his food in the canteen.
"The question Sir Alex had for him was : 'Why did you do that? If you don't believe you can be as good as he is, then you shouldn't be here'."
Meritocracy is a key principle for MacGregor. At the start of this season, he wanted Hibs and Dundee United back in the top flight.
But not handed the Premiership on a plate – only if they earned it.
His revelation that the money for the season-ticket cuts will come from Jim McIntyre's budget undermines the claims of the critics who say he uses his personal wealth to give County an advantage over rivals such as Hamilton Accies and Kilmarnock.
MacGregor pointed out: "We are giving away money, and that means asking my first-team manager to perform with less money.
"But I think it is the right deal.
"If more fans come along as a result of this initiative, it could be he will get more money.
"I am trying to change the balance between the fans and the spend on the team, and trying to help them at the end of a season where they have paid a lot out for tickets.
"It has been a long season in which we have probably under-performed, so they haven't got value for money and I am aware of that. We have more talent in the team than our finishing position will indicate.
"We need to figure out why we did not kick on after winning the League Cup last season.
"As you grow, you need to keep re-evaluating, in particular assessing the mental strength of the team.
"Maybe we weren't able to deal with the success that we had?
"Sometimes with small clubs, there is a rebound if you are successful.
"The players think they have made it, and perhaps stop working as hard as they had been.
"We will re-evaluate it, and if changes are required for us to improve, then we will make those changes."
The Bunnet would surely approve of his friend's resolve.