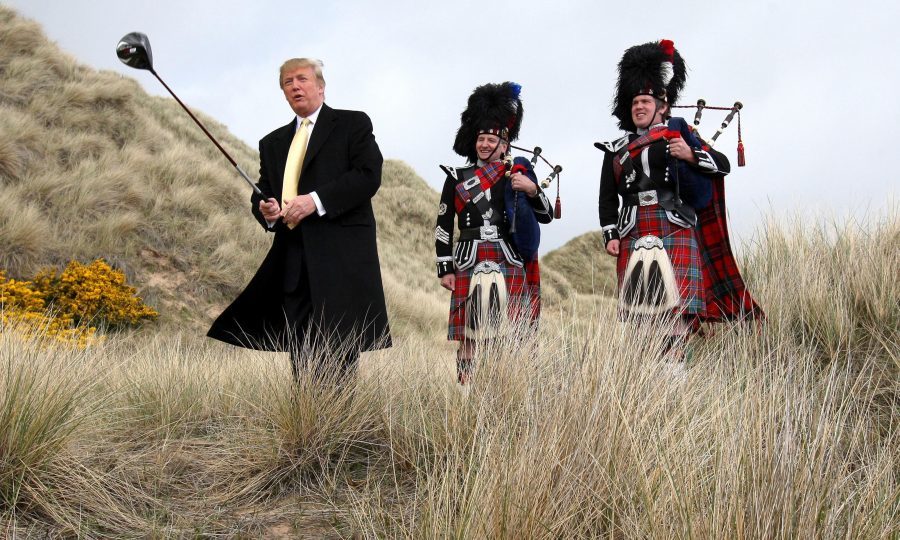 HE'S touching down in Scotland this evening (Friday 13 July) in the infamous Air Force One Presidential Aircraft.
---
READ MORE:  Air Force One and the history of the presidential aircraft
---
There are no plans for Scotland's First Minister Nicola Sturgeon to meet Donald Trump on his Scottish visit this weekend, and in a speech last week, Sturgeon mocked Trump over the failure of his long standing legal campaign to block an offshore wind farm stationed near his Aberdeenshire golf course.
Protests are taking place across Scotland as much of the country unite against the US president's visit.
---
WATCH: Donald Trump baby balloon takes flight as protests against US president continue
---
Although the US President's first name has deep rooted Scottish connections, Mr Trump himself has been mostly treated by the country with disdain and mockery – an outsider not to be trusted.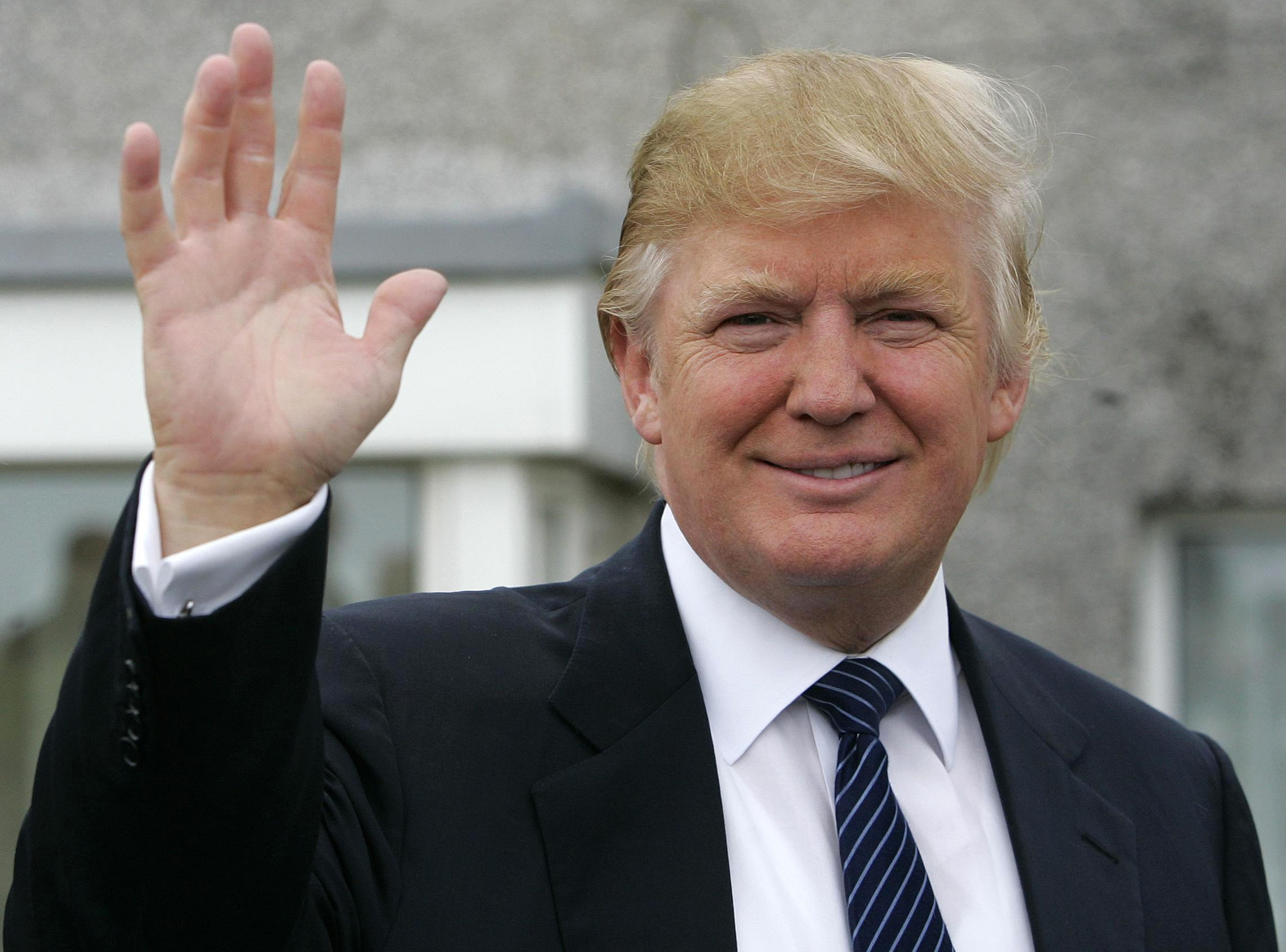 Lewis shuns Trump 
Over the years, Trump has sought affection from his maternal homeland, quoted by The Guardian as saying "I feel very comfortable here" and "I think I do feel Scottish," in a 1997 visit to Lewis, the Hebridean Island of his mother's birth.
However, ten years later at the prospect of a presidential visit, the people of Lewis planned to stage a Mexican themed protest if Mr Trump were to step foot on his ancestral home again.
The proposed protest was in response to his 2015 comments on Mexican immigrants, describing them as "rapists" who bring crime and drugs into the USA.
Katie Laing, a community blogger from Stornoway, said Mr Trump would not be welcomed in her home town. "He is a thoroughly awful person," she told The Scotsman in 2017.
"Most of us, apart from the odd cousin perhaps, are embarrassed by his connection to the Western Isles and do not consider him to be a Hebridean in any way."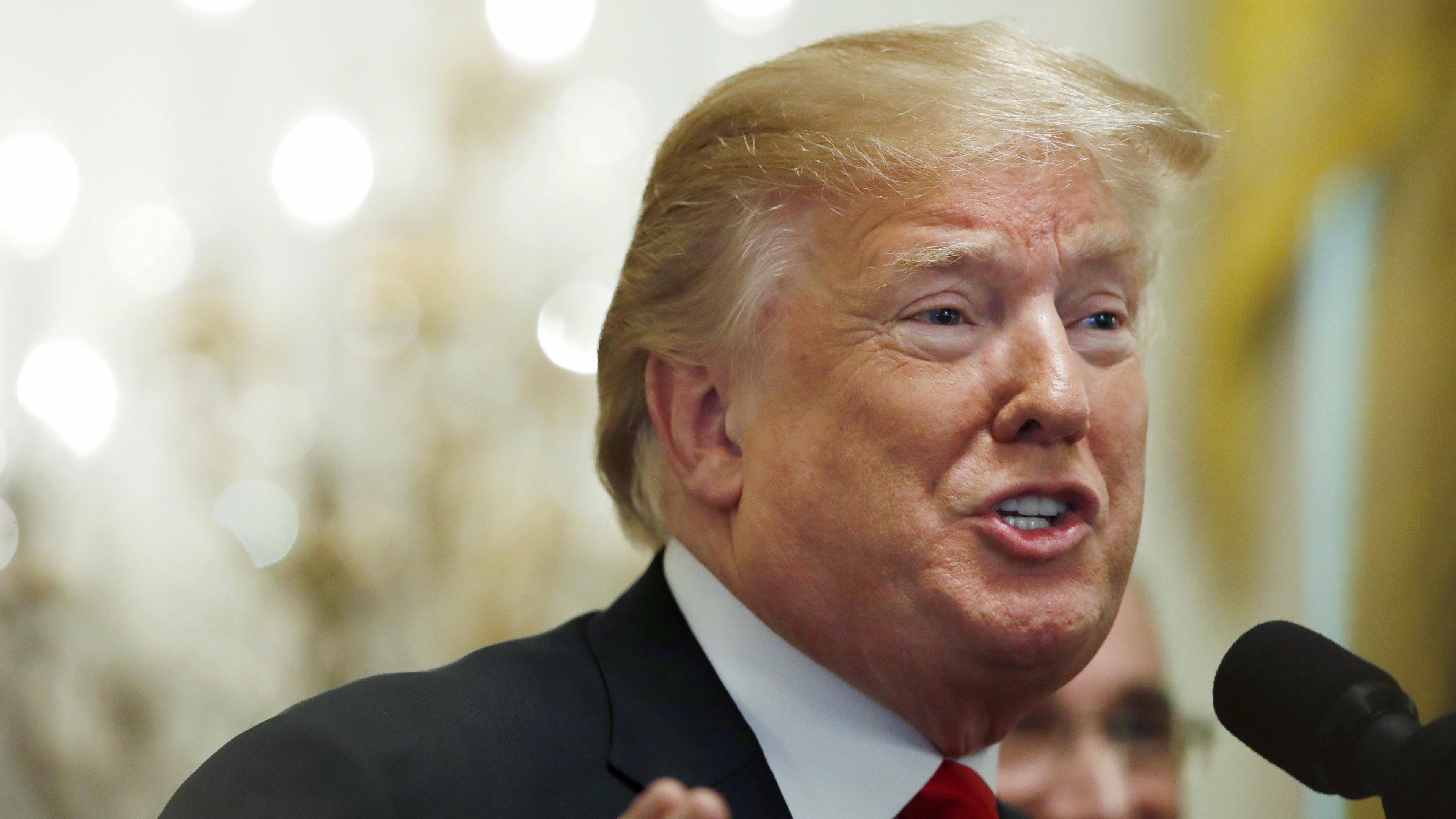 Government reaction to Trump's treatment of Muslims
But it's not just the people of Lewis who have slighted Trump.
In 2015, his GlobalScot business ambassador title was revoked by the Scottish Government, following comments Mr Trump made about Muslims.
Aberdeen's Robert Gordon University followed suit, stripping Mr Trump of his honorary degree in the wake of the president's proposal to ban Muslims from entering America.
At the time, the leaders of all Scotland's main political parties also suggested that they would refuse to take a call from Mr Trump if he were elected president.
In response, Trump's hurt ego accused the Scottish Government of having a "foolish, small-minded, and parochial mentality."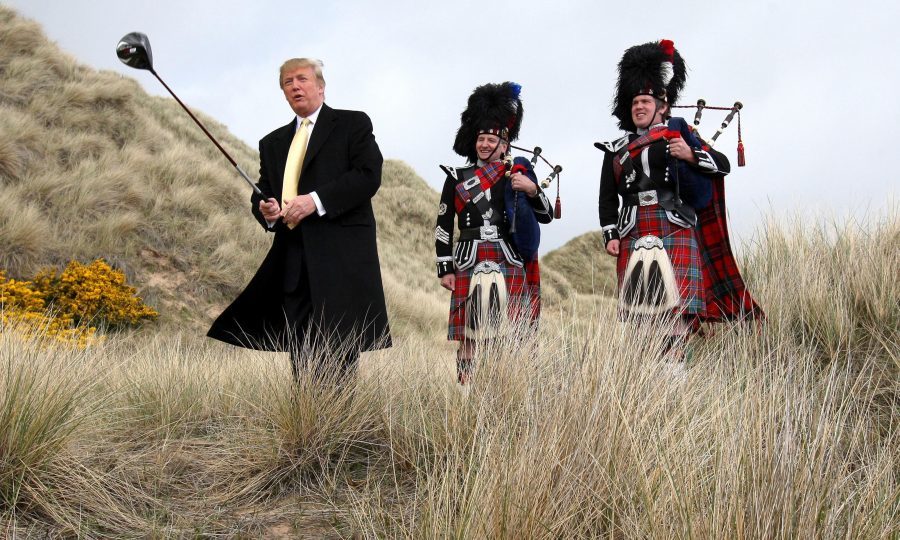 Building a golf course on protected dunes 
Over the years Trump is estimated to have invested over £300 million in to the Scottish economy, including the development of his two golf courses.
His Aberdeenshire golf course caused enormous friction with the Scottish people however, invoking controversy and animosity from local residents, wind farm manufacturers, local council leaders and environmental firms. Trump wanted to do something "special for his mother" in Scotland, and building "the world's greatest golf course," a lucrative proposed £1 billion investment, became his idea of doing so.
At first, the idea was welcomed by then First Minister, Alex Salmond, another golf lover.
However plans soon turned sour when the environmental effects of building on the dunes became apparent, and Trump's treatment of local residents who refused to sell him their homes to develop on was met with disgust.
The investment and prospect of over 6000 jobs promised by the development of the golf course however, outweighed the environmental impact and the Trump International Golf Links was built.
A decade on however, the project has delivered only a fraction of what was promised and many in the locale feel they are owed an apology from the president.
---
READ MORE: 10 years ago Trump promised us a £1 billion investment and the world's best golf course: Critic says US President owes Scotland an apology
---
Trump seems to have believed that his love and sentimentality for his mother's homeland (newly raised whenever he needed approval for building his Aberdeenshire golf course) would win over the Scottish people. "I don't feel like an interloper," he once said. "I don't feel that people see me as an outsider."
Sadly, the harsh reality is that many across Scotland do see Donald Trump as the stranger he doesn't want to be. And while this reality could be numbed with a dram of a Hebridean whisky, unfortunately, Trump doesn't drink.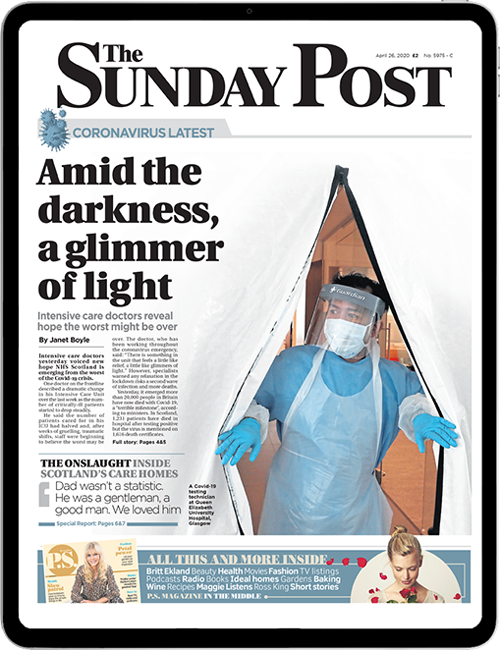 Enjoy the convenience of having The Sunday Post delivered as a digital ePaper straight to your smartphone, tablet or computer.
Subscribe for only £5.49 a month and enjoy all the benefits of the printed paper as a digital replica.
Subscribe