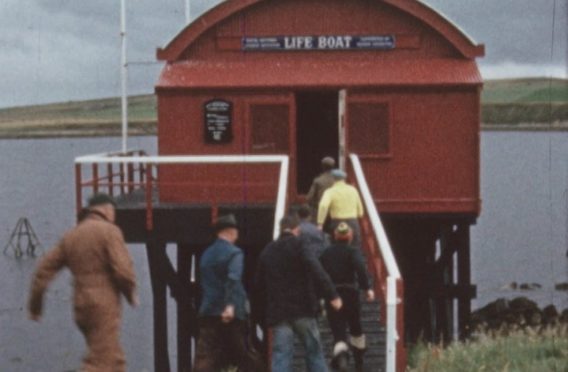 They are captured forever in the flickering images, a lifeboat crew racing from their homes to the boathouse to respond to another call-out, another emergency at sea.
In coastal communities around the country, it's a regular part of life as RNLI teams respond to call-outs. But, as film curator Shona Thomson continued watching, the film took on a deeper, sadder resonance.
The promotional video from 1964 showed the volunteer crew from Longhope Station, in Orkney, reconstructing the rescue of a fishing trawler, Ben Barvas. But seven of the eight crew members in the film would die five years later in the Longhope Disaster, when their lifeboat capsized in a brutal storm.
The footage will now become part of a compelling, musical salute to the lifeboat crews of Scotland.
Shona said: "It was not only fascinating but poignant to watch. It's such an important film. I used the film for a project I did in 2016, called Made By The Sea, where I toured around coastal communities with a programme specific to each place I visited."
The responses from audiences – the reminders they triggered and the conversations they posed – inspired Shona's latest project, which receives its world premiere at Celtic Connections on Saturday.
Launch! On The Sea With Scotland's Lifeboats, is part of a one-day festival within a festival at Glasgow's winter music event, tied in with Scotland's Year of Coasts and Waters.
Shona has dug through the Royal National Lifeboat Institution's ­extensive archives to put together a film of the charity's brave volunteer crews at work over the past 100 years. A new soundtrack, written and performed live by four musicians collaborating for the first time, will accompany the footage.
"There are some incredible shots, not just of the older boats from the 1920s onwards but also of the people," she continued. "It really does take a community to launch a lifeboat.
"As well as the old footage we had access to the cameras that are on the boats now, because I felt it was important to document what happens."
Samantha Jones is operations manager at RNLI Tobermory and says the footage shows how intrinsic the organisation is in the lives of generations of communities.
"Shona is using footage from the launch of RNLI Tobermory's first lifeboat, the Sir Arthur Rose, in 1938, and there is a huge amount of people in attendance," she said.
"Lots of families here have ­connections to the crews. A shop called Carmichaels can be seen in the background of the film and one of their descendants, Creon Carmichael, is one of our longest-serving crew members. He has been with us since RNLI Tobermory reopened in 1990."
Originally operating from 1938 to 1947, Tobermory's lifeboat crew was disbanded due to a lack of volunteers. But a campaign and fund­raising drive led to the station ­reopening 30 years ago.
An extended version of the film will be shown in Tobermory, as well as Montrose, Lerwick and Portree, this summer following its premiere at Celtic Connections.
"If you are not out on the water, perhaps you don't think about the RNLI," said Shona.
"If you don't work or spend leisure time at sea, then it will be difficult to know what it feels like to be out there with the RNLI and to receive a call.
"This will hopefully offer an ­experience and insight into what the crews do." Samantha agreed: "From the RNLI's perspective, it's a fresh new way to celebrate our history and it also has the potential to bring our work to a new audience.
"There will be people in the audience in Glasgow this weekend who have never thought about what we do."
Samantha could never have envisioned being part of a lifeboat crew before moving to Tobermory 20 years ago. "I was working at the Scottish Parliament and decided to take redundancy and set up a photography business," she explained.
"The coxswain asked if I was interested but I didn't think it was for me at first. But it's only about 10% of the crews who have a professional ­maritime background.
"I went from coming off the street to becoming a lifeboat ­navigator, thanks to the first-class training we receive.
"I joined up as a crew member 10 years ago. I really enjoyed my time on the crew and sometimes miss being out on the boat when I'm doing paperwork as operations manager!
"We're called out, on average, between 30 and 40 times a year.
"It can be anything from fishing boats to recreational sailing and ­diving to kayaking – it's a real range.
"The volunteer aspect is ­fascinating – there aren't many places in the world whose lifeboat service is manned by volunteers."
Launch! On The Sea With Scotland's Lifeboats, Glasgow Royal Concert Hall, Saturday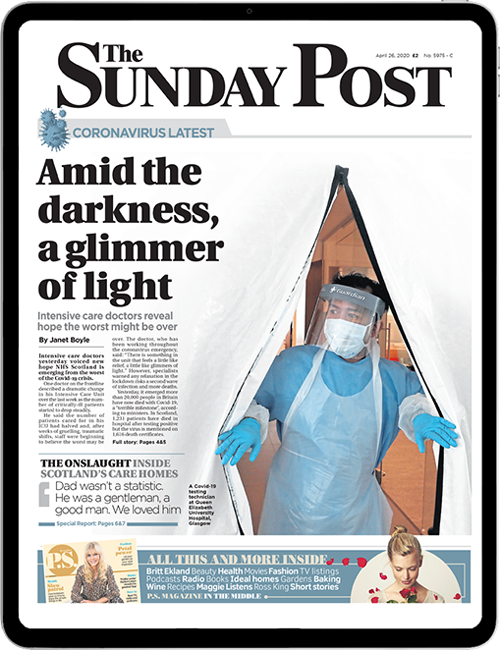 Enjoy the convenience of having The Sunday Post delivered as a digital ePaper straight to your smartphone, tablet or computer.
Subscribe for only £5.49 a month and enjoy all the benefits of the printed paper as a digital replica.
Subscribe