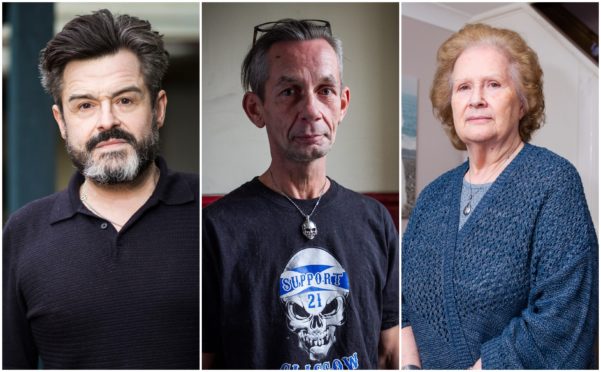 The number of hospital beds in Scotland has dropped by more than 6,000 in 10 years while ­thousands of patients face long delays for treatment.
Analysis of NHS Scotland figures reveals the number of beds lost since 2009 is the equivalent of closing three hospitals the size of the new £900 million Queen Elizabeth University Hospital in Glasgow.
Meanwhile, thousands of patients are waiting longer for treatment than deadlines fixed in law. Today we reveal how the condition of many deteriorates badly as they wait, while others die before being admitted to hospital for postponed and delayed surgery.
Dr Dave Chung, head of the Royal College of Emergency Medicine in Scotland, said: "We run out of beds frequently – in fact every day – in Scotland. It's obvious that we need more beds.
"There are hidden costs of ­waiting for surgery and often the patient pays this. People can be injured if they become infirm while waiting for surgery and become sicker in the long term. Every study has shown that it is cheaper to be treated early."
NHS Scotland ­figures show the number of hospital beds has fallen by almost a quarter in the past 10 years, from 26,280 in 2009 to 20,250 in 2019.
While hospital budgets rose from £5.4 billion a year to £6.8bn in the same period, more than 250,000 people have waited longer than the legally binding 12-week treatment time guarantee since the target was introduced in 2012.
Only 83.3% of patients were treated within 62 days in the last quarter to September – well below the 95% target.
Earlier this month it was revealed that just two NHS boards were meeting the critical waiting time target for ­cancer treatment.
There has been a downward trend in the number of hospital beds, with developments in surgery meaning shorter stays in hospital recovering.
But medical experts have warned that too many bed reductions and a fast turnover is a major risk to patients across the NHS.
Lewis Morrison, chairman of BMA Scotland, said: "This is a complex issue and there may well be reasons for reductions in beds – such as the rise in out­patients seen in a single day.
"However, it is equally clear that the NHS in Scotland simply does not have the resources in place to meet ­rising demand.
"Our system is stretched to the limit and we need to urgently ensure that it is appropriately resourced – and that includes ensuring it has the right number of beds to operate more effectively and deliver the high-quality care that we all strive for."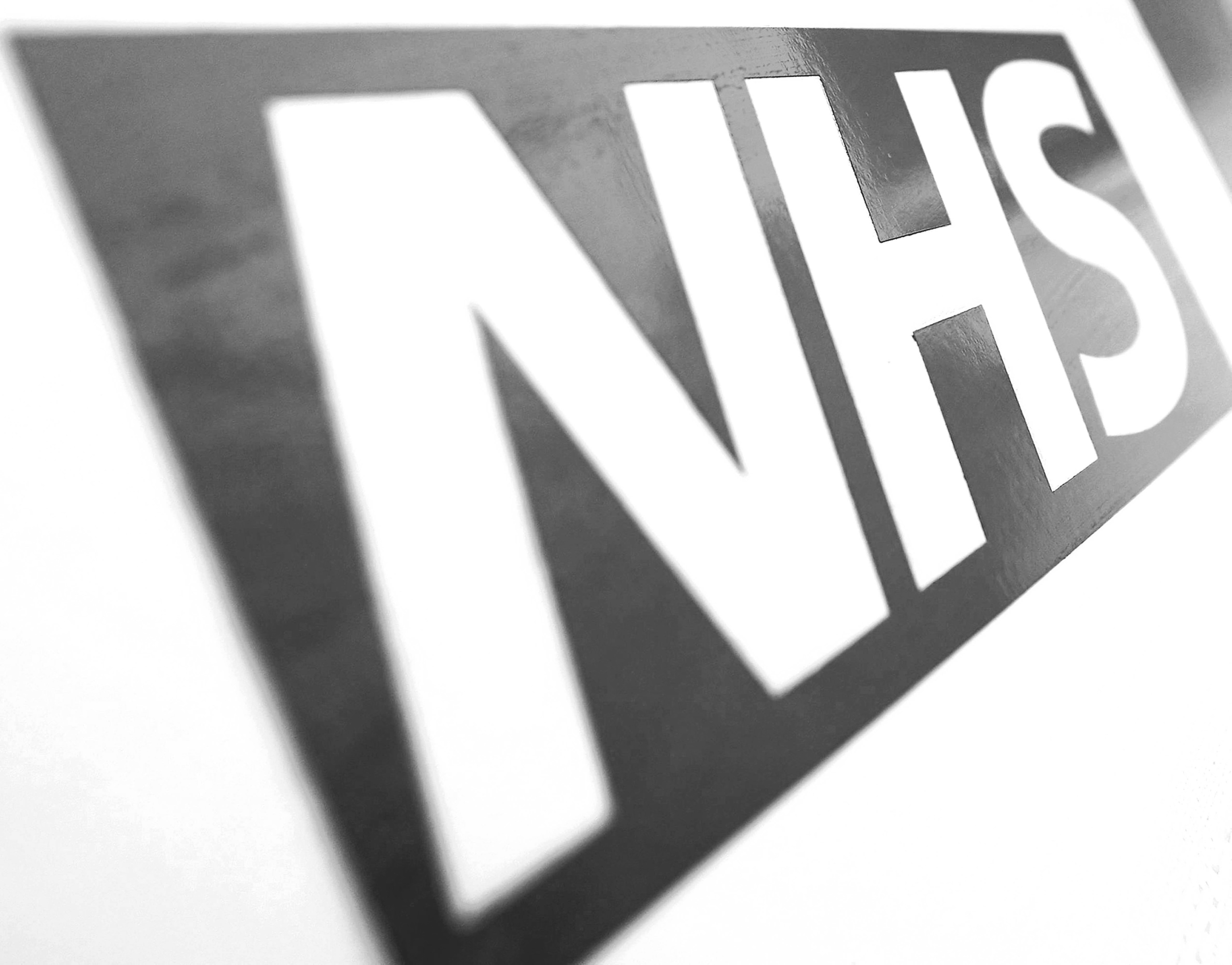 Royal College of Nursing Scotland associate director Norman Provan said: "It's better for people to be cared for at home or in a homely setting close to their home. Cutting the number of hospital beds on its own will not achieve that ambition.
"You also need to move the money you save by cutting hospital beds out into the community so people can be cared for there. To date there has been a lack of evidence of progress in shifting resources into the community, including developing the workforce needed."
Mark Dayan, policy analyst for the Nuffield Trust think tank, said: "On spending for buildings and equipment, it is notable that the Scottish NHS last year was given only £334m for longer-term investments.
"This is now even lower than the equivalent spending in England, which itself is well below most other developed countries.
"There's a good argument that ­investment in long-term NHS equipment and buildings should rise to the average for a wealthy country. At the moment it is less than half that level in Scotland, at 0.2% of gross domestic product as opposed to an average 0.4%.
"Stretched resources are clearly ­associated with worse waiting times across the board in recent years. That does mean more people, many in pain or at risk of deterioration, are going without the care that would help them."
At the last First Minister's Questions of 2019, opposition politicians highlighted the failure to meet targets, including the 12-week treatment time guarantee, the 18-week mental health target and the 62-day target for cancer treatments.
Scottish Conservative health ­spokesperson Miles Briggs said: "These figures highlight the SNP's spectacular mismanagement of our Scottish health service.
"With 6,000 fewer hospital beds under the SNP, it's no wonder waiting times are at an all-time high, and the SNP has never met its own waiting time targets."
Scottish Labour health spokesperson Monica Lennon said: "Scotland's hospitals are struggling to cope because well-intended plans to integrate health and social care services have not been a priority for SNP ministers.
"Worryingly, thousands of hospital beds have disappeared, including ­specialist care. Community and home-care services are not necessarily filling the gaps.
"Despite the SNP being in charge since 2007, Nicola Sturgeon has squandered the opportunity to protect and modernise the NHS and social care. She has set us back decades by failing to plan for the longer term.
"People want to be supported to be at home for as long as possible. The SNP pledged years ago to end delayed discharges but that's another broken promise and the pressure on hospital beds is increasing.
"With Audit Scotland warning the NHS in Scotland is 'running too hot', Nicola Sturgeon must prove in 2020 that the NHS is her priority and activate a rescue plan."
Scottish Lib Dems health­ spokesperson Alex Cole-Hamilton said: "Ministers will have their work cut out to convince us this is an effective way to cut waiting times.
"We have seen for years that w­orkforce planning in the NHS has been neglected and now we see bed numbers dipping too."
Official figures also show that, while bed numbers have fallen over the past decade, A&E attendances has risen from 1.6 million a year to 1.7 million a year.
Inpatient cases excluding lost stays have gone up from one million in 2009 to 1.1 million.
Long-stay cases have dropped from 327,759 weeks to 202,225 weeks.
The Scottish Government said: "Bed numbers in a hospital setting have been reducing to reflect the changing nature of our modern health service where, over the last 10 years, advances in treatment have meant the length of time patients spend in acute hospitals has reduced markedly and there are now more than 35,000 day cases per year.
"In addition, the number of beds ­necessary has reduced since 2009 due to provision of geriatric and mental health services in the community.
"We are supporting NHS boards to transform return outpatient appointments," they added. "A number of services now offer virtual clinics at which consultants, nurses and allied health professionals are considering ~clinical information and communicating with patients, avoiding the need for many patients undertaking unnecessary travel and attendance in a hospital setting.
"It is important that health boards have the right number of hospital beds to meet changes in demand from season to season. Our waiting times improvement plan, backed with more than £850m of funding, will strengthen capacity in hospitals.
"We have also invested more than £13m this winter to ensure more ­capacity is put in place as well as ­supporting health boards to confirm robust planning to ensure resilience over the coming winter."
---
I went blind waiting for my cataracts to be done then fell and broke my ribs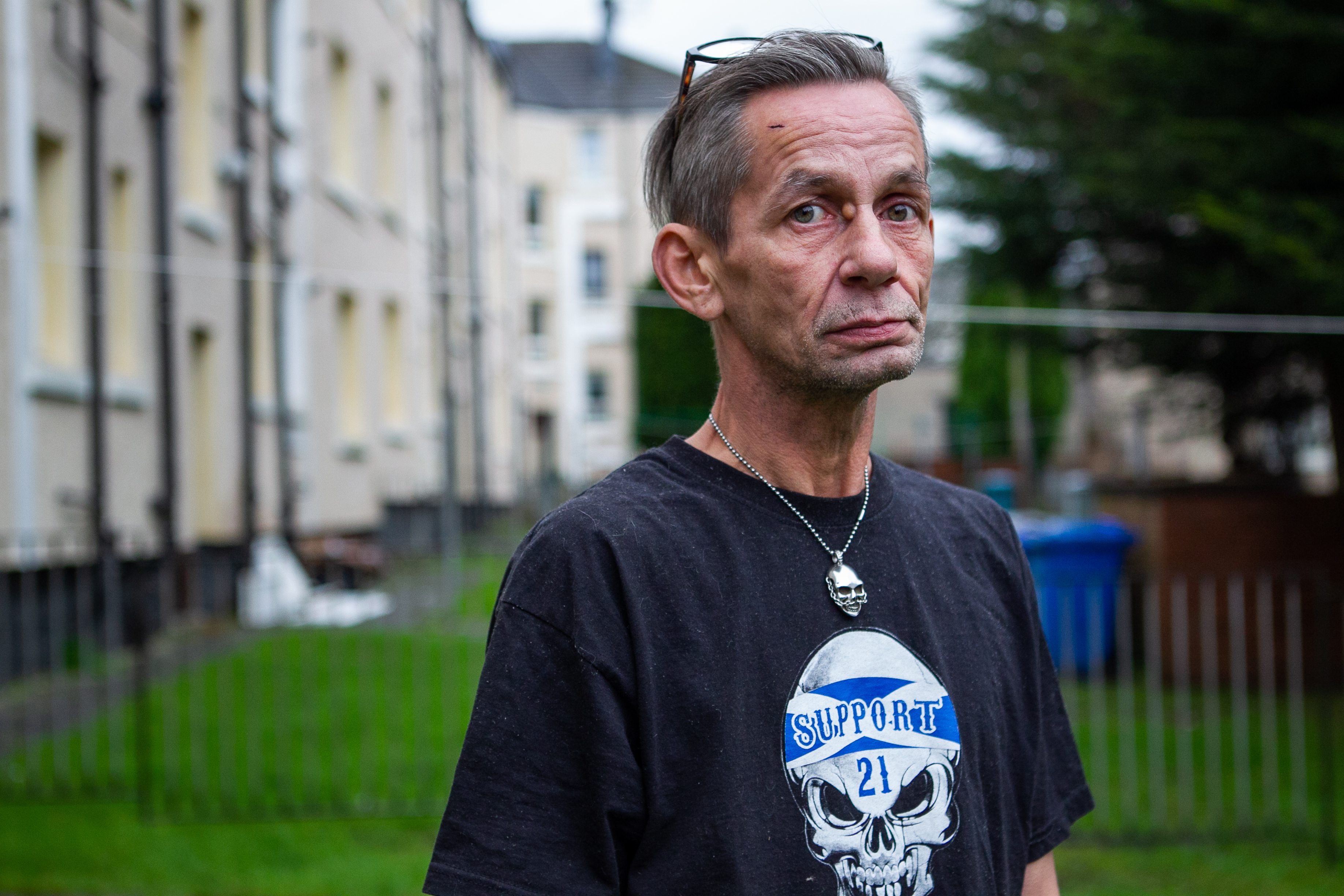 Paul McCracken went blind while waiting more than a year for cataract surgery.
He was forced to give up his job and, at one point, tripped up, breaking his collar bone and cracking his ribs.
Paul, 53, a retail worker, from Queen's Park, Glasgow, said: "I was referred to hospital by my optician who said I was an urgent patient.
"At the back of my mind I thought that it would be a few weeks' wait and three months at the worst.
"But as the weeks dragged on to months I became blind and unable to see much.
"I had to give up my job at a large retail chain and stop driving. My life was becoming more and more limited. I depended on my partner, Anne, to help me get about.
"When I tripped over the cat in the hall and crashed down on the floor breaking bones I realised what a desperate situation I was now in.
"I ended up in A&E and in a sling for weeks after, recovering."
NHS Inform, Scotland's national health information service, which says it was set up to help people make informed choices about their own health, admits that cataracts and sight problems can increase the risk of falling.
Meanwhile, Paul's partner Anne says she sometimes had to work seven days a week to help the couple make ends meet.
Cleaning supervisor Anne said: "That meant 16-hour shifts some days and grabbing sleep when I got home to get ready for the next day.
"It was exhausting and went on for months but I had no choice.
"That's what it means when your partner is off work sick and trapped in a waiting list for surgery.
She added: "People shouldn't be put at risk of injury because they go blind waiting for cataract surgery."
An NHS Greater Glasgow and Clyde spokesperson said: "More than 82% of our patients are seen and treated within 18 weeks from beginning to end.
"We can confirm that there a number of challenges and some of our patients awaiting cataract surgery are waiting longer than we would like. We apologise for this.
"The board has identified a number of actions to increase the available capacity, including additional capacity at the Golden Jubilee National Hospital, to help alleviate the pressures for this speciality and to meet the rising demand."
---
I got addicted to painkillers waiting for my hip operation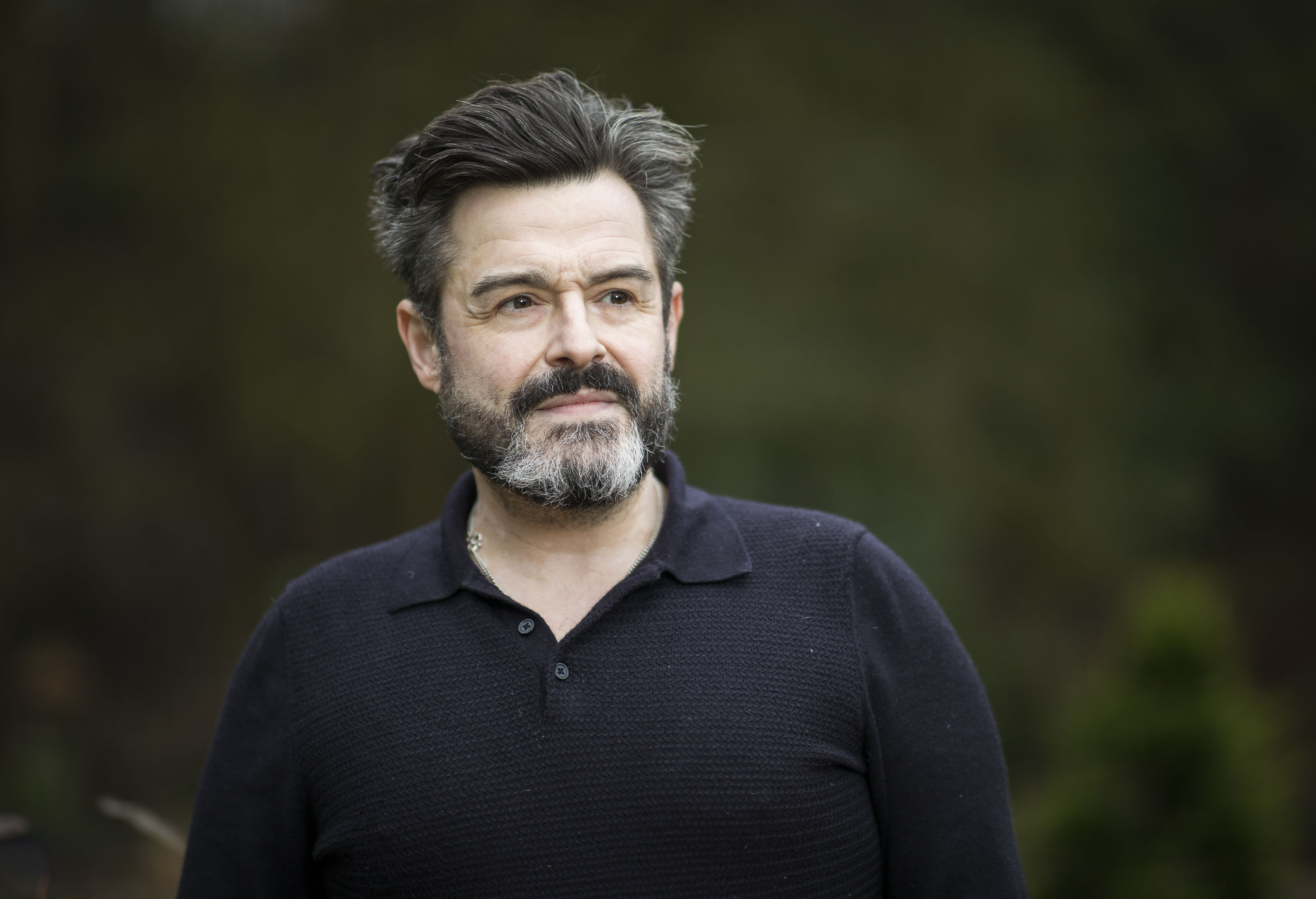 Hip-surgery patient John Pagani waited so long for his hip operation that he became addicted to painkillers.
He says he fell into depression and despaired at the wait of more than a year for a hip repair.
Eventually he paid for private surgery at an overseas clinic.
The restaurant owner from Annan was born with a hip deformity that went undiagnosed until, in his forties, it affected his joints. He had one hip repair in December 2018 but says when his GP referred him for the follow-up operation his appointment was delayed. John, 50, said: "I was in constant pain and several calls from my GP practice failed to get me seen by an orthopaedic surgeon.
"When I did I was told I could wait at least a year and to stop calling for a more urgent one.
"My painkillers had stopped working and I was desperate for surgery. Worse still, I had become hooked on the painkillers.
"I went online and came across the Nordorthopaedics Clinic, Lithuania.
"I found other hip patients who had been there and said they were happy so I paid the €6,500 for surgery and physio.
"It's been a success and I am now coming off the painkillers."
"I am fully aware that not everyone can afford thousands of pounds for private surgery, nor should they have to.
"There were times when I couldn't work because of the pain and my family had to cover for me. The impact of delayed surgery affects many, not just the patients.
"My family and I work hard and pay our national insurance. It's wrong that I, and others like me, have to pay for vital surgery because the NHS cannot cope."
Arthritis charity, Versus Arthritis, which campaigns for patients with hip and other conditions needing surgery, said: "Under the Scottish Government's own standards, patients needing treatment, including for joint replacement, have been given a commitment to get it within 18 weeks of referral.
"However it's disappointing that across NHS Scotland the 90% target set for this standard hasn't been met since October 2014.
"It's deeply worrying that people with arthritis are having to endure a world of pain because of continued failures to hit these vital targets."
An NHS Dumfries and Galloway spokesperson said they could not comment on individual cases, but added: "We would encourage anyone with a concern or complaint to contact the Patient Services Team.
"If surgery is agreed at an outpatient appointment and is judged non-urgent, and if there are no complicating clinical factors or necessary steps involved such as losing weight or altering medications, another 12-week target is then in place for surgery to take place. Our performance here currently ranks very favourably against the national average."
---
On the day my husband was finally meant to get his surgery, I buried him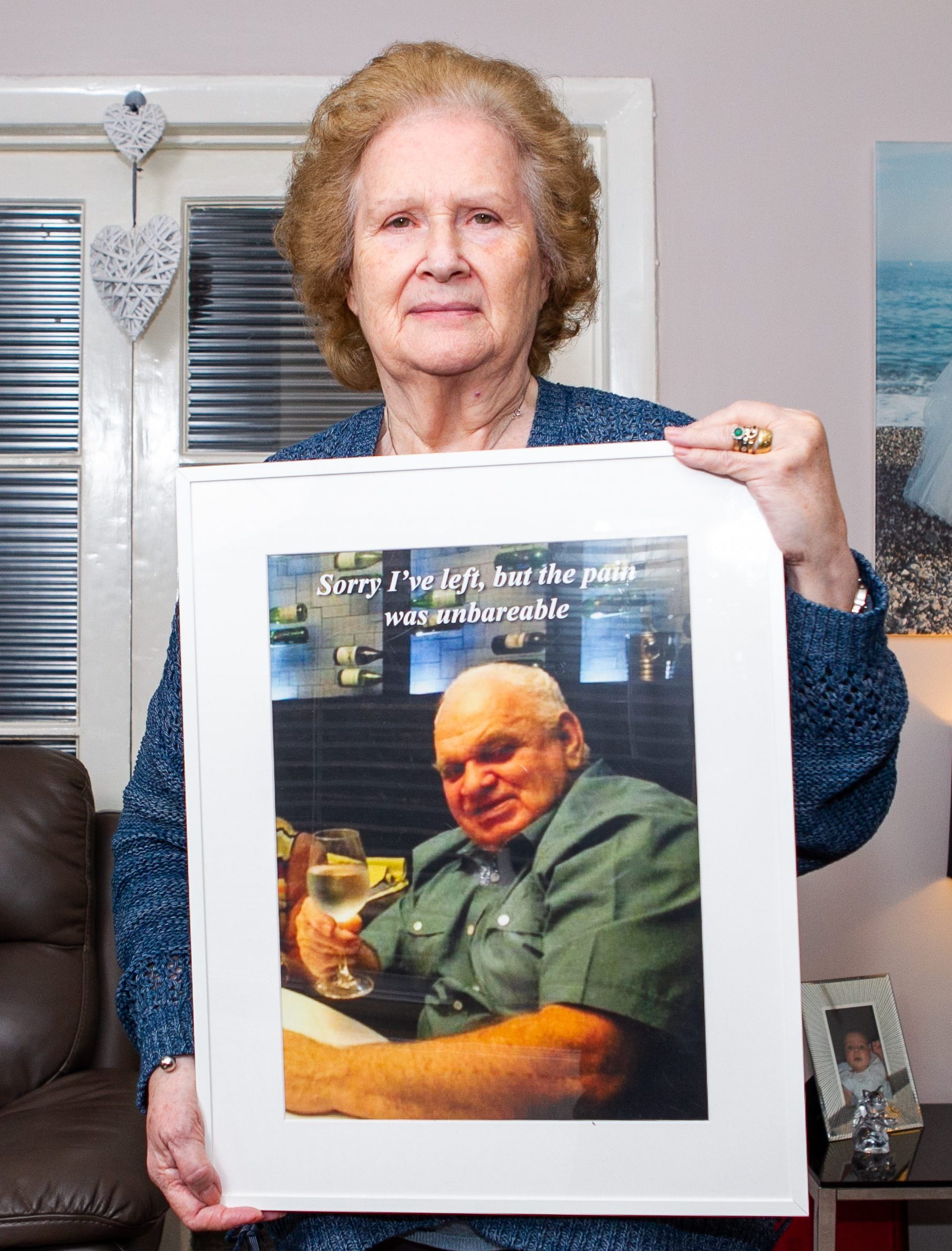 A grieving widow has told how she lost her husband while he waited for a delayed hip operation.
We reported last month how gran Catherine Scott buried her husband David on the day he was due to have surgery and the 71-year-old was so angry she confronted the First Minister Nicola Sturgeon during a campaign visit to Kirkintilloch.
She told the SNP leader that her husband of 50 years, David, 70, had been forced to wait for more than a year for his operation, despite being in so much pain he was forced to crawl around their house on his hands and knees.
Mrs Scott, a retired lollipop lady from Bishopbriggs, said: "My man crawled on his hands and knees because he couldn't walk at the end. He was in constant pain and all they did was give him pills. He was told he wasn't a priority. It was sheer neglect.
"The most hurtful part was the day I was burying him was supposed to be the day of the operation."
He collapsed at home after developing a bacterial infection in his hip and died in hospital from sepsis.
Mrs Scott said: "We were 50 years married and he only broke one promise. He told me once he got his operation we'd have a wee family night and he would give me my anniversary waltz.
"Instead, we played The Last Waltz at his funeral."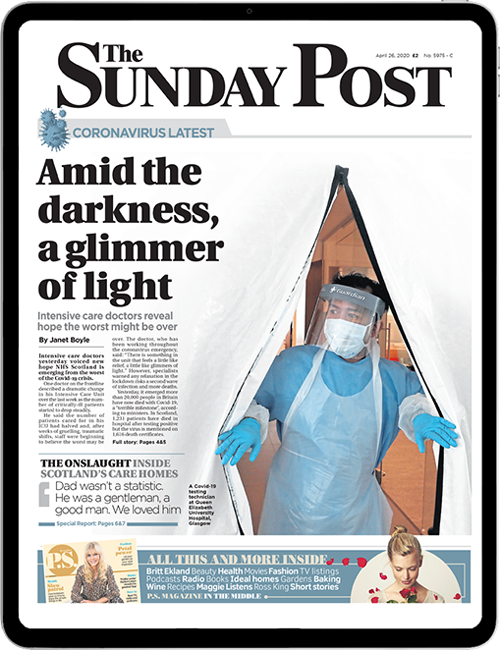 Enjoy the convenience of having The Sunday Post delivered as a digital ePaper straight to your smartphone, tablet or computer.
Subscribe for only £5.49 a month and enjoy all the benefits of the printed paper as a digital replica.
Subscribe