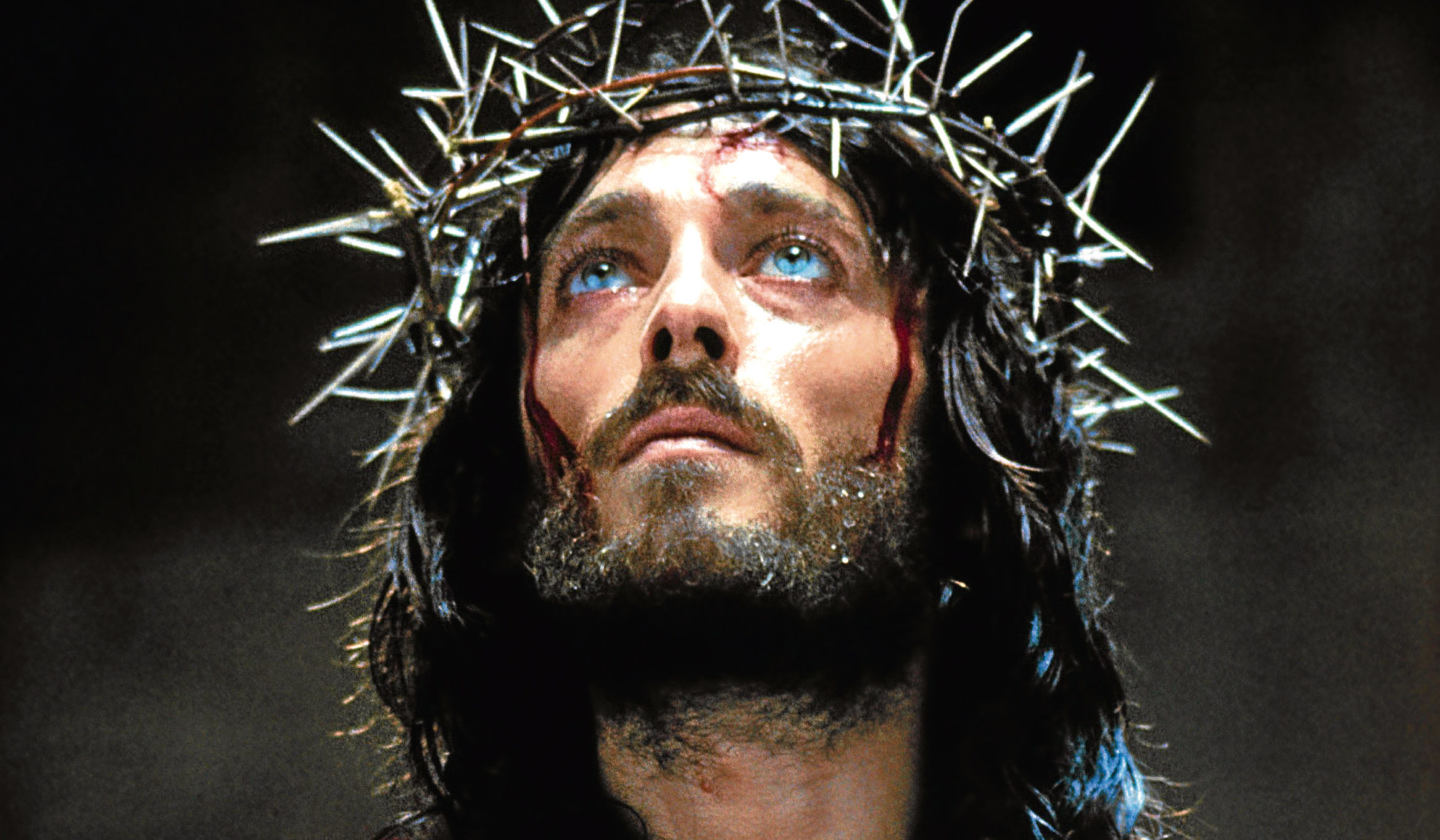 I INTERVIEWED Jesus once.
OK, before you trawl through your back copies looking for my exclusive with the Messiah, I actually interviewed Robert Powell.
Our chat touched on the time he spent filming Jesus Of Nazareth, the 1977 TV mini-series directed by the legendary Franco Zeffirelli and co-starring no fewer than eight Oscar winners, including Anne Bancroft and Laurence Olivier.
Powell told me he'd been cast because "producer Lew Grade's wife saw me in a BBC production of Jude The Obscure and thought I had wonderful blue eyes!"
Not the norm for a Middle Eastern chap, but there you go, and it's felt his portrayal "defined the visual image of Christ in the audience's mind".
The actor also said he'd taken a fair amount of flak from religious groups for "living in sin" with Pan's People dancer Barbara Lord, though they married before production began.
For the crucifixion scene, Powell starved himself on a diet of just cheese for 12 days before shooting it "in order to look worn".
This month saw the release of Mary Magdalene, cunningly timed to arrive in cinemas in time for Easter. In it, Joaquin Phoenix brings the tally of actors to have played the Son of God to just 34.
At first, that seems surprisingly low, less than half as long as the list of those who have played the other fella from "down below", considering Jesus Christ is a main character in the best-selling book of all time.
But when you think about it, the likes of Liz Hurley have played the Devil for laughs on screen, and there's a fairly major reluctance to take the mickey out of Jesus.
It's the kind of thing that gets people's backs up — just look at the fuss that was made about Monty Python's Life Of Brian, and the number of demonstrations and bans that surrounded it.
Just as well they didn't go with Eric Idle's original title — Jesus Christ: Lust For Glory.
And that's before you consider the more extreme reactions you might get, in America's "Bible Belt", for instance.
Admittedly, Christ has cropped up in three comedies, but we can quickly discount two of them.
Kenneth Colley played Jesus very straight in Life Of Brian, delivering the Sermon on the Mount to a crowd, some of whom mishear him and think his message is actually "blessed are the cheesemakers".
Superstar, a 1999 "comedy" in which Will Ferrell plays a fellow who also happens to be Jesus, was so horrifically ill-judged and unfunny that it was a deserved box-office catastrophe.
More successful and acceptable was the ever-brilliant John Hurt's cameo in Mel Brooks' History Of The World, Part 1.
As in this, Jesus has often been an incidental character in films focussing on other stories — the three cinema versions of Ben-Hur being cases in point.
In the 1925 epic silent version, Claude Peyton was an unusual choice as he was usually typecast as a villain or lawman in Westerns.
But at least he was credited in the film's titles, a nicety denied Claude Heater, who took the role for the famous Charlton Heston saga.
Heater was an American opera singer and his casting as Christ was a complete accident.
Production manager Henry Henigson went to a concert in Rome while filming the epic and reported back on his "magnificent voice and beautiful, spiritual face".
Which is ironic, as because of an obscure law that forbade seeing the face or hearing the voice of someone portraying Christ unless he's the central character, neither features in the film.
The film-makers used only shots of Heater's hands and "over-the-shoulder" , and his face was shown only once in costume, in a 1993 "making-of" documentary. Heston, however, spoke highly of his performance in his autobiography and the pair appeared together at a 2003 showing of Ben-Hur as the then two remaining actors.
Most recently, in the unnecessary and unloved 2016 remake, Brazilian Rodrigo Santoro was a more prominent man on the cross.
Santoro said it was the most challenging role he'd ever undertaken and though the critics weren't kind to the picture — it absolutely bombed — Pope Francis gave him his personal blessing.
Robert Henderson-Bland holds the distinction of being the first actor to play Jesus on screen, in 1912's From The Manger To The Cross which, you'll have guessed from the title, told the story of his time on Earth.
It wasn't until 1961 that Hollywood decided to show Jesus's face, when Jeffrey Hunter, later famous as Christopher Pike, first captain of the Enterprise in Star Trek, starred in the big-budget Biblical epic King Of Kings.
His youthful, matinee-idol appearance led some to rechristen the film I Was A Teenage Jesus, while Ray Milland went uncredited as the voice of Satan.
Max Von Sydow, best known as Ming the Merciless in Flash Gordon, took the lead role four years later in The Greatest Story Ever Told, a film that gave us one of the greatest cinema anecdotes ever told.
John Wayne had a cameo as a Roman centurion present at the crucifixion. After woodenly delivering his line: "Truly this man was the Son of God," he was told by the director to say his line with "awe".
Allegedly, the Duke duly gave it another crack: "Aw, truly this man was the Son of God."
At the start of the 70s, we got a pair of Biblical musicals, Godspell and Jesus Christ Superstar.
The first was a weird retelling of parables from the Gospel of Matthew by a band of youthful New York disciples — think Fame but with added New Testament.
Jesus Christ Superstar, however, was a smash hit based on the Andrew Lloyd Webber/Tim Rice musical that I still have nightmares about being dragged to see on stage in secondary school.
The story of the conflict between Jesus and Judas leading up to the crucifixion, some Christians found the portrayal of Judas to be too sympathetic, especially the bit about him wanting to give the 30 pieces of silver to the poor.
The message seems to be, if you make a film about the Messiah, you'll offend somebody somewhere.
Violent epic dubbed 'Jesus chainsaw massacre'
THE two big-budget films focussing on Jesus in the past 20 years both aroused considerable controversy.
Martin Scorsese's 1988 movie The Last Temptation Of Christ, staring Willem Dafoe, outraged some Christians as it depicted Christ being tempted by imagining himself engaged in sexual activity with Mary Magdalene in a dream or alternate reality, having been deceived by Satan while on the cross (the "last temptation").
Several US cinema chains banned the film, while a hardline Catholic group set fire to a Parisian cinema that was showing the movie, injuring 13, four severely. Other cinemas in France were attacked with graffiti, tear gas and stink bombs, and some cinemagoers were assaulted.
Some 14 years later, Mel Gibson's The Passion Of The Christ also got a heated reception.
A project very close to Gibson's heart — he practises a very old-school form of Catholicism — the main problem was that it is unrelentingly violent in its depiction of the horrific scourge and crucifixion suffered by Jesus, as played by Jim Caviezel.
There were also accusations of subliminal anti-Semitism.
This didn't impact on the box office, however, as it was the ninth-highest-grossing film in the US in 2004, and is still the highest-grossing R-rated (the equivalent of our "X" or "18" certificate) picture in US history.
One critic, horrified by the film's violence, described it as "a two-hour-six-minute snuff movie — The Jesus Chainsaw Massacre" but Gibson defended his movie.
He said: "I wanted it to be shocking, and I wanted it to be extreme. So that they see the enormity of that sacrifice, to see that someone could endure that and still come back with love and forgiveness, even through extreme pain and suffering and ridicule.
"The actual crucifixion was more violent than what was shown on the film, but I thought no one would get anything out of it."
Earlier this year, it was announced that Gibson and Caviezel would make a sequel, Resurrection, but any hopes that it will be less brutal have been dashed by the revelation that it will be partly set in hell and focus on the three days between the death of Jesus and his return.