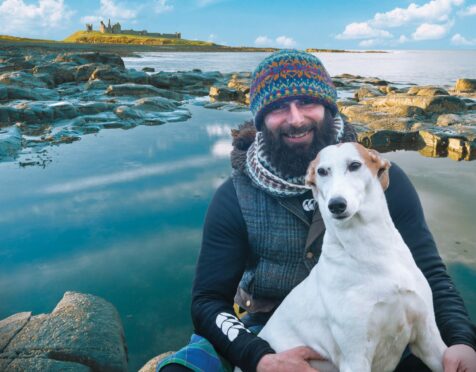 A campfire blazing, stretched on his back watching the birds wheeling in the sky, his beloved dog Jet gently snoozing beside him, Christian Lewis enjoyed an epiphany.
It was his last night on the tiny, deserted island where he spent lockdown and there on Hildasay, one of the Shetland isles, after a marathon, spectacular walk around Britain's coastline to raise funds for charity and restore his mental health, he realised he had found a new peace.
The journey which had taken him there from his home in Wales is one of fortitude and almost impossible to contemplate.
Having suffered from depression and anxiety for years after leaving the Army, he found life difficult, unable to cope with even small tasks yet the former paratrooper had decided to walk the entire UK coastline with basic supplies and just £10 in his pocket.
The aim was to raise money for the forces charity which had supported him and he will complete his epic round trip later this year with a fiancée and new baby in tow and a calm in his heart he previously never thought possible.
As he publishes a book, Finding Hildasay, tracking his adventure, Lewis says he owes his new lease of life to his time in Scotland.
While navigating the West Coast, Northern Ireland and the perimeters of the Scottish isles, Lewis experienced amazing highs like watching the sun set in the stunning Outer Hebrides but also incredible lows, such as pulling his own teeth out and dragging an injured ankle across nine miles of rocky terrain.
Then lockdown hit and Lewis, with his adopted dog Jet, found himself living in complete solitude on uninhabited, 108-hectare Hildasay and it was there that he found time to reflect and begin his journey of self-discovery.
"It was really in Scotland that I found myself," said Lewis. "I had the freedom to go where I wanted, I found the people so much more laid back and friendly than anywhere else. And it had the scenery and the wilderness. That's what did it for me. I found the place where I fitted in.
"Had it not been for Scotland, or if I had gone the other way around, this would have been a completely different thing. I really believe I got there just at the right time."
Lewis spent three winters in Scotland, being battered by harsh weather and went through countless tents but says it made for some great memories.
He admitted: "A lot of my big moments happened in Scotland. Of course, I had some really scary times and spending Christmases and birthdays on my own was hard but it was actually these bits about the journey that I loved. I guess that's the beauty of an unplanned trip."
His time on Hildasay was inadvertent too. With just two days to go until lockdown hit, a fisherman offered Lewis a lift to the island where he found shelter in an abandoned house and, for three months, spent his days foraging for food and getting fit.
Even after years living out of a rucksack, Lewis realised how little he needed to be happy. "I certainly realised that I didn't really need all the stuff that I wished I'd had before," he said. "I was a very, very happy man. People are scared to be on their own and lockdown proved that. Whereas it could be a wonderful thing. Everybody needs a little step back every now and then, just to be free.
"It was all about just making sure that I didn't wake up in the morning with a negative mentality. I had to plan my day, each day…spend an hour dragging up some water, make sure the house was tidy and get onto my fitness regime. I used old planks of wood and rocks to work out. Sometimes I would bounce a tennis ball against the wall for hours at a time and every time I dropped it I'd have to do 100 sit-ups or press-ups.
"I just filled my time with stuff like that. As boring as it got sometimes, it benefited me. Otherwise I would have sat there wondering what to do – and that's when it gets dangerous."
Lewis suffered from depression for years before setting off on his epic adventure in 2017, often shutting himself away in a bedroom for weeks at a time. And going "back to basics" has changed his whole outlook on life.
"It was good on the walk having so much time on my own," he reflected. "While camping, I'd become obsessed with going back to basics, making sure that I had some kind of food in my belly and a safe place to camp.
"It took my mind off all the other stuff that plagued me. I didn't forget about it but I started not to worry about it as much. But on Hildasay, with the pure peace of it, I fell in love with the island – and eventually found peace with myself."
Lewis eventually said goodbye to his home on Hildasay and carried on with his journey, not knowing his life was again about to change. Within days of being back on the mainland, he met Kate Barron, who was on a solo camping tour of the North Coast 500.
"I was on the north-east tip, near Wick at the Whaligoe Steps," he recalled. "I'd just finished tying my tent poles together when Kate came wandering down. We had a quick, maybe three-minute, encounter.
"She left but came back about 40 minutes later with some fish and chips and two cans of beer. And that was it! She was going on holiday to Afghanistan but when she got back she jumped on a train to Scotland to meet me – and never went home."
The couple continued the journey together, making their way south, back towards England. And soon a third member of their entourage was to join them when Kate fell pregnant with their son Magnus.
Lewis – who also has a daughter, Caitlin, from a previous relationship – juggled the early days of sleepless nights and dirty nappies with writing his book after landing a deal with a publisher. And with no computer, he relied on a paper and a pen to chart his adventures.
Lewis is delighted his son, now nine months old, has been born into a life free from conventional trappings.
"It's surreal being a dad again," the 42-year-old said. "I just adore Magnus. We want to show people that you don't need to live this life where you go to school, go to college or university, get a degree, get a job, buy a house, buy another house and have equity everywhere and pass your money on to your kids. We've shown that you can live a different kind of lifestyle.
"The traditional one certainly didn't work for me. Magnus is such a happy, healthy little kid. He's always smiling so we know we're doing something right and you don't need a fixed home to be able to do that."
With the end of the epic adventure in sight, Lewis, who has raised more than £280,000 for the Soldiers, Sailors, Airmen and Families Association (SSAFA), the veteran's charity which helped him through his toughest times following his service with the 2nd Batallion Parachute Regiment, is thinking ahead to what comes next – including making Kate his wife, and the couple hope to return to Scotland for their wedding.
"We're on the home straight," he said. "I may need to just say to Kate I need a little night on my own in the tent to just take it all in and have a little man cry so I don't embarrass myself at the finish line.
"The day I started the walk, I was totally clueless. I had no idea if it was going to be possible but I just adopted that attitude of one day at a time, one step at a time, and eventually you'll get there. This was the mentality that I'd always had, life could be fun if you didn't plan.
"And I finally found something that I love doing that fits with the way I am as a person. Living like we don't know what we're doing today…that's where the excitement comes from."
And there are many more adventures to come for the couple in the years ahead. "We've not got anything set in stone but Kate and I are both really adventurous, ambitious people and we love the world and we want to go do stuff," said Lewis. "So we've got loads and loads of ideas – one potentially to go and live on an uninhabited island together.
"It's going to be something completely ridiculous, I know that!"
Finding Hildasay, published by Pan Macmillan, is out now. To support Lewis, visit his Just Giving page, Chris Walks UK Coastline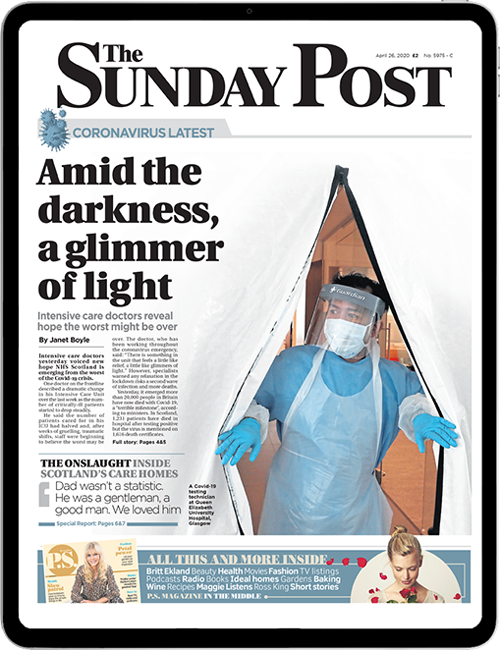 Enjoy the convenience of having The Sunday Post delivered as a digital ePaper straight to your smartphone, tablet or computer.
Subscribe for only £5.49 a month and enjoy all the benefits of the printed paper as a digital replica.
Subscribe