Before tomorrow's anniversary of the first Scottish Parliament elections, some of Scotland's first MSPs, the class of 1999, recall making history.
Here's what they all had to say.
---
Tricia Marwick
Scottish Parliament presiding officer from 2011-16. Stood down as MSP in 2016. Currently chair of NHS Fife
I just remember wishing my mum and dad could have been alive to see me becoming an MSP. They would have been so proud.
I truth, I can't remember too much about the day other than just getting so caught up in it all and being quite overwhelmed.
I particularly remember the gala dinner that was held at Dynamic Earth, though, and banknotes that had been specially commissioned for the opening. Each of us had one at our place setting.
David Steel got serial number SP 01, Donald Dewar SP 02, Alex Salmond SP 03 and the rest were randomly distributed.
Nobody realised the significance of SP 99 and my husband got it.
I didn't pay much attention to mine until we were moving house in 2011 and was then absolutely delighted to realise that my banknote was SP 11, the year I became Presiding Officer – how great is that?
---
Susan Deacon
Appointed as the first cabinet minister for health and community care, Deacon stood down as an MSP in 2007. Currently chair of the Scottish Police Authority
There can be only one memory of that day for me, which earned its own wee footnote in history.
And and that was when my daughter, Clare, who was just 21-months-old at the time, shouted out: "Hello, mummy!" over and over again from the public gallery when I went up to take the oath.
It had been quite solemn, but the whole place collapsed in laughter. I was embarrassed beyond belief, so much so that I rushed off without signing the register and I had to be called back.
Along with Tommy Sheridan's clenched fist, it was reported in every newspaper of the day, and a lot of people commented that it was almost symbolic of a new parliament and new politics.
To this day, my now 21-year-old still gets: "Are you that wee girl who shouted out in parliament?"
I was really happy and proud, with an immense sense of achievement. And more than a bit nervous, with a real sense of responsibility.
---
Richard Simpson
Labour MSP for Ochil until 2003 before becoming Mid Scotland and Fife MSP until 2016
I was happy to have had 23 or 24 years in medicine before I got there, as it gave me experience, and I really had a lot of things I was keen for us to do, and which we did.
The Mental Health Act was the first time in my career we had an Act which wasn't simply a tartanised English Act, and it was actually hailed more widely in Europe than it was in the UK in terms of protecting and supporting individuals.
It was great to see George Reid there as well. He got in on the list after being defeated in the constituency, which I think bruised his ego slightly, but he got his own back by defeating me in 2003.
---
Robin Harper
Scottish Greens, MSP from 1999 to 2011. The first elected Green parliamentarian in the UK
You can see from the picture that the three independents – myself, Tommy Sheridan and Dennis Canavan – had already found our way together.
Some of the Labour members called us "assisted places", but I remember thinking it was democracy in action, that we were there because of proportional representation.
My greatest memory of that day is the First Minister's speech, which was very measured, beautifully phrased, and ended up with, to me anyway, I think the most memorable phrase, and one that we should still keep in mind, is that devolution is not an event, it is a process.He was a great man, Donald Dewar.
Later there was a dinner down in the art gallery and one of the things I do remember was sitting to the right of one of the Conservative members, Annabelle Goldie.
And I was enjoying myself, chatting away to everybody and made a sort of a great sweep of my right hand and I knocked over this glass full of red wine right across my plate, over my left-hand side and into her lap.
She was very, very gracious and just mopped it up a bit.
---
John Swinney
Served as the SNP member for North Tayside until 2011. Now the MSP for Perthshire North, deputy first minister and education secretary
It was a building I knew well because, as a member of the Boys' Brigade, we used to parade into the General Assembly Hall for our founders day service.
It was an incredibly special moment for that confluence of different things.
The association I had with the building, the feeling that an absolutely enormous milestone in my political journey had been passed.
Then Winnie Ewing said a few words, paying tribute to all the people from different political backgrounds, and she wove them all together and said: "The Scottish Parliament, which adjourned on March 25, 1707, is hereby reconvened".
It was an incredibly moving moment, for it to be associated with Winnie Ewing, who was indisputably the individual that started off the journey in 1967.
---
Margaret Smith
MSP for Edinburgh West, she lost her seat in 2011. Currently director of Caledonia Public Affairs
Like lots of us, I remember thinking when I was walking forward to take the oath: "Please don't let me trip".
Then when I was involved in the election of the first presiding officer in 300 years: "Please don't let me do anything wrong".
That was effectively my first duty as an MSP. The big thoughts going through your head were a mix of the mundane and, at the same time, quite historic.
Like most politicians who have just gone through a bruising election experience, you're quite tired. You've been living and breathing all of that, then coming out the end of that there was this amazing sense of actually having done something really historic.
There was a certain amount of camaraderie amongst all 129 of us, which I think to some extent still remains to this day. To some extent it defines your life.
---
Annabel Goldie
Served as Scottish Conservative MSP for West of Scotland until 2016 and was leader of the party between 2005 and 2011. Became a life peer in 2013
We were part of history in the making, the sense of occasion, excitement and anticipation was tangible.
There was an atmosphere of joy and celebration. There was a familial feel to the whole occasion, not just because our own families were part of the occasion, but because everyone felt so proud of this new institution and we had become part of a Scottish parliamentary family.
The late Donald Dewar beamed throughout the day, the Queen was vibrant and happy wearing a marvellous outfit in purple and green to reflect the hues of Scotland, the crowds of spectators were buoyant and enthusiastic and the excitement was sealed by the flypast of the Red Arrows.
The experience was unforgettable.
---
Dennis Canavan
The MP for Falkirk West until 2000, Canavan was rejected as a candidate by the Labour leadership, leading him to stand as an independent and being expelled from the party. He held the seat until 2007, but then came out of retirement to become chairman of the Yes campaign in the independence referendum
After the photo shoot, I went out to celebrate a truly historic occasion and to prepare a speech for the following day in my bid to become First Minister.
I was astonished to be told initially by the newly-elected Presiding Officer, Lord David Steel, that he would not allow any speeches by the nominees prior to the election of Scotland's first First Minister.
After some arm twisting, he eventually relented by allowing each nominee to speak for a magnificent total of two minutes! I felt it was very important to put down a marker on what the priorities of our new parliament should be.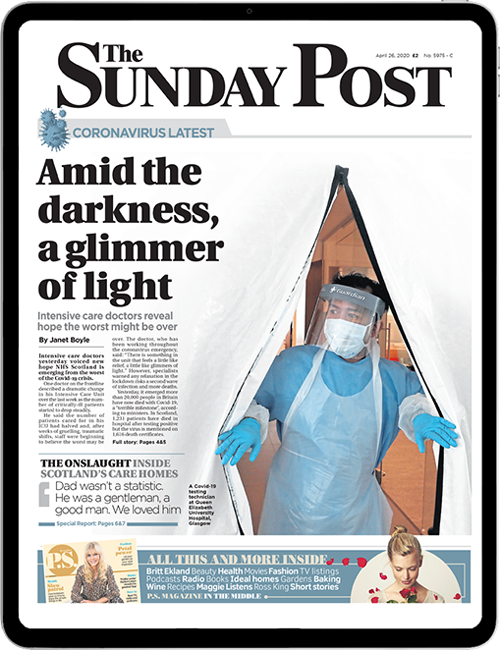 Enjoy the convenience of having The Sunday Post delivered as a digital ePaper straight to your smartphone, tablet or computer.
Subscribe for only £5.49 a month and enjoy all the benefits of the printed paper as a digital replica.
Subscribe